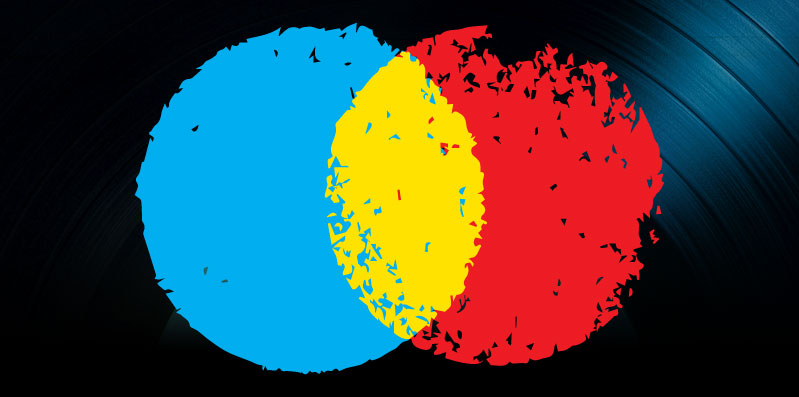 Big Data, Copyright Infringement and Internet Radio News, November 3, 2013
Technology and music industry experts analyzed how "big data" continues to change the way artists' royalties are collected and distributed. Also, record labels in the UK were allowed to block 21 file-sharing websites courtesy of a court order. And hip-hop artist Talib Kweli launched his own signature station on the user-generated radio station Radionomy. 
 "Big Data" Continuing to Change the Music Landscape
The existence of "Big Data" and indie and major label artists' willingness to speak up about their challenges in the music industry have significantly changed the way labels and PROs worldwide deal with collecting and distributing royalties, according to Australian professor and music technologist Axel Bruns, who wrote an article last week for The Conversation. Throughout their careers, artists like Robert Fripp, Courtney Love and Prince have all documented and vocalized their on-going struggles with collecting societies and labels as they try to make a living making music amidst a rapidly-changing landscape.
The recent growth of digital music and specifically streaming music services has allowed artists, labels and others in the music industry to minutely track exactly how much an artist's music is being played. And because artists can also add music to streaming services on their own, labels and PROs worldwide are starting to make music and royalty deals directly with streaming services instead of negotiating and renegotiating contracts with bands and artists.
PROs, labels and artists may finally be accepting the power of Spotify and other significant streaming services, whose global market share is giving them major bargaining power with right holders. Bruns added, "In principle, Spotify or iTunes could bypass the conventional royalty collection and distribution frameworks altogether. Labels, and even individual artists, could upload their releases to these services directly, and receive an agreed fee per play or download in return."
These direct deals are gaining popularity because every stream and download can be monitored, tracked and recorded, allowing for a "negotiated value" to be assigned to each stream and download. Radio broadcasts and physical album sales were previously very difficult to quantify.
However, as Bruns pointed out, the accessibility of Big Data "does little to improve the lot of artists or consumers. It really only facilitates the flow of money between providers and labels."
Similarly, proposed increases in download costs worldwide (in Australia and other countries and regions) to increase royalties for artists would not necessarily bring individual artists more royalties, as many major label artists continue to depend upon royalty reports provided to them by their labels.   
Big data on streams, downloads, plays and sales, however, could change the situation, since these data are starting to be gathered in greater detail about sales, radio broadcasts, plays in public venues and other types of offline music listening. And music fingerprinting technology can now track individual radio plays.
Bruns asserted that he believes the problem is not tied to the availability of data, rather transparency:  "Many such data sources are fiercely protected by their owners, and little effort has been made to combine them or to determine the distribution of royalties, not just to labels but also onwards to the artists themselves … There is a significant opportunity here for collecting agencies … or a new statutory body … to take leadership of this process … This could throw open the curtains and shine a new light on how recorded music performance is accounted for, valued, and rewarded in the Australian and international industry."
Court Order Served to Block 21 Additional File-Sharing Sites in the UK
The British music industry trade organization the BPI won a case against 21 copyright-infringing file-sharing sites on Wednesday, which will force the UK's six largest ISPs to block nine BitTorent sites and 12 music "aggregator" sites, including the popular site mp3skull. The Guardian reported that this brings the total number of websites being blocked in Great Britain to 25, including Pirate Bay.
The BPI stated it had to pursue a high court order after the websites "declined to co-operate in any meaningful way."
Chief executive of the BPI Geoff Taylor outlined, "We asked the sites to stop infringing copyright, but unfortunately they did not and we were left with little choice but to apply to the court … The judge considered the evidence and declared that ISPs should not serve access to them."
Taylor also revealed that the previous court orders, which blocked four BitTorrent websites that were allegedly committing copyright infringement online created a "significant reduction" in visits by UK users.
He added, "Music companies are working hard to build a thriving digital music sector in the UK, offering fans great convenience, choice and value, but these efforts are undermined by illegal sites which rip off artists and contribute nothing to Britain's vibrant music scene."
Talib Kweli Launching New Signature Station on Radionomy
Renowned hip-hop artist Talib Kweli announced he would be launching his own free radio station on Radionomy, one of the world's largest user-generated radio station platforms designed for producers, listeners and broadcasters throughout the world. The station will offer up music from Kweli and artists from his label, Javotti Media and will also feature interviews, news and commentary on politics, culture and entertainment related to Hip-Hop. The announcement was made via XXL and an official press release.
Kweli's station is evidence of a growing trend in entertainment, which allows fans to connect personally to artists. Radionomy said that while a signature radio station might seem like the best way for artists to connect with fans and expand their audience, the technology and business challenges attached to running a station have often been prohibitive to even very well-known artists.
U.S. Manager of Radionomy Thierry Azcarez said, " We offer the ability to create and run a fully functioning radio station from any web-enabled device … This gives artists like Kweli a perfect platform to communicate with their audiences without having to deal with the business or technology hassles of radio."
And platforms like Radionomy are allowing artists to take away some of the barriers typically attached to running a radio station while on the road touring. Its web-based platform makes artists able to run their stations from mobile devices from any location, which also fosters collaboration between producers, artists and others.

Donna Dragotta, A&R Admin and Label Manager of Javotti Media pointed out,  "We don't need a studio or any equipment other than a web-enabled device and a microphone to run this station … It gives us flexibility — that's crucial for our team, which is constantly on the move. We can broadcast live from virtually anywhere."
Javotti Media is an addition to Radionomy's Premium Content program, allowing artists, individuals and organizations to promote their brand with content, live event streaming, embeddable players and worldwide broadcasting on hundreds of mobile apps and devices. The service is free, with Radionomy covering streaming and licensing costs through four minutes of advertisements per hour. The Radionomy Network averages 40 million listening hours each month across 7,000 global stations.