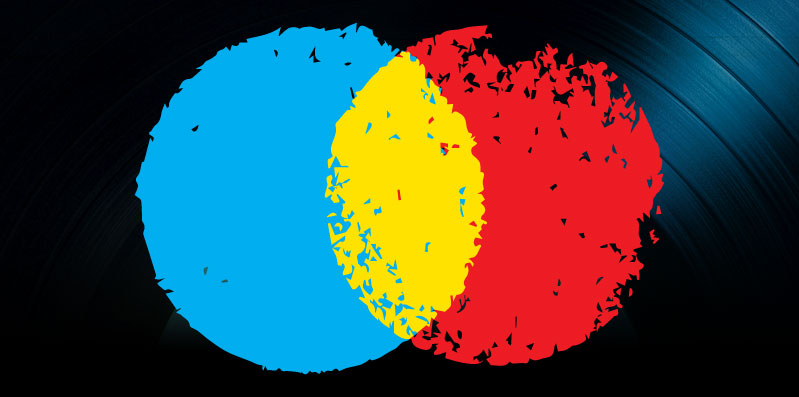 Music Marketing- The major label perspecitve.
Dane Venable is the head of marketing for Atlantic records.  In addition to overseeing several product managers Dane still handles his own roster of acts that he does marketing for personally including James Blunt, Death Cab for Cutie, Jason Mraz, Rob Thomas and Matchbox 20 and a new artist named Robert Francis. I worked with Dane when I was at Elektra and he was kind enough to give me his time and insight on what music marketing looks like today.
Musician Coaching:
Tell me in your words what you see marketing a band at that job entailing for you. Marketing is a broad term, so how do you see your job or your role in marketing a band?  What does that look like for you?
DV:
Providing a consistent direction for the artist with the ultimate ability of cutting through the clutter.
Musician Coaching:
Let's talk about the clutter.  When you're first sizing up a project obviously there's going to be a lot of creativity involved, but is there a strategy to make a band stand out among all the thousands and thousands of bands out there?  Have most of the bands that come to you already identified a niche to market to, or is that something that you try to identify/try to connect them to?
DV:
It always differs with the artist.  Some artists come in with a very strong vision of who they are, where they want to go, because some bands have already been out there building touring bases.  And by that I don't mean, "Oh yeah, we played the past six months once every two weeks in Pittsburgh."  The Zac Brown band is a perfect example.  He's been out there ten years throughout the Southeast building a club base.
Musician Coaching:
So funny, yet another time I thought that was an overnight success that turned out to be years and years of hard work
DV:
He's been doing 150 shows a year for ten years; that guy knows exactly who he is, he knows exactly where he wants his career to go.  Sometimes you get a group that is just out of art school and has been practicing in basements and just kind of putting together their music.  They may have general ideas, but they need it fully fleshed out, and that's where we try to help them, because the days are long gone of trying to hang an image on an artist and then make it work.  Even though a lot changes year to year with the amount of clutter and noise that's out there, one thing that's gotten even stronger is a band's sense of credibility and what that means in the world.
I think the smell test with audiences is stronger than ever.  If you take a look at some of the most trafficked and active websites, they are websites that really do have artist involvement if not complete artist control.  Kids go to those sites and know that it is the artist's voice.  It's not somebody in management, it's not some uber fan that's just putting stuff up.  That credibility I think really matters for a lot of bands.  Look, if you're an artist that writes big pop smashes or big hip hop smashes and you want to go directly to radio, that's one route you can take it certainly; that's always been there.  But a lot of the bands we deal with are not looking to go directly there, not that they don't believe in their songs in the same way, but they want to build their audience, they want to have a sense of discovery before they get to just be known for a song.  And so in that way, credibility really matters, the way you approach things matter.
And by the way, when I say credibility, it matters on the other side too.  I just got done having this conversation the other day.  We want artists to be active with their fans.  It's crucial today. However, it has to be sincere and feel natural.  To have an artist on Twitter where it's not a natural fit and they're doing it because they think they need to is a horrible idea because it's not going to come across as sincere or compelling.  What we try to do is say, "Let's choose a medium you are comfortable with."  With some artists it's writing words, with some artists it's using video cameras, with other artists they love Twitter, it's made for them – little short blasts of stream of consciousness.  But what we try to encourage is just interaction with the fans in some way that feels completely natural and we completely respect and work with artists that also want to keep some sense of mystery.  Maybe there's an artist that doesn't feel natural talking about what they're doing every minute of the day.
Musician Coaching:
How do you compensate for someone who isn't communicating in these ways because clearly when that is working for somebody it's a very powerful tool.
DV:
Twitter works amazing for Jazon Mraz.  He's got 350,000 followers but that doesn't mean Twitter is going to work for a different artist.  Why would it?  It's hard to look at a Chad Kroeger Nickelback song and say that doesn't work, because they are all big hits.  But you wouldn't say, so why wouldn't my artist just follow that formula?
Musician Coaching:
Well of course, but what are things you do when a band wants to retain its anonymity in some kind of way?  How do you end up compensating most often?  Do you just look for other ways of connecting through different mediums?
DV: Well, that kind of depends.  I like to think in a lot of ways artists whether as diverse as Bjork, Sigur Ros, Tool, even Radiohead, all like to keep their anonymity in some way, shape or form.  But all of them have some creative ways of connecting to their fans.  With Bjork, it's usually in art.  She does five or six videos per project, or every design she puts out is something that really speaks to who she is as an artist.  With Trent Reznor it's really about just his timing and the inventive way he connects with his fans.
Musician Coaching:
You were talking earlier about bands that were fresh out of art school vs. those that had built a following over ten years.  Have you noticed over the last several years that it's become more one than the other or is the split pretty much the same?  The stuff that's getting signed and winding up on your plate, is that stuff that tends to be more established or less established, or is it the same old 50/50?
DV: Really I wish I could say it's changed appreciably, but really I think it ultimately comes down to someone's belief in a song or in a group of songs.  As much as in the marketing template or the "Marketing 101" book, I would love to have bands who have had experience touring or have been out there for a while building a fan base or through one or 2 indie releases – that's the dream come true – so you don't have to completely start from scratch.  But a lot of times an A&R person just hears the song, hears a demo, sees a show and that overtakes everything. It overtakes every other factor.  And that happens time and time again, and that's not a bad thing, because if our company got to a place where we said, "OK, we're doing 360's, therefore touring is a huge factor for us so we only want bands that have begun to build a touring base," that's kind of dangerous because then it probably means the nature of the songs or the nature of the music is down in the mix, even just a little bit. The music and the song always have to be first.
Musician Coaching:
It's good to hear you say that, because it can appear sometimes on the outside like it's something different.  Let's talk about if you're starting out with somebody brand new.  What are some of the low- or no-cost marketing techniques that you consider a must for every band that wants to get noticed?
DV: Building and maintaining your own Web site. And trying to actually market yourselves and build it to a point where, when anyone goes on it, whether it's somebody from a label, an attorney, another musician, it actually feels like it's active.  It actually feels like you've done some work and you're not just sitting in your bedroom creating these great demos but you don't have really any motivation to take your music outside your own bedroom.
Musician Coaching:
Along those lines, do you guys spend a lot of time on SEO or is that just not really in the per view for what you guys do?
DV:
We have someone over at Warner Music Group who actually specializes in Search Engine Optimization, Search Engine Marketing and online advertising.  He can flip your head back and forth with the amount of research he's done on it and how you can target advertising to a project.  Almost all of our online advertising now is done this way.  We rarely just do banners for static placement at this site or that site.  The advances in technology and actually trying to be able to reach exactly where you want to reach are like a dream come true.
Musician Coaching:
How are those keywords then determined?  It must be kind of hard when you have a middle of the road rock band.  Do you keyword tag other bands?
DV: It depends.  I'll give you an example.  We have Death Cab for Cutie in the "Twilight:  New Moon film."  There's a person upstairs that comes up with 50-100 word associations that we register and when those hit, "Boom."  You have to just envision yourself and what you do and how you search Google. If you put it in your mindset, it's not that hard.  It's not like a science.  How is anyone going to search:  "Death Cab Twilight;" "Death Cab New Moon"?  Whatever.  There are a thousand different ways.  Are you going to get them all?  No.  But the odds of actually reaching your target as opposed to just reaching all these eyeballs that have zero interest in what you do are light years ahead. It's completely changed.  Print ads are rare, few and far between with the exception of Alternative Press.
Musician Coaching:
Are most of your marketing efforts on or offline at this point?
DV: It depends what you mean, but they all have to start online.  Online is where everything starts, it is Ground Zero.  Atlantic was the first major label to garner over 50% of our annual revenue from digital sources.  That's a huge accomplishment.  If you think that the physical market still takes up 75% of people's purchases, and 50% of our revenue in the last year came from digital sources – meaning ring tones and digital sales – it's a really big accomplishment.  What that says is that everything we do has to start with some digital structure.  That's where everyone is.  That's where everyone's living and breathing. So that takes up a lot of our time, especially for developing artists.  Certainly then you go to traditional methods depending on your timing.  If it's an established artist, you go a lot quicker.  And by traditional I mean, you go to radio and traditional press and there's touring and tour marketing and hand-to-hand combat out there.
Musician Coaching:
Speaking of traditional, there really aren't many record stores anymore…  Has anything really replaced a band playing in local record stores before a tour date?  Where are you guys going when you have a band on the road?
DV: Web chat is the new in-store.  You get to see your artists, you get to see them talk, and if we're doing it right there's a pre-order or an order right there, and somebody orders their music.  Secondly, though if you're still talking about things that are done more traditionally is that any developing artist that we have, they are out there at the merch booths immediately after their shows signing, meeting, kissing babies, taking e-mail addresses.
Musician Coaching:
Tell me more about Web chat.  Do you guys have your own proprietary software for that or are you using something?
DV: There are various methods we can use.  One of the ones we're doing right now on a consistent basis is this guy Jason Castro, and he was in the fourth season of American Idol – he's the guy with the dreads – and we're making a debut album with him right now. His first single just came out.  Because of his notoriety that stayed around his fan base is exceedingly strong and has remained so.  Throughout the process of this album we have bi-weekly Web chats with him.  It's almost like "Date Night."  He goes on camera for an hour and answers live-time questions from his fans.  It works, it keeps people connected and it keeps people coming back.  The last chat we had we were shut out of three rooms.  Three rooms were completely full and we don't know how many people were waiting.  Each one of our rooms would hold a maximum of 1,000 people.  I have no idea how many people were trying to get on there, but 3,000 were there.
Musician Coaching:
Anything else you can think of as advice for things that make your job easier when somebody shows up at your door?
DV: An artist that actually wants to work and realizes that they are part of their career.
—-
Please check out the new artist that Dane is working with Robert Francis.