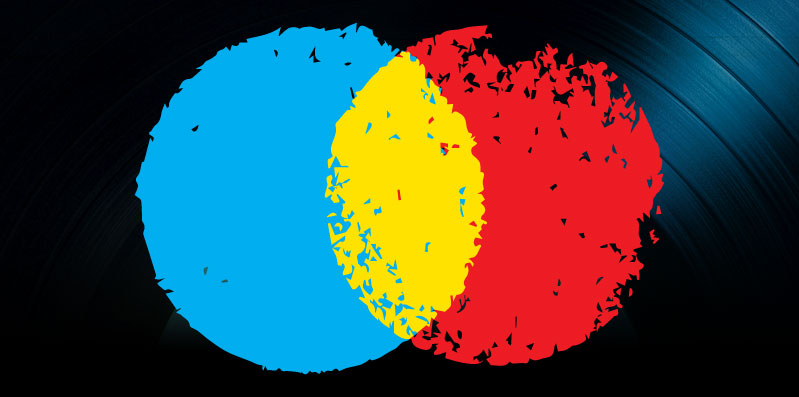 Indie Artists – Indie Record Stores 2010
Eric Levin is the owner and founder of the well known indie record store Criminal Records and the founder of the Alliance of Independent Media Stores (AIMS).
Music Consultant:
Eric, Thanks much for your time.  Start off by telling me how you started Criminal Records.
EL:
The only work I've ever really done is record store work. I started out when I was 13 at a mom and pop shop in Daytona Beach, FL, where I grew up. I worked all throughout high school. When I was 19, I started my first store, partially in reaction to what I experienced at the other store. I ended up basing everything I've ever done on the opposite of what that guy did. I got my first store, and it was a thumbing of the nose to that cat. Pretty immediately I decided to move up to Atlanta, GA, about a year later. I had a strange occurrence while running the first record store. The first record store was called "Secret Service," and I was actually arrested by the secret service for using the name. It was kind of an arcane, strange law that was enacted when they enacted the secret service. It wasn't really anything anyone would know about. I did everything correctly when I opened up the store. I registered with the city and the state, and nobody knew. So, it wasn't a heinous thing that happened. It was more of a funny thing. I got some great press, and I got the name Criminal Records out of it, so all's well that ends well. Flash forward to 20 years later, and I'm still doing it…
Music Consultant:
How about AIMS?  What is that all about?
EL:
About seven years ago I decided to start a coalition of record stores called AIMS, and I'm still the president of that organization. That's about 25 like-minded indie retailers across the country. We sell marketing, we support each other and provide advice and opportunities. Sometimes it's a buying group, sometimes it's a very private blog mailing list for some specific people that happen to own record stores. Out of that group AIMS, which is the Alliance of Independent Media Stores, we started Record Store Day with CIMS and Music Monitor Network, two other coalitions. We just kind of all volunteered together, and Record Store Day was based on my experience with Comic Book Day, which is now in its seventh year. Criminal Records is also a comic shop, so that's where I got that expertise. Record Store Day has been kind of good – pretty successful for a grassroots volunteer event.
Music Consultant:
Has there been a demonstrable renewed interest in visiting record stores from Record Store Day? Is the effect a lasting one?
EL:
Absolutely. The industry wants to call it the "Halo Effect," or what happened after Record Store Day. But it's pretty hard to quantify. What it has done is reinvigorated a lot of independent retailers to the potential of their businesses. I've heard from dozens of retailers that have e-mailed after the fact and said, "We were going to throw in the towel, but Record Store Day was so fun and positive that we're sticking it out." I've heard from a lot of people that are opening stores post Record Store Day.
Music Consultant:
I know this is going to sound like a ridiculous and obvious question, but to hear it from your vantage point as someone that was in the business twenty years ago- has your business changed?  Has it gotten smaller?
EL:
I would definitely say my business has gotten bigger. We moved a year and a half ago to a store three times the size. We're now in almost a 7,000 square foot space. Business is quite fine actually. The idea and assumption that business has gotten smaller is the reason we did Record Store Day – to do battle against that assumption. The rise of digital and the collapse of Tower Records, HMV, Circuit City. It's hard to call the collapse of these record stores anything more than bad businesses. I have never really considered them record stores, even though they kind of were. They weren't in the business of making money and turning people on in the sale of records. They were advertising vehicles for office staff. And those guys failed majestically. Obviously the iTunes phenomenon of the last ten years has been the crazy, sexy, cool thing, but it's no longer that. It's pretty ubiquitous. It's not like that's going to change. It will move to the cloud and be more subscriber base, but it's still going to be zeros and ones. I've been in the business my entire life of selling collectible items and archival recording on master delivery disc and comic books and vinyl. These are things that are personal items. Selling them for a mild markup is a pretty solid business move. That's really what Record Store Day was about. It was about saying, "Hey, come back in if you haven't been back in a while," "Come in for the first time so we can introduce you" or "Thanks for being a part of this with us." The Sonys, the Universals, those big boys that are going to make money selling Ke$ha and Britney Spears at Wal-Mart, that's a pretty different business from what I'm in.
Music Consultant:
Let me ask you about that actually. Being that you're one of the few record stores in town anymore since several major chains have closed (unless you count Best Buy or Wal-Mart that really don't have a large selection) – has that changed what you stock?
EL:
I will stock and always have everything that Atlanta wants from Criminal Records and what those customers want from Criminal Records. It's not lacking in anything. If they wanted Britney Spears at a fair price, we'll do our best to get it. I find that they don't. That's not even a commentary on Britney Spears. It's just a commentary on mainstream vs. niche and what the modern record store thrives on . Not that Amoeba or Twist and Shout or Waterloo or Shake It can't carry P!nk and Katy Perry. But they're not going to move the needle for us like the new Crystal Castles or Sleigh Bells or the Black Keys or Sharon Jones. That's where we're always going to have a thirsty audience.
Music Consultant:
When I was coming up, the in-store was always such a popular way to move the needle for the up-and-coming band. Is that attainable anymore for an artist? Obviously you have some of those bands you mention, but those are – as far as indie bands go – bands that are established and have a touring base. From what you've seen, is building a relationship with your local record stores and doing in store appearances still a viable way of getting heard?
EL:
It's essential on many levels, kind of even going back to what we were talking about with Ke$ha and P!nk. They probably don't need to. Last year alone we had Mastodon and the Indigo Girls each release a record on the same day and had their release parties at Criminal Records.
Music Consultant:
You had a Mastodon and Indigo Girls concert on the same day? That's fantastic. I bet that bill's never happened again.
EL:
Probably not. And it was fantastic. It was very Atlanta and Criminal Records and very cool. It was a wonderful day. From big indie bands, to unknown indie bands to monster bands … last year at Criminal Records alone we had everybody from Those Darlings to Rodriguez, Yo La Tengo, a PitchFork of who's who. And this is just Criminal Records. We're very good at it. We have a full stage, full PA, lighting. We've made the in-store into art. It's something we've done for 20 years. Our history of in-stores is really a who's who. It's getting to the point of all these years on, who hasn't done an in-store at Criminal Records? And you'll find that at places around the country – people who invest into the infrastructure to do in-stores. That doesn't mean a band has to have a stage in a store.  If you are looking for advice for artists- I'd say they should have their in-store schtick down.
Music Consultant:
What do you want to hear from an artist for an in-store? What are your criteria for selecting self released records that get stocked?
EL:
We have a very open consignment policy. No CDRs, no bullshit – it has to be a finished piece of art. Most indie record stores are like that. You should be able to consign at a local store that is probably not the type of store that will be selling your music anyway. As far as performing in the store, we get about 30 e-mails per day. We bring in product, have security, pay for the PA, have extra people. We just can't have one every day with every single band. The band has to be committed to harness their energy and actually make something happen. That means fliers and Facebook and Myspace and their mailing list and my mailing list and everything you can do. Hitting your press contacts and having a beer sponsor, food sponsor, charity angle – anything you can do to get people off the couch. If you do it right, even our worst in-stores, the Tuesday evening in the rain band that's never played in town will get 30 people out just because we've said to come out and that it would be fun. That's 20 years later.
Music Consultant:
I don't think every town is fortunate enough to have a spot like yours.
EL:
No, but there sure are a bunch of them. I could start with my AIMS group and go city to city. You don't have to visit every store in every city and you don't have to visit every city, but chances are, if you ask the venue or the club, "What do we need to do during the day? Which indie stores are cool?" it's going to be one of those stores you've heard of, whether it's a Grimey's or a Sonic Boom or a Jackpot. There are stores like mine all across the country.
Music Consultant:
Can you give me an example from the last few years of a band that did the in-store thing really, really right, and what they did specifically?
EL:
Thinking that my store is different with its own backline and own PA, it's a little easier. My favorites have been when an artist is just cruising around and asks if I have a stage and says, "Do you mind?" That busking tradition and the idea that the band doesn't have to sit around the hotel room and can get out and enjoy their art is great. I love a band that can pull up with their own mini PA and bang out an acoustic set without a bunch of B.S. I think that's smart, and every band should be playing with a mini PA so they can hit the record stores, coffee shops and the quadrangle or the radio station. I worked with one of the members of my group, Good Records in Dallas. Tim Delaughter of Polyphonic Spree co-owns Good Records.  That's a band with 28 people. We did an in-store with them for the release of their record. And this was definitely the label spending some money on record release. We had to rent a piano and a harp and do a ton to get the whole band in there. They've only done two in-stores – my store and Amoeba. You'll hear that a lot. Everybody does Amoeba. I was talking to Tim as a store owner and said, "All you need is the choir and maybe an acoustic guitar player and maybe the brass. Just show up." Work up a 25-minute set, whether it's a-capella or acoustic or something unusual that you can bust out in the conference rooms, the radio stations, the record store. You have to have your in-store schtick. It shouldn't be difficult and a pain in the ass on the itinerary. It should be, "Let's do this and turn on some fans." And this can be fans at the store level, staff, friends, the taste-makers and the customers. It's time well spent.
Music Consultant:
Switching Gears a bit – what is the value of getting digital distribution in your indie store and other indie stores like yours? I know a lot of artists that spend a lot of money to ship 500 records. When do you think a band is ready to do that?
EL:
It's not like it was a few years ago. If it's a band in Seattle and they don't have a tour or any radio or any Internet buzz, they don't need to be in Criminal Records. I release records at Criminal records and have bands I help, and I guide them. I say, "Are you going to be in Texas? Well, then we probably don't need to do a whole thing where we put them in a bunch of record stores down there." But if you concentrate on the regions where they're touring and where there's buzz and where they're going to be, and on areas where there is press, having records is just part of it, as much as doing radio shows and charity events. It's an important piece. Are any of these pieces essential? Yeah. They're all essential. Can you do it without some of them? Sure. I know that's kind of obvious, but there are certainly a large amount of customers both pre and post record store days, but maybe even a little more now that don't want to shop online or buy at the show. They want to support their community-based independent record store so that record store can continue to provide them with services. That used to be something we had to preach. Now people have gotten that. It's kind of like the "Farm the Table" movement in food. It's not for everybody, but if you can afford to eat healthy, that's an exciting trend. If you can afford to be a patron of the arts, then come to the independent record stores.
Music Consultant:
Do you have any parting words of advice for aspiring musicians out there?
EL:
Tell musicians not to suck. We don't need any more shitty songs.
——–
Learn more about Eric and Criminal by Visiting Criminal Records & AIMS