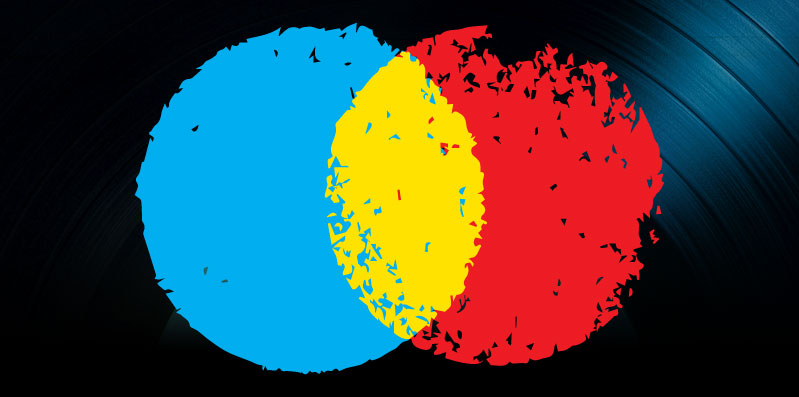 Branding Yourself in a Niche Market
Shikhee is the founder of the band Android Lust, a band that combines mixes elements of rock, industrial and electropop. A Bangladeshi-born New Yorker, she has always been an avid musician and songwriter and got her start playing in bands in the New York City area in the 1990s. Eventually, she decided to branch out on her own, founding Android Lust as a one-woman project in 1996. For the past 15 years, she has continued to maintain a rigorous performance schedule, toured throughout the U.S. several times and has put out four full-length albums on several different prominent industrial record labels. Android Lust has been covered by publications such as the Village Voice, Boston Globe, Jane magazine as well as MTV, a number of underground music zines and a variety of international blogs and periodicals.
Shikhee spoke to me about the unique experience of building up a presence within the Goth/industrial scene and provided some insight for other artists about creative on- and off-line methods of marketing, networking and building personal relationships with fans.
Musician Coaching:
Thanks so much for taking some time to talk, Shikhee. How did you get into the business, and how were you able to build up the Android Lust band within the industrial/Gothic music community?
Shikhee:
I was always interested in music and songwriting. I started a few bands that didn't work out because there always seemed to be personality conflicts or directional issues. Eventually, when those fizzled out I realized it was difficult for me find people that I really identified and clicked with. It was exhausting going through the process of trying to meet people. I even put out ads on Village Voice at one point.
I pretty much just decided I just wanted to do it on my own, because the process of trying to find people to work with wasn't worth the frustration. It was creating a lot of negativity instead of producing something positive. I decided I would just start and figure it out as I went along. And I did. I had learned a bit of recording from my last band, Strange Fruit. We had a guitarist, a drummer and a bass player. But the core of the band had been just the guitarist and I. And after all the conflict we had, it was easier just to figure out how to do things myself than to look for people.
So, I started Android Lust and put out my first cassette demo in 1996. I basically just started going to a lot of Goth clubs in New York and connecting with people:  Bat Cave; the Bank and a couple clubs in Jersey. It took off from there.
Musician Coaching:
Were you just playing those clubs, or were you also attending when you weren't playing and getting to know people?
Shikhee:
I was doing a little of everything. When I wasn't playing, I was going pretty regularly back then and making friends. That was pretty much my scene back then.
Musician Coaching:
Most artists at one point sit down and think, "Who am I as an artist, and what kind of people would 'get' me?" Did you actually have a moment like that, or did you just say, "Underground night clubs, etc. are going to get this"?
Shikhee:
I never really sat down and thought about that part of the process. I think at that point in my life, it was the music that I was listening to and surrounded by I felt connected to. So, I naturally gravitated towards it myself. And the people that were receptive to it just happened to be there at that time. It wasn't necessarily a conscious decision to push towards a specific goal. I was just there, and I happened to fall into something that I connected with.
Musician Coaching:
Did you ever feel like you had to politic, or had you just become friends with the people who were the gatekeepers into the clubs you wanted to play?
Shikhee:
Politicking and building relationships with people would've probably helped a lot, but I'm really bad at networking. I am really not good with just schmoozing, so I never did that. It just happened that I met a guy who was a DJ at one of the clubs, and he had was the head of Tinman Records. He liked my demo, and he ended up wanting to sign me, which was how my first release came about.
I did give out demos, but it was always hard for me to present myself, so I just gave people my cassette demo without doing much else. I guess I was lucky in that way. Networking is a skill I'm still working on, and I don't know how far I've come, but I must've gotten better.
Musician Coaching:
You've been working on Android Lust for about 15 years now. Knowing what you know now, what are some of the things you would've told yourself in 1996, when you were just starting out, that would've helped your career?
Shikhee:
In the late '90s, it was pretty much all about the music. And I think I was really naïve in a lot of ways. You mentioned politics, and that was something I really didn't think about. I just thought if the music was good, it would get attention, which I know now just isn't the case. It just doesn't work that way. Everything is about relationships and the people you know, those you do favors for and the people you're friends with. It's something that I know exists and I accept, but it's kind of hard to swallow. There are a lot of other introverted artists out there, and it's difficult knowing it doesn't really matter how good you are. Ultimately what matters is the relationships. And networking and building relationships is a skill people need to learn, especially now. Because, with social media and everything else, that's where we're at, for better or for worse.
Musician Coaching:
And have you found one type of social media more useful than others in promoting your band and getting your music out there?
Shikhee:
I use Facebook and Twitter more than anything else. MySpace kind of died away, and in terms of all the others, I just don't have the time and energy for them. Facebook has been successful for me, in part, because people who become your fans on Facebook seem to not be out to put you down. With some other sites, there seems to be this sadistic streak where they want to put down artists. There is no accountability,  because you're an anonymous face, and you can just get away with saying whatever you want. You can say things you wouldn't say face to face. I think people tend to be more genuine on Facebook.
Musician Coaching:
Sure. They're connected to real personas.
Shikhee:
Right. Of course, there's other negative stuff that happens there too; I don't go to Facebook except to manage my band page, because I can't handle all the noise. But that has become the most supportive community for me in terms of promoting Android Lust.
But interestingly, I've actually made some real-life friends through Twitter. In fact, my merch and touring manager, and our road tech are people I met through Twitter. I haven't found myself building real-life relationships like that through any other social networking sites.
What I find curious about Twitter is that you could say, "I made chili today," and you'll get 30 responses. But then you'll say, "Hey, I bared my soul and created this piece of art that I connect with," and you'll get one response. And that's usually not the case on Facebook, where people tend to respond to that kind of thing. I'm not sure why that is.
Musician Coaching:
Everyone's experience with social media is different, which is why I enjoy talking to people about it and what they pull away from it.
You guys are definitely in a very specific niche. Do you find that having a presence on niche sites, like, for example Goth/Industrial sites like Vampire Freaks, etc. and other scene or lifestyle sites has helped out?
Shikhee:
Yes. Though, our presence on sites like Vampire Freaks is probably not as active as it could be, simply because I don't have the bandwidth to maintain all those sites. Also, to be honest, the whole "push, push, push" style of marketing has always been incredibly draining for me. I want to focus on creating and of course I want to connect to fans. But this whole style of constant promotion, which is the new paradigm, is I think in some ways very harmful. It really drains you and takes away that bubble that artists used to be in, that was a good thing for being able to create – the bubble that really isolates you as an artist and allows you to immerse yourself in your own world. Now, you're constantly doing a  back-and-forth. For me personally, that's not been a great thing.
Musician Coaching:
How did you go from touring regionally in New York, New Jersey and Philly, to pulling off a cross-country, national tour?
Shikhee:
That was a great experience. Over the years, I've been getting a lot of DJ play and club support. That was when the music was more club friendly. Now it's a little more experimental. I did build up a lot of contacts across the country that way. And I basically just put together my first national tour back in 2005.
Musician Coaching:
And when you say you built up a lot of contacts, was that pursuing relationships with other bands or directly with clubs?
Shikhee:
It was about getting on playlists and having people say, "I really like your music. I'm spinning you." I basically contacted a lot of DJs in different cities that were playing our music and said, "Hey, do you know of a promoter in your area who would want to book me?" I collected a lot of names by emailing and asking for contacts from people that already liked what I was doing. From there, I started contacting the promoters and tried to put a route together across the country. My first cross-country tour was three-weeks long.
Musician Coaching:
Had you talked to these DJs before you got on the label, or was your success with them the result of being on the label?
Shikhee:
Being on the label helped. At that time, I was on Projekt Records. And that definitely helped me get a lot of plays. Back then, I was also in contact with people across the country through MySpace. And in the industrial scene, the DJs were the ones that knew who the promoters were in their local region.
Musician Coaching:
Do you have any other parting words of advice for artists?
Shikhee:
Something I tell myself all the time is, "Self doubt is your biggest enemy." You need to have faith in yourself. That attitude is something I try to practice, and sometimes I fail, sometimes I succeed. But you need to go for what you believe in, because nothing else really matters.
To learn more about Shikhee, her story and her music, visit the Android Lust website. You can also follow the band on Facebook and Twitter.