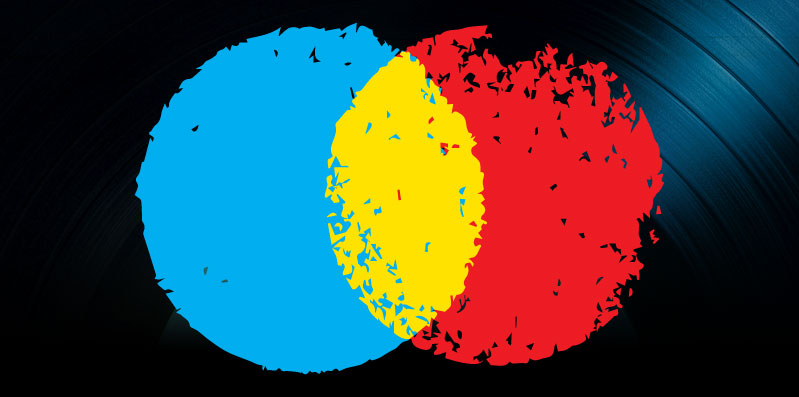 Touring Smart with Martin Atkins
This is a re-post of an interview initially published on the site a couple years ago with Martin Atkins, author of the book on touring responsibly in the modern music business, Tour Smart. With spring in full swing — a time when many bands are putting together summer tours and shows — now is a good time to revisit his insights.
Martin Atkins is a Chicago based drummer, producer, studio owner, songwriter, university professor and the head of his own label- Invisible records.  He started his career as the drummer for group Public Image Limited (PiL) from 1979-1985 and went on to play with Killing Joke (who he also managed for a time), Ministry and started the industrial super group Pigface.  Martin is also the author of a wonderful book called Tour Smart.  Remarkably Martin is also the father of four, runs what he calls an "Occasional School" called R3 that teaches music business courses, runs a music publishing company and is in the process of writing a few books as a follow up to "Tour Smart".  I am exhausted just describing the many hats that Martin wears.
Musician Coaching:
It is so much to cover, but tell me what was the "aha" moment when you decided you'd had enough experiences all together that there was a need for helping people tour? What was the moment that made you think you had to put it in a book and help people?
MA:
I started a book about my time in PiL. I have so many 35mm slides I took – candid to say the least. I have all my diaries, all the postcards I sent to my parents – they just sent those back to me – and I have all this material. I started to put my PiL book together, which would be quite timely if I had it ready now, because John's recently put the band back together, or a version of the band back together. I went up to Columbia College in Chicago – which is just a couple miles north of us – to get some interns to help with some of the package tours we were putting together – lots of postcards, lots of promotional CD's that needed labeling, sorting, sending out.
Musician Coaching:
For your label, Invisible Records, right?
MA:
Yeah. I went up to Columbia and did a presentation for the faculty to show them why I was a good place to send interns and justify. They said, "Fantastic. When can you start?" And I said, "I can start taking interns now." And then they said, "We need you to teach the business of touring." And I thought, "Oh my God," and nearly said "No," because I was in the middle of planning a tour; that's why I needed the interns. And I asked, "When does the class start?" And they said, "Two days from now." And I said, "Well, how long is the class, is it an hour?" because I can fake my way through anything for an hour. I can pretend to juggle for an hour. They said it was a seven-hour class. My instinct was just to say yes, so I said, "Yes" and worked out all the details afterwards. I was busy planning a tour, rehearsing for a tour. And so I made myself a subject for the class. I said, "I'm going to lose ten pounds in the next five weeks, and you'll watch me get cranky, probably accelerate it." We had to postpone the last two classes because I was on the road for the next six weeks, but we combined the last two classes to be the last day in Chicago, which was the last day of the package tour I created. And I had my class in on settlement, load in, smelling the road crew's armpits. It was great! Odorama! It was in that first class that I asked, "Which textbook are you using?" And I started flipping through the book and asked, "Who can tell me when this textbook was written?" And nobody could. It was 1962! If this was a restaurant, you would've sent this back. How can you spend your money or your parents' money — $25,000 per year – and allow yourself to be taught from a book that was written in 1962? I started to create my own classes, and I think very quickly – we used a map, because I know agents that don't have maps – and started to look at routing strategies. And I started to put these classes together, and it was huge for me. I think people say stuff like, "It was only once I began to teach that I began to learn." And I always wondered what that was all about; but then I experienced it. I walked into a class, and I thought, "Okay, next week I can have my agent come in and talk for a couple of hours, and that would be good." But then I thought, "No it wouldn't, because he's an idiot." So I would excuse myself from class and fire my agent. It was talking to the class about experiences where I actually felt the penny drop for me. Still, Katie my assistant will say, "You know, this isn't a very tour smart approach," and I will say, "You're right. I've learned this lesson already. Why don't I start applying the lesson I've learned?" Accidentally starting to teach was really a watershed moment. Then, after visiting so many different facilities, from NYU to Drexel, to Loyola in New Orleans, to USC, Cal Poly, to the Cologne Institute of Music, to the Midi School in Beijing, to 25 different places in England, Scotland and Wales and three trips to Norway, you start to say, "Hold on a minute! I'm slightly becoming an authority on the state of music business education, not just in the States but around the world." And then seeing what places like Columbia are doing or not doing then caused me to start my own school.
Musician Coaching:
I've read a little bit about R3, and what always catches me is that you teach people how to hack a Xbox console or something crazy like that?
MA: One of the classes we do is X-Box controller modification. It's a cool class. I've done a couple events in studios recently, and I was out in Union, MO, which is the worldwide capital of amphetamine sulfate, or crystal meth. I asked, "Hey kids, who has a modified X-Box controller for me?" And no one did. I thought, "Never mind bringing books to sell to you, I should've brought modified X-Box controllers and cleaned up." It's an alternative revenue stream on the one hand, and it's another way in to say to a bunch of inner-city kids who might not be interested in the music industry, record labels, or recording studios – although many of them are – "Want to modify an X-Box controller?" They might not want to, but they might want to have one to give them an edge on the playground of X-Box Live. And once they come in, we can start to manipulate them and give them more of an educational experience. I like it as a flag to say, "This school is different." We're looking at starting a Vehicle Maintenance 101. We do hands-on dub mixing, screen printing, all kinds of stuff.
Musician Coaching:
Why is it called R3?
MA:
The reason my school is called R3 is because it's Revolution number three. The first revolution was the punk rock revolution, which I was involved in. The second revolution was the industrial music revolution, where computers became part of industrial music and industrial music became a caricature of itself – four guys with an oil drum and a sampler. I'm a punk rocker and open to anything – including writing a book and teaching. Punk rock became the exploited and a mohawk; that was the punk rock band.  The third revolution is that all of the activity and revolution is coming in education. I've seen the state of music business education around the world and entrepreneurial education around the world, and there isn't much. The longer you spend in a traditional facility, the less prepared you are to deal with the real world of entrepreneurial, turn-on-a-dime thinking.
The thing I find interesting is, I had this one lecture I was doing, which was "Tour:Smart" with captions from my book and some other cool stuff; and I started to embroider it, and people started asking me to do keynotes and commencements. So I started to riff on the idea of "What is success?" and "How do we define success?" and "How do we achieve our goal, whether it's 20,000 in the stadium or building the Great Wall of China?" And now the seven lectures that I do that keep embroidering and keep developing are based on the state of the music business lecture that changes almost every day. I'm in front of fifty kids, and you expect, as a 50-year old father of four for them to be throwing things at you that you've never heard before, and that you'll be completely unplugged from a new generation of tech-savvy nut cases. And the fact is, half the things I'm telling them, like "Press the insight button on your YouTube account" or "Do you know about hot spots?" They say, "What?" And you start to catalogue all these changes, just like Motel 6 are giving away rooms to bands, and all this other stuff that's going on, and your head starts spinning. You realize this is another version of figuring out what software you're using in the studio:  Pro Tools; Deck; Sound Design; Logic. You get caught up in this other conversation, which has nothing to do with art and music and ultimately comes back to, "Are you making cool stuff?" It needs to be good music, well packaged with something else going on of interest with the band. You need four or five pistons firing, but once you have those pistons firing, you're unplugged from the restrictions that we had in the early days of distribution, and barriers to entry. And it comes down to what's your music like? I think a terrific example of that is a guy called Moldover. I did a free event two nights ago in somebody's basement studio two nights ago with 35 people there. And this lawyer said, "You can't give away stuff for free. What about the investment?" And I said, "You have to give stuff away for free." And he went through and just destroyed the rules of business economy. This guy Moldover, on the back of his album all the song titles are written in circuitry, on a circuit board, etched. I guess he felt like, "What else can I do to this circuit board?" He built a light-sensitive theremin onto the board with a flashing light and a headphone jack. It's $50. And here I am now telling you about this guy, and presumably you'll put a link. And I'm not his record label, his publicist, his manager – I'm nothing. I'm just a fan. This album he made doesn't make any sense, it's ridiculously cost, time and energy prohibitive to make, but it's cool as hell, and that's all that matters. And he's saving money on a publicist because it's going viral; I'm just one person telling everybody wherever I go about this thing, passing his CD out to the class.
Musician Coaching:
I don't mean to switch gears, but tell me a little bit more about your book and what it is you see people doing wrong often, and what is not tour smart and what is NOT tour smart.
MA:
Not thinking about it, not having a map, trusting your agent, thinking you need an agent, a manager and a lawyer to get to phase one, two, three or four of your business. You don't. You're much better doing it yourself, because there are no economies of time or scale in terms of a band from Chicago going to Cleveland for the first time. Spend five days researching the bands you should play with, play the venue that's too small. That's a huge one. Every band, when given the choice, will always pick the venue that's too big instead of the venue that's too small. You need to pick the venue that's too small, because the worst thing that can happen is the best thing that can happen – "Oh my God, sold out! Second show added!" Nobody thinks like that. Agents and managers are trained to go for the larger venue because it has the greater gross potential. But it also has the greatest potential to completely sabotage a band's progress and throw cold water down the pants of any fan that does show up. People want to be crammed into a sweaty, jumping-up-and-down, small place. They don't want to be with those same 150 people in a 1000 capacity room. It's a buzz kill. Bands don't make t-shirts. I don't know what's up with that. If I have ten bands in an audience, there are always three, four or five of them that don't actually have a shirt yet or they're working on some designs. Two or three of the other bands will have one design. Every band needs at least two designs, and need to learn to screen print. This is a distillation of a ton of stuff. I'll tell bands, "You have to have more than one design, you need to have more than one album. You need your live album, your acoustic album, a collage of phone machine messages from when you fired your lead guitarist. You need tons of things to sell that people don't have, especially when you go back to a city." I think then one of the ways a band can create more goods to sell is by screen printing themselves, screen print a limited edition reprint disc, screen print a wrap-around of their first four EP's, they can screen print their own shirt and experiment with their own design in very small quantities. The worst thing that can happen is, "Oh, we sold out in that design. Give me your e-mail address and your size, I'll let you know next time we're playing in the area, and I'll have that shirt for you." It's huge. Learning to screen print is a huge thing. It removes the filter between you and the expression of what your band is.
Musician Coaching:
The question I get more than anything is – and there's this X Factor of talent and your building your music – "I am burning out my friends and family by asking them to come down to my shows, I don't really know people in other markets." What are the steps to breaking new markets?
MA:
Actually, the person that says that is two clicks ahead of the person that is, "No, everybody says we're not playing too much." Of course they do. It's your friends and family, they're there to support you and lie to you. I'll tell a band, "Only play your local market when you have a new t-shirt." That way you can say, "Hey, it's $8 to get in, but you get a free shirt, and there's a great deal on beer." A great way to play another market is to gig swap. Find that band in Cleveland or Philadelphia, DC or Baltimore. If you're talking about a band in New York, I tell people to forget about New York or L.A. It's crazy. Nobody cares, and it's an expensive city to be in. Look at Louisville, KY and compare your expenses. For the growing phase of a band – the first couple years – New York and L.A. are just horrifying places to be. They're professionals, and everybody's dealing with their own stuff and they just saw Elton John naked on stage with the reincarnation of Elvis Presley and free lobster appetizers and fireworks. I see time and time again bands succeeding in place you've never heard of, because nobody goes there. Immediately, there are no comparisons. You could take your own little P.A. system – someone from Marilyn Manson did this, and it's detailed in a book – 300 kids a night going crazy because they have nothing to compare it with. So you don't have to worry that the P.A. system isn't as good as the one at BB King's in Times Square because nobody has anything to compare it to. Just making the effort is worth a ton, because now you have fans for life. If you have a band in New York or wherever, concentrate on building your local fans. Play for nothing, busk, do other stuff. If you can't afford to buy-on to play with a band that you think their fans would like you when they're at Irving Plaza, for instance, then go to that show and, winter's coming up, busk on the street. That doesn't cost anything. If your band can't busk, get large supplies of hot chocolate and work the line. Once the people are in the venue, they don't care about the first band anyway. You're not going to get a sound check, and the band's going to sound terrible. If the doors open at seven, you'll be on stage at 7:05, and there's nobody there anyway. There are more people outside standing outside, bored and cold. Work that line with cups of hot chocolate, and everyone will be delighted to see you and will remember your name and give you their e-mail address. There's a million things you can do to build your audience. Target some places that are easy for you to get to. Cleveland is kind of far, maybe Pittsburgh is far too. The problem with cities on the east coast is they are expensive to get to because of tolls, and it's difficult to park. Philadelphia, those are big cities that I advise staying away from. Let's go with the example. You find a band in Philadelphia, and once you've built your audience by giving away hot chocolate in the winter or Gatorade, spraying people in the face with cold water in the summer – whatever it is. If your bass player is a great baker, bake some brownies and give those away. Do something. Then, hook up with a band you think you might want to play with in Philadelphia and invite them to hook up with you in New York. There are bands in Philadelphia right now saying, "How do we get a show in New York?" You find a band with mutual interests and work with each other. That's it. And you just keep doing it. There's not one single button you press. It's like I said with the great wall of China, "How did they do it?" It's just a ton of bricks laid end to end, and that's it. You take a step back from the Great Wall of China, and it becomes this unfathomable seventh wonder of the world. How did U2 fill a giant stadium with a huge inflatable helicopter? I saw U2 play to 17 people. They toured for five years straight pretty much in the early 80's. We stayed with the same girls they were staying with off and on. That's it. Once bands can get a hold of that idea, they can grow and start to build their brand. Yeah people should be O.K. musicians, but I think the amount of time you might spend going from "pretty good" to "amazing," maybe you can fake "amazing" with a strobe light and some pyrotechnics. I would say, it's a lot of effort to get from good to amazing. It's probably the same effort getting from crap to good. What about learning how to maintain a vehicle? That's concrete movement forwards, instead of ethereal, "Who's the best guitarist?" stuff, which is way subjective. What isn't subjective is, "I can change the oil, I can change the tire, I can deal with the serpentine belt, I'm all over this brake light." That's concrete movement forwards. Dealing with the internet, iMovie, so you can shoot some video, edit it and get it up really quick, and then there are 20 more people at your show. I think there are 25 other skills you could gain before you shoot for exceptionally amazing on any instrument.
Musician Coaching:
I often advise people to collaborate with as many other artists as possible because it can be difficult to get somebody to show up for some band that somebody recommends or to stick around for the following band. But if you're able to collaborate, even if it's on a cover or write a song together online or actually get on stage during someone else's set, I find that effective for some projects. Have you seen that work at all?
MA:
I think it's a combination of whatever leverage and reasons you have to get people to stay and see you. I think a really big part of it is realizing nobody cares. I have bands that will send me a thing to my Suicide Girls column saying, "We've been playing for $75 a night, please can you give us the strategies where we can bump it up to $100 or $125?" And I say, "Yeah, play for nothing." There's never been an easier time for you to say, "Screw the $75." By the time you pay for drum sticks, strings and gasoline it's gone anyway. Play for nothing and find two or three other bands that will play for nothing and go to a promoter and say, "We're going to play for nothing. Instead of you paying us this meaningless $75, now you've got $200 or $300, can we do a special on pitchers of beer?" And then you strategize the week out of the month you're going to do that, which would be rent week – end of the month when everybody's struggling. Set yourself apart from the rest, leverage anything you can and understand the situation you're in.
—-
Check out Martin's Website and Follow him on twitter.
You can also check out his newest book Welcome to the Music Business You're Fu**ed.