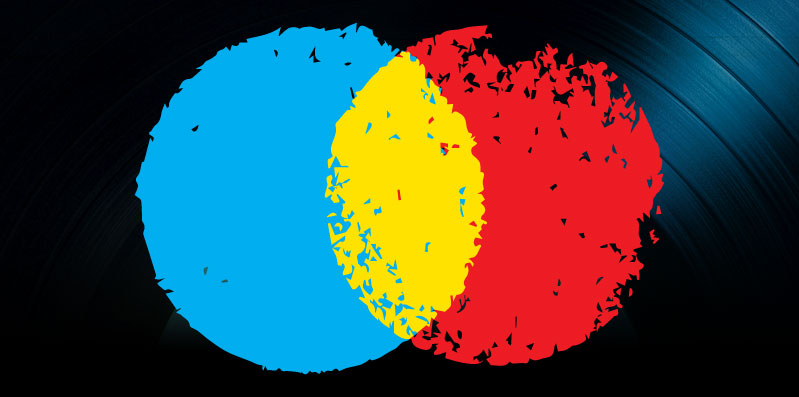 Tom Sarig is a well known and highly respected music and media executive who owns and runs a NYC-based talent management and consulting company called Esther Creative Group.  ECG manages the careers of Lou Reed, Bryan Ferry, Gaslight Anthem, Blonde Redhead, She Wants Revenge, and Le Tigre among others.  Tom started his career in music by leaving a promising career in international tax consulting at Deloite and Touche and starting over in the mailroom at A&M Records in 1990.  After a short stint at A&M Tom found his way into the A&R department at Arista Records as an assistant and then as an A&R Rep, and then went on to be the first A&R executive hired at TVT Records.  While serving as Head Of A&R at TVT Records, Tom worked with everyone from Sevendust to Gil Scott-Heron to Underworld to Gravity Kills to Ministry and even originally signed Ja Rule.  He would later leave TVT for a position as VP of A&R for MCA Records in Los Angeles where he worked with The Roots, Mos Def, New Found Glory and Blink 182 and signed acts like DJ Shadow, Imogen Heap and Blackalicious.  After MCA was folded in to Geffen / Interscope in 2003, Tom started his management company – Esther Creative Group.
.
Music Consultant:
Tom, thanks for taking the time today.  Tell me about how you started your management company.
TS:
Esther Creative Group was born the day after I left MCA.  My first client was a group called Le Tigre.  I really wanted to make my management career distinct from my A&R career.  When you're an A&R person you try to sign things where the group of artists that you love intersects the group of artists you think will perform well commercially and are a good fit for the record label you work for. More and more I felt that a lot of A&R people were more going for things only because they thought they could be successful and not for things they really loved. That's unfortunate, but true. I wanted to make my management career more about just working with things I thought were great. I knew I had to make a living, but I wasn't necessarily hung up on having big hit records, just impacting culture.
I saw in the marketplace that there were a lot of acts I liked that were not necessarily about radio.  They weren't necessarily about selling millions of records but they were building very sizable live audiences and making a good income and were very influential culturally.  I always wanted to try to work with artists I thought were unique and also culturally important. I started with Le Tigre and a few months later got in touch with Blonde Redhead who were looking for a manager and also had a strong following. We did a deal for Blonde Redhead with Beggar's Banquet and did a deal with Le Tigre with Universal label called Strummer and we were off to the races.
I started in my apartment with one intern. It grew to me starting to manage the band Cake, who had a strong history and following, and who I had wanted to sign at MCA a few years earlier, so I knew them. I started working with a young punk band that made a couple great records not a lot of people knew about called Against Me!. I have always been a giant Bruce Springsteen fan, and Against Me! Had elements of the Clash, Springsteen, and younger burgeoning acts like Hot Water Music, and I considered them thrilling. They were an incredible lightning rod of a band at the time. I started working with them and we built from there. We built the roster slowly and methodically and staffed up gradually. A couple years into it I connected with Lou Reed, who hadn't had a manager in several years. We had an instant connection, mostly just talking about art and photography. He has a whole other life as a well-respected and well-regarded photographer and filmmaker. That's been really rewarding and exciting, because besides being one of the greatest American songwriters and all that entails, he's also accomplished in filmmaking.  I produced a film called BERLIN that Julian Schnabel directed for Lou based on a musical work that was staged at St. Ann's in New York three years ago. Julian Schnabel shot it in New York as a concert video for him that was a beautiful show in Brooklyn with 40 people on stage, including 12 strings and horns and, 15 kids in a choir. It was an exceptional show. We then sold the film to the Weinstein Company and about 15 film companies around the world. It was a great film experience. I just produced another magical film for Lou that is essentially a conversation between him and his 101-year old cousin Shirley, who lives here in Manhattan and was a holocaust survivor and a labor leader in America.
Music Consultant:
What's that one called?
TS:
Red Shirley. Lou decided to make a film just as a labor of love and a testament to his cousin. He wanted to get her on tape and record a conversation with her. He made it with a good friend of his who is a very renowned photographer called Ralph Gibson. Ralph shot it and it's Lou interviewing Shirley. It turned out so great that a younger manager in my office, Brie Greenberg and I, submitted it to about 15-20 film festivals, and we've had it in the last year in about 10 film festivals. It's a short film and not a feature – only 28-minutes long.  It's been a really rewarding experience. Working with Mr. Reed is a wonderful varied group of experiences, from photography to music to books. Lou has not just a book of lyrics out, but three books of photography out and an illustrated novel of The Raven. He has about six books released in total, a veritable 'King Of All Media'.
Music Consultant:
One of the reasons I wanted to Interview you Tom is that you are always trying new things.  You are handling massive heritage artists but are also working with artists that have been making a living in the digital age without having had established careers before that time – like Gaslight Anthem.
TS:
Yes, Gaslight are a very special band and are doing great.
Music Consultant:
For my $.02 Gaslight Anthem is one of the few artists hat have come out in the last few years that have developed a very loyal following and a seemingly sustainable career.  From your vantage point – what does it take to build something like that today?  I know it's a generic and broad question, but what are you seeing that is moving the needle for your acts that are newer or just breaking through?
TS:
It's a lot of luck, to be honest with you. But it's a lot of hard work also, and the Gaslight work ethic is unimpeachable. The Gaslight Anthem was a band that was the first of three opening on tour for our act Against Me! only a few years ago. Against Me's young tour manager put out a Gaslight Anthem EP on his little label. Anna Jacobson-Leong (another manager at Esther Creative Group) and I loved it. So we pursued the band and started managing them and they soon signed a deal with a solid indie label called Side One Dummy in L.A.  They've just released their second album for Side One Dummy.  Anna at our company has done just superb work on Gaslight and deserves a tremendous amount of credit.  It's been some lucky breaks but really a lot of hard work. This is a band that had just one record prior to us starting to work for them on a tiny label that didn't even have distribution.  Their music is very uplifting to me, Brian's lyrics are at once profound and universally relatable to almost anyone's life experience—the hopes, fears, loves, disappointments  – it had a quality that the press really connected with. They connected with it first in England.
They've been compared to Springsteen a lot, and I'm a big fan of Springsteen since I was 13.  I don't hear so much similarity in the sound as in the sentiment–Gaslight has a similar populist working class hero element to them.. They have a very unique perspective that is really true and wonderful. They connected. On the first record, Anna marched into my office to proclaim that Kerrang! had decided to put them on the cover as an unknown band, which never happens. One might call it luck, but everyone worked so hard, and the band made an exceptional record for Side One. The press was the first champion. They really connected with the media in a big way all over Europe and in the U.S. at the same time. Internet viral word spread incredibly. What sealed the deal was – they didn't get much radio play – but they are such an incredible live band. They are one of these bands that give you a religious experience seeing them live. They are uplifting and incredibly tight. They are true 'ordinary' folks heroes (thought not really ordinary in any way!).  They've toured forever, and have made an incredible new record that we're working now. We all think they have a chance to be as big as they want to be.
Music Consultant:
Ahmet Ertegun was quoted as saying, "A hit will find a way." That's part of what you're talking about, but would also discount some of the work you did. What was it like getting them dates and getting them from a little known act to an act that draws nationally? What does that take in this day and age? Obviously you're a guy that has a lot of favors you can leverage to get them in front of fans and in front of an agent, but even still…
TS:
The band has to be really great live, because there are too many bands touring these days. In the beginning, like with Gaslight, Anna and me, we can pull favors to get them on tour with this band or that band. But the tours wouldn't have meant anything had the band not been exceptional. We're going through it now again and starting to see it with this other band we work with called Company of Thieves, who are on Windup Records. Their singer Genevieve is one of the best front people I have ever witnessed in my life. When I started working with them over a year ago they had no virtually zero live following at their shows. They had a record they recorded on their own for five or ten grand in a small studio in Chicago that they put out locally.  Windup found them, bought the record and released it nationally. That record has sold close to 50,000 records now. In the time I've known them, that band has gone from not really being worth many tickets (even in Chicago which is their home base) to selling out venues like the Bowery Ballroom and are now worth 500-800 people in 20 cities. Like Gaslight, the band is like a deeply moving experience live. You have to really be that great, or you can't cut through the other acts.  There is too much to choose from today, you really must be supernaturally exceptional.
I think it's really difficult.  As an artist you have to have it all, but you have to be really incredible live or you're not going to get anywhere.  We just got Company of Thieves a couple good support slots with The Hold Steady and Ok Go for their next tours to set up their next record coming out early next year 2011. They are currently out supporting the Hold Steady for a month and are doing great- but they're doing great because they are winning new fans every night.  That doesn't happen to most bands. It is all too common that you can get new artists good support slots and nothing much happens. If the band can't deliver and really impress people live then getting a good tour doesn't mean that much.
Music Consultant:
So what gets your attention in this climate as a manager and what advice would you give to artists in the Digital Age?
TS:
It's still and always has been about just seeing something really unique and special, almost otherworldly:  an artist who is a star, and has exceptional and unique songwriting talents but can also be breakthrough; someone that has a unusual perspective and is a great live player. It has to be all of that or it's tough to take it on.  We take this very seriously—it is our lives and our artists' lives. You have to really love everything you work with.
Advice as far as the internet age?  It's certainly gotten harder for bands to get from zero to where they are drawing 300 people in a few towns. I think it's really just using the Internet and the tools that are available today to build fans one by one. If your music is compelling enough and you are an inspiring live performer, you will find fans. There's a certain amount of luck involved, but you will find fans if your music is good and if you can cleverly build on that. It's certainly tougher than ever, which is a shame, and I think the Internet is still working itself out as we develop filters and with its relationship with music.
There are so many records released today because everyone can put out records today—there is no barrier to entry. If you get a record and it has a label like XL or Matador or something that has a perception of being a credible label, then you can somehow sometimes get through quicker or get noticed quicker than a band coming out of nowhere without any 'context'. In a way, label names and labels have become quasi filters. I guess they always have been, because press and the media and radio and television pay attention to major labels or bigger indie labels generally speaking before they pay attention to something that comes from nowhere just dropped on their doorstep. Context is really important, and context is harder to achieve than ever, because it's a very crowded marketplace and there is a lot of chaos out there. Cutting through that crowd is tough, but necessary.
You can follow Tom on Twitter or do yourself a favor and check out his new client Company of Thieves.  Also check out Tom's new project CROWDBANDS.  It's the first online community run record label driven by the guidance and decisions of its members.