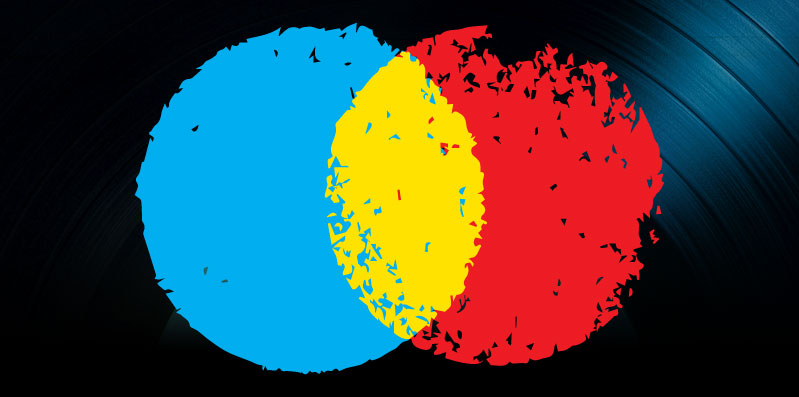 Mastering the Recording Studio
Mike Flannery is a composer, producer, engineer and children's recording artist in New York City. A classically-trained musician since childhood, he got his start in rock playing in the NJ underground scene in the '90s. As a major label artist with LAVA/Atlantic in the early 2000s, he toured alongside major artists including Outkast, My Morning Jacket, LL Cool J and Ludacris. Around this time he also opened his own recording studio in Maine and started honing his craft as a producer, engineer and mixer. Eventually, Mike branched out into advertising and began to compose custom music for several high-profile national campaigns. In early 2012 he opened a new studio in New York City and continues to compose for brands, record with artists and also share his expertise on various music-industry-related topics through speaking engagements.
I recently got to talk to Mike about his background as an artist and producer and how artists can prepare to do high-quality work in the studio. He also shared some really solid tips for those who want to build long-lasting, fulfilling careers in music.
Musician Coaching:
Thanks so much for taking some time to talk. First of all, how did you get started in music, and what led you to want to make a career out of it?
MF:
My aunt was friends with Loretta Long, who played the character of Susan on Sesame Street. She got my folks and me onto the set to watch a taping when I was four years old. There was a segment in which "Bob" McGrath talked with some young Suzuki students and had them play violin on the show. I asked my parents if I could play violin too, and they took me out the next day and got me a tiny fiddle and some lessons.
I decided to make a career of music not when I got a record deal back in 2001, but when we got dropped and I went back to school to become a lawyer in 2004. I will always remember when a bunch of great lawyers at a non-profit for which I volunteered sat me down and listed all of the reasons why I should not be a lawyer. The intervention worked. Thanks again, LSNJ-LAW hotline!
Musician Coaching:
You've produced and played and collaborated with a lot of big-name artists and have enjoyed a lot of your own success as a composer and recording artist. How did your career as a musician segue into and then fit in with your career in recording/engineering/producing?
MF:
I've approached music from a recording standpoint ever since I installed Digital Orchestrator Pro on my PC in high school. The first Little T and One-Track Mike recordings were all done DIY on that PC. And when we signed with LAVA/Atlantic in 2001, I asked the label to give me the recording budget so that I could piece together a studio and they let me do my thing. The first record that we did was almost entirely tracked in Little T's grandparents' beach house on Long Beach Island in New Jersey. Being self taught works out a lot better when you're learning on your own material.
Musician Coaching:
You ran a successful recording studio for seven years in Maine. Who are some of the artists you worked with there?
MF:
Most of the money I made in Maine came from New-York-based firms. I did a ton of stuff for the mobile media industry that included TV ads, bulk processing of ring tones and a bunch of video tones that, for a moment, seemed to be the next big thing. But what I really loved about having a studio on Main Street in Bangor was recording the local folks who just came in off the street. There were a bunch of really memorable sessions: One guy was a real estate lawyer in his sixties who came in with his guitar and recorded some incredibly beautiful original songs in this great gravelly voice. Another was an awesome Irish bar band called the Bar Stewards. And then I worked with a Franciscan Friar, who was also a great magician, and wanted sound effects for a few of his tricks. I also recorded a wicked-good blues harpist named Merlan who would stop by when he was in town, and an incredibly charming woman from Quebec who plays accordion and sings old songs from Quebec. (I think she once paid me with a delicious rum cake.)
Some notable cats who came through were Nigel Hall, Mark Tipton, Sara Richardson, Ryan Zoidis, The Bay State and Andrew Clifford, all of who have roots in Maine.
Musician Coaching:
That's a pretty interesting mix of folks. What led you to make the decision to get a recording space in New York City this year? Which type of artists do you work with, and what are some of your goals for the studio?
MF:
Aside from my workload getting to be too much for a home recording set up, I think that working on ads and other corporate music projects from my apartment became too insular a lifestyle. I want to work with as many different people in as many different genres as possible and be consistently involved in that great symbiosis between artist and producer that gets me so jazzed about my work. A professional atmosphere is vital to facilitating that type of interaction.
That said, being able to crank the subwoofers doesn't hurt either. Eventually, I'd like to expand out from one room and have a small suite of rooms that I can keep booked.
Musician Coaching
Because you've had a lot of experience composing music for the advertising space and have built brands through music and have also been a major label artist who has worked in a lot of other parts of the industry, you have a pretty unique perspective. What are some of the things you think composers and artists need to be doing to get people in the advertising space to be receptive to their work? What have you seen that has worked and has not worked for those interested in marketing their music in that particular space?
MF:
It's important to show that what you do is more valuable than what, say, a music library does. I find that for me this has taken the form of a trust between my clients and myself built over years of working together. They know that when they call me for a job, I will respond immediately. I will not only be open to any and all ideas that they have for a piece, but will also be able to translate those ideas into a musical composition that we can then change and tweak together until it is perfectly aligned to their vision. When I get a call from a client, I'm not just ready to jump when they say, "jump" – I'm already in the air when I pick up the phone. I try to anticipate my clients' needs and be ready to meet them as close to the word "go" as possible. Not only that, but the answer is always "yes" no matter what the request. I know that I'll be able to figure it out after the fact, but during that conversation, I can do anything I'm asked to do and sooner than they actually need it done.
What doesn't work for people who decide to make it in a creative field is a lack of confidence. If you are not totally self-confident and if you tend to question whether you are the right person for the job, well, the next guy is going to get it. Creative directors have absolutely no time, and they definitely have no time for your insecurities.
Musician Coaching:
That's pretty solid advice. You've obviously worked with a lot of artists in the studio on the production side of things and have done a lot of recording as an artist. I know a lot of bands and artists go into the studio not having a clue what they're doing. What do you think bands should be doing before starting to work with a producer? Are there specific elements they should have planned out in advance?
MF:
Artists need to know who they are. I know this sounds obvious, but unless an artist comes to me with a clear vision of who they are and what they want to express, they might end up feeling as though their producer has imposed a vision onto their work that will be hard for them to feel good about owning. It's important to always have that ideal to fall back on, like a core mission statement.
For instance, my kid's music group, the Flannery Brothers, has a goal in mind when we write and record songs. We are always honest; we only write about things that we actually think about and do as adults. As soon as we start to tread on ground that comes from a place of remembrance – for instance singing about getting a "boo-boo" at recess (ugh) – we throw that right out the window. Since we have this simple axiom against which we can hold up all of our artistic decisions, we always sense when something isn't right. We will even look at each other in the studio, say, "Is this honest?" and if the answer is "no" for either one of us, the idea gets squashed immediately.
As far as the mechanics are concerned – like planning things out or figuring out your ensemble – I find that the process is different for everyone. I do tend to think that it's important to play songs live before recording them, because they will change and evolve in front of an audience. Also, it's important to know what your budget is and understand how much you can actually afford to do. If you can't splurge for renting that 1965 Rickenbacker 12-string, maybe you don't need that one song to sound exactly like "A Hard Day's Night."
Musician Coaching:
What should bands/artists be looking for when they are trying to find a producer that's a good fit?
MF:
Give me a call, I'll let you know.
Seriously though, I think it's all about personality. Sure you want someone you can trust to give you a great product within your budget – that's a given. But really, you're hiring someone to sit in a tiny room with you for days or weeks. If you don't dig each other, why would you put yourself in that position? There's one example that comes to mind of the lead singer of a very popular band who needed to get incredibly drunk before singing. If his producer had had a problem with that, the record wouldn't have been nearly as good.
Musician Coaching:
Undoubtedly, you've witnessed some changes on the production side of the music business in the past 10-15 years. What are some of the specific changes you've seen as an engineer/producer? Do you feel it's more challenging to be a producer than it was 10-15 years ago?
MF:
I think the main difference between right now and the turn of the millennium is the quality of production that you're seeing from home studios. You used to have to be pretty savvy to get a great recording out of your living room. My ProTools Mix Plus rig would have been prohibitively expensive if I hadn't had label backing, and now my current rig – although probably about one-third of the cost – is much more beautiful sounding and powerful. Also, the options that we now have for soft synths and samplers are just incredible. I'm in love with the new Native Instruments Komplete bundle and find that I use something from it on almost every session.
The accessibility of these new levels of processing power coupled with the new way that music is distributed has been a total game changer. A lot of great studios have suffered because of it.
That said, nothing can really take the place of a solid understanding of audio.  A common complaint that I hear from my friends who work on records is that the quality of the recordings they receive for mixing and mastering has gone way downhill – sometimes to the point of being almost unworkable. Here's a tip: When you record digital audio, do it at a high bit rate and record at low levels. Your mix engineer will thank you for it.
As far as how challenging it is to produce music, it really hasn't gotten any easier or any more difficult, and it never will. No matter which equipment you have at your disposal, it will always be about what you do with it not what it can do. The job will always be creating the vision that the artist or creative director, or modern dance choreographer or whoever has in their mind. They don't care what equipment you have. In fact, most of my clients in advertising have never seen my rig. They just want something that sounds good.
Musician Coaching:
That's all really helpful stuff for people to know. Thanks for sharing all that.
You've experienced being an artist on a major label. What was that experience like for you? If you could go back – knowing what you know now – is there any advice you would've given to yourself prior to getting a record deal that you think would've helped you?
MF:
"Mike! Save your damn money and try to sleep with more hot girls while you still have all your hair!" Hindsight is 20/20, Ooh La La…
Musician Coaching:
I've definitely never gotten that response before, but I bet a lot of people who have been in the label system might agree with that if they were being honest!
Just one more question, also likely related to hindsight. The fact that you have been consistently working on both the recording side and the performing side of the music industry throughout your entire career gives you a unique perspective. Do you have any parting words of advice for artists trying to build successful careers in the current market? What about advice for those trying to build careers as producers/engineers?
MF:
There are audiences for everyone- it's just a matter of finding them.  One of my favorite articles on this subject is called "1,000 True Fans," by Kevin Kelly. The article describes an excellent way to approach any career in the Arts and is always on my mind in all of my business dealings.
Most importantly though, it's vital to remember how lucky you are to be struggling to make ends meet as an artist or working crazy hours in a studio. We don't do this to make huge amounts of money or for the fame. That's a long shot that not many people ever get to live. We do this for the love of the music, and for the great experiences that come out of doing what we love. I've met so many bitter, failed rock star types who now teach guitar, work as engineers, work as managers, or book clubs. Every time I have some negative interaction with one of these types, I am reminded of what an awesome thing it is to always create, and to enjoy what I do on such a deep level. If music is your compulsion, then first and foremost, you'd better enjoy it.
For more information about Mike Flannery and the work he does, you can visit his website. Also be sure to check out the Flannery Brothers, an original, kid-friendly band he started with his brother, Dan.