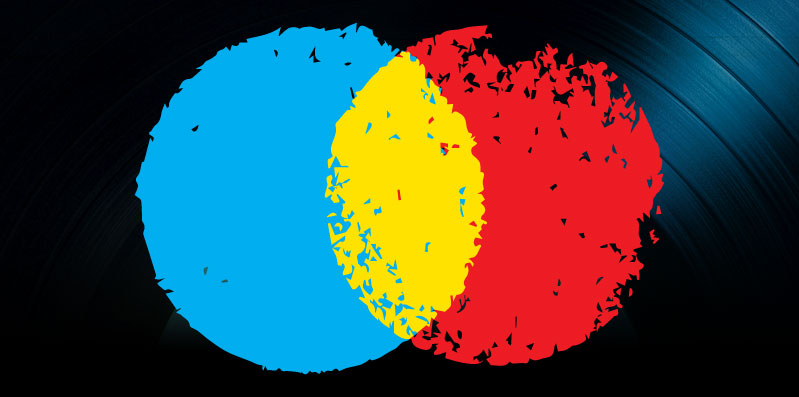 Creative Opportunities for the DIY Artist
Sean O'Connell is the founder of Creative Allies, a company that provides creative opportunities for designers and artists. He is also the founder of Music Allies, an agency that consults on strategy, marketing, publicity and radio promotions for music festivals and independent labels and works with the Hangout Music Festival, Camp Bisco, Bonnaroo Music and Arts Festival, Lights All Night and many others. Sean has done almost everything in the music industry, including artist management, concert promotion, label marketing, radio and booking. He has advised record labels owned by major indie artists including Ani DiFranco, Aimee Mann, Justin Timberlake and Jack Johnson. Last year Sean launched Creative Allies a platform that showcases designers and illustrators from around the world and provides opportunities for them to enter design contests to create art and merchandise for bands, films and festivals.
I got to talk to Sean recently about his history in the music business and how artists can seize opportunities that will help them maintain long-term careers. We also talked about how the music industry has evolved for indie and DIY artists in the past 15-20 years and how his companies Music Allies and Creative Allies work to provide opportunities to members of the creative community in the current industry climate.
Musician Coaching:
Thanks for taking some time to talk to me, Sean. How did you get into music?
SO:
When I was 18-years old, I went off to a small college in New York State. I'd grown up listening to Canadian radio stations under the pillow as I was going to sleep. I grew up in Buffalo, New York, and we're only about an hour and a half away from Canada. I listened to CFNY, and it was probably one of the biggest things in my life. It introduced me to so much music that wasn't getting poured down my throat. I was always a music nut, and the younger brother of someone who was even more of a music nut.
I went to a small college, and I felt very suffocated culturally. And there was a group of kids running a radio show on the information channel – local cable access. So, if you looked at messages about what was in the cafeteria or something, you'd hear these guys' music on Channel 10.
So, then I met a mentor who taught me what it took to start a college radio station. And we raised $100,000 and started a station. I never went home for summers again. I just stayed and built studios. But I felt there still wasn't enough stuff to do in town. So, I started a club on Wednesday nights called "The Freak Show," which was at a sports bar. We completely made it over. And we packed 500 kids in at $5 per head every Wednesday.
I've always had an intuition for what other kids and other music fans gravitated towards. And I really never looked back. That time at school, being at a small college allowed me to get funding for local musicians and get a key to the recording studio at the college. Although I suck at engineering, I was the guy with the key, so we'd spend all night just making records for everybody. I eventually decided to go out on my own, move back to Buffalo and start a concert promotion company while managing some bands.
Musician Coaching:
Which bands did you manage?
SO:
I managed a band called Johny Vegas.  They didn't go down the record label path, but we figured out how to sell 20,000 CDs each year and fill up clubs from Boston to Detroit. We'd built up a really good following. I quickly went from not knowing anyone in Buffalo – because I was only a kid the last time I'd been in Buffalo and didn't have access to people at the clubs – to having success booking a lot of bands. Pretty quickly I was booking ten shows per month. And I got an opportunity booking a club called Nietzsche's. When I was growing up, I had always wanted to get into that place. Then, all of a sudden I had two venues, the first and then a club called Network that Jim Kelly of the Buffalo Bills had opened. And then quickly grabbed a third, which was a 3,500-seat venue called Melody Fair. By the age of 24, I had an amazing business running three of the most important music venues in a city that had a huge music legacy.
I had my fingers in a lot of different aspects of the industry. But I was essentially a self-made guy. And I was managing two bands and running a record label for one, marketing for three venues, putting on lots of concerts with huge risk. Because I was only 24, I wasn't really good at saving money. But I was good at spending it. It became a very risky business, and I started gravitating to a couple folks who were at Righteous Babe. At the time, Ani DiFranco was really taking off. And I really wanted to focus on something. Within my first year, we had Ani DiFranco a Top 10 hit. I was working with them on radio promotion and other marketing.
Musician Coaching:
Well, and clearly Ani DiFranco invented DIY. That was the first time I heard of someone saying, "I'm going to do this on my own." And at the time, I was at a major label thinking, "What? I don't understand." What was it that drove her to be a DIY pioneer?
SO:
First and foremost, it has everything to do with her. There is a lot of great music out there. But there is very little great music that just connects. She would open her mouth and sing stuff that related to so many people. It was powerful and emotional. It's 20-years later, and I've seen very little that's like it. Her music was clearly her drive and why she's on this planet. She was always an incredibly reserved person socially. But on stage, she really opened up and talked about what was going on in her life, how she perceived the world around her and barriers that were put up and the ones she thought could be easily broken down. It was powerful.
At the same time, there was a guy named Scott Fisher, who is still Ani's manager and is amazing. He started as a carpenter, and had gone to law school in order to offer services to defend defendants on death row. So, they shared a lot of values. And he saw how things were starting up for her and came in and said, "I think this could be done better." He was a very system-oriented guy. It was fantastic, and incredibly refreshing for me, because I had built a lot of my own systems. And we all just decided we didn't care how the major labels were doing it. We were in Buffalo, New York, and we were having a great time. Clearly, no one was going to starve, because she was already selling 1,000 tickets.
Her success was also informed by it all being about her home town. All her packaging reflected that. Living Clip is a great example. That booklet has a certain sheen on the cover and there was certain kind of binding. Ani wanted the box a certain way. And it was really important to her that the visual identity and the quality of her recordings went all the way to the packaging. But we had a huge restriction, because we made a pledge that everything was going to be done in Buffalo. I think that particular album was done by four suppliers. And the volume of orders was so great that we were trucking things from the printing company, to the book-binding company, to the company that did the laminates for the CD, etc. It was a wild experience. And I don't know what the exact numbers were, but it was a ridiculous cost per unit. No one at a major label would've ever done that. And we did it this way all because of these self-imposed values. We wanted to help our local economy. We wanted to not just be residents, but be a part of the community.
Musician Coaching:
And I think that ties back into what you're currently doing. Ani DiFranco was just a bullet point in your experience list.
SO:
My experience with Ani DiFranco still informs everything I do today. And she's actually one of the first investors in this new company I have. I remember at one point in my career going back and asking them how merch was doing at one point. And they said that one t-shirt they had was selling through the roof. And it was a t-shirt that just said, "Ani Fucking DiFranco."
It was a shirt that was being worn all over Italy on her tour. One of the crew members bought it and brought it back, and they bootlegged the bootleg. And it became the #1 selling piece of merch. I've heard this story over and over. But that really sticks with me, because we have – whether we're working with bands, brands or pop culture items – traditionally taken merch design from the top, down. It's always been some illustrator or graphic designer who is determining the look and feel. And the truth is, it doesn't necessarily translate. In all fairness to Ani, there are a lot of young women who are at these shows. And I will look at them and think, "Why is there a 40-year old guy in an office at RBR designing these t-shirts?" That was a very informing part of the business and in a lot of ways led me to what I do with Creative Allies.
Musician Coaching:
Where did you go after Righteous Babe?
SO:
I wanted to try some other things and get out of Buffalo for a while. I moved to Boston and did marketing and promotion for RYKODISC and was excited to work at a label that was so important to me when I was a kid and when I was building the college radio station. And that really expanded my network. I got to have a lot of success with older artists and different genres, and built a lot of confidence and started to believe I could make a big difference.
After that, RYKODISC was sold to a major corporation, and I started to feel like I was working for people who didn't have the same values, were letting the idea of catalog fade away and treated people terribly. So, I decided to leave and go into independent radio promotion for a few months. I loved the guy I worked for, but hated the job and the idea that radio promotion and that world was 32 records a week going on a list, trying to get feedback from everybody, etc. There was really no creativity in it.
I was a marketing guy despite the fact I'd had a lot of success doing record promotion for some of the best indie labels in the '90s. But that was creative, because I didn't have the resources and the budget. I had a voice and a direct line to the president of each company and to the artists themselves. As an indie record promoter, I was just a call jockey.
Musician Coaching:
In that position, you're a telemarketer – no question.
SO:
Yeah. It was at that point that I moved back to Boston. And I joined a startup that was three guys who had just received a $3 million raise from Sonicblue to create products called "music tellers," which were ATM-like devices to plug your Real MP3 player into and get music quickly. There were not a lot of ways to get music and not a lot of people with high bandwidth or a lot of digital music storage, and CD burners were not very sophisticated. This particular business was obviously short-sighted because obviously very shortly, technology went into overdrive. But the idea was to increase customer satisfaction and create a cloud music environment.
It was a great experience for me. And it was pretty amazing to watch $3 million get burned that quickly.
Musician Coaching:
And it's better when it's not your $3 million.
SO:
It was a great time, and I did learn a lot while I was there. Then RYKODISC separated from Palm, and they asked me to come back. But it just wasn't the same. Around that time, it was really clear there was a huge opportunity to create a company to fill a huge gap for musicians and for music festivals, something I was incredibly excited about. I had really been this genre-free music fan, who actually had a lucrative career promoting fringe artists to radio. But I felt like I didn't relate to radio stations' programming and the concept of caging everyone into a box. And there was this European model emerging for music festivals where you could go to one and hear everything from blue grass to heavy metal. And I liked it all. And I saw that there were other people like me out there.
So, I started Music Allies. Our first clients were Ani DiFranco and Bonnaroo. Ten years later, we provide those resources and marketing expertise and strategic vision for a lot of independent music companies, but especially the ones that are owned by recording artists. During our ten years, we've launched labels for Martin Sexton, Ani DiFranco, Aimee Mann. I even helped Justin Timberlake launch Tenman Records. That all came out of referrals.
We don't market Music Allies. We just do our job well and clients call us.  We don't look at how other record labels are doing it. And in this troubling time and in a fragmented world, when recording artists can really monetize their recorded music, we really decided to stick with our small family of labels:  Jack Johnson's Brushfire Records; Ani's Righteous Babe Records and a handful of other artists. We're not growing that part of our business or trying to solve the big questions on how to make a good middle class living if not become a superstar in this new music world. The big reason is that our work with brands and festivals has really blown up.
Musician Coaching:
From your perspective, what do you think aspiring artists should be doing to be a part of these festivals?
SO:
Be great and be honest with the connection that you're making. If there ever were magic bullets, there are less of them now. You got to hustle and make your own destiny. There are fewer guys with ponytails in suits that are going to walk into your life and make you a star.
But my biggest piece of advice is team up with someone passionate to work with you and that doesn't mean someone from the music business.  When you look at a lot of people I've worked with and look at who their managers are, they started as enthusiastic young people who didn't have training in the music business, but just saw that they could really do something. Scot was that for Ani. David Sonenberg, who manages the Black Eyed Peas and others, was in his early 20s when Meatloaf came around, and that's how he got started. I think that part is huge.
And that's pretty consistent. Almost any time you're doing something great and it's really translating, don't envision the superstar that comes around or the music mogul. Be really good at identifying the cache of fans that want to be more than fans. They don't all have to be managers. They can also be social masters. I think that's a first step.
To be candid, without an audience and without having built a following outside your hometown, I don't think there is a place for you at these major music festivals. That's not what their program is. Many of these bands that play festivals have done really well for themselves. But I would say half the people at the festivals are discovering that band for the first time. Festivals can be a good place for musical discovery, but festivals don't have to do that with completely unknown bands. We're all following our own path. Even with well-known artists, you may not have heard them before. If you're walking into a tent with 5000 people that all love this band, you're still walking in for the first time. That's a really powerful thing.
Musician Coaching:
And which qualities do you think some of these career artists have that so many others don't?
SO:
First of all, they have an incredible work ethic. G. Love is a great example. He's been doing it for over 20 years. He has a great career and has had some of the biggest moments in his career just in the last few years. It hasn't been because of hit songs. It's been because he is genuinely concerned about connecting with people – and not just in music. If you do an interview with him, he'll remember it. He loves meeting his fans and knows where they came from. He's eager to get up in the morning and do work with radio stations or whatever the case may be. He really cares. I think that's a big part:  Do you have that work ethic?
The other part is there isn't one moment where it's all going to happen and you're going is going to sail from there. The artists I've worked with are on the road. For a lifetime. If you are an up and coming band, do you have what it takes to spend time a lifetime on the road?  That's a hard question.  Being on the road when life happens is hard:  parents being ill; friends getting sick; having a family. You deal with all that, and you have to deal with it in a very different way when you are on tour. And I don't think that ever stops.
To have a career, bands need to have that touring base because they're not living off royalties. The ASCAP and BMI checks that are coming in are not that big. You have to ask yourself if you can visualize yourself in this place. And I think that question is a hard question and maybe even an unfair question to ask young artists, because I know I couldn't visualize that stuff 15 years ago.
The other part is, you build a team around you, and you don't sweat the small stuff, but you make sure you sweat the person who is in charge of the small stuff. You need to pay attention to details, whether about your packaging, your fan relationships, etc. All the clients I have really care about all those details.
Musician Coaching:
That's a great segue to move into talking about this newest endeavor you have going on with your company. Why did you feel that there was a need to create this platform where artists and musicians could connect?
SO:
I've been a passionate advocate for musicians for a lifetime. My biggest joy is that I've been able to be involved during the creative process. I've been able to be at musicians' homes when they're making music or backstage, or in recording studios when albums are being made.
I've also always been a passionate advocate for all creative people, so the newest aspect of my business is really a natural extension. I've been involved in the process of visual arts for years. When I moved to the South and got out of entertainment hubs like New York, Boston, L.A. and San Francisco I realized that creative people didn't have access to creative opportunities.  As I discussed many of the surreal and creative moments I've had in my career, they would always say, "Wow." They weren't struck by the celebrity of it all, they were attracted to the creative opportunity. Most creative people are stuck, at best, designing restaurant menus, retail advertisements and health insurance brochures. You realize how massive the illustrator and design community is and how many people have this talent. The number of people that went to college for it and then actually got a career out of it is a fraction. Those people who actually have a career out of it very rarely have the opportunity to collaborate and design for music or anything in pop culture.
I'll hear people say, "If only I could design a poster for a festival," or "If only I could design a shirt for Justin Timberlake" – whatever the case may be. And for me, there was that moment of "what if? This seems to be a great business." The other part is that as much as I've been a passionate advocate for artists for a lifetime, my creative brush is marketing. I love marketing. It comes naturally to me, and I see angles that other people don't. I think that's something I'm good at and I enjoy. And it gets my mind going. It's fantastic. I probably get a buzz off marketing similar to how a musician gets a buzz off writing a song. It's a very creative process for me. So, in knowing there's this opportunity to open up creative opportunities for designers, it became really obvious to me that marketing is so fragmented.
Musician Coaching:
You've now done marketing campaigns for a lot of big names. And I've always thought collaborative marketing started with Mountain Dew reaching out to designers 10-15 years ago and saying, "You should redesign our bottle." Do you find that level of interaction within the creative community contributes to building a brand, and do you have any examples of that?
SO:
Absolutely. One, it's usually under 40% and sometimes as little as 20% of submissions that come from fans of the brand or band. What we've spent the last year doing is building this amazing design community of over 20,000 illustrators. And they come to us for creative opportunity. They may have never heard of your band or your festival. But the biggest fulfillment for them and what enriches their soul is the creative outlet.
We know that not everyone who participates in Creative Allies is a designer, which is a pretty small subset of a band's fan base anyway. They're all connected in a very social world. All of a sudden you have 200 designs, and you have immediately 50,000 wall posts that go up all over the country showing those designs.
With some much music, getting awareness for a new release is hard. Doesn't it blow you away sometimes when you think, "I had no idea Beastie Boys released a record." Everybody is inundated with busy lives and they don't have any idea which albums are coming out. And the way media cycles work, five, six or seven weeks go by after that record comes out, and it's kind of gone. It's a huge challenge for our business. One of reason for the demise of music sales is not hard drive access, streaming or copyright infringement. It's that we all live in the moment. By the time this phone call is over and one day from now, you and I will have had so many moments.
Musician Coaching:
It was described best to me by Eric Garland of Big Champagne. He was asked after Michael Jackson's death if there would ever be another, and he said, "It's not that there will never be another triple or quadruple threat – dancer, singer, choreographer, musician. It's just simply that when he was big, there were three channels where you could perceive somebody doing live music. And at any given point he was on two of them." We're just so impossibly fragmented now. It's too hard to keep track of everything.
SO:
Exactly. So, you can row upstream, which I find a lot of musicians do, for example by saying they need to do a radio campaign because that's what they grew up on. For us, the content itself creates a viral watershed moment. Images start getting shared.
Then of course, we're adding ammunition for the bands themselves:  Facebook; Twitter feeds. Then you have the re-Tweets, the Facebook postings, etc. There is a very viral aspect to this.
Musician Coaching:
I interview people for my blog because I feel like the, "Hey, Ma. Look at me" concept is very real. You're more likely to share my blog if you're a part of it than if you aren't, and I'm sure the same thing goes for artwork.
SO:
Exactly.
Musician Coaching:
Are you offering this service to developing musicians as well?
SO:
We're about to. We curate all our contests. Right now, the value proposition is to participate in a  once-in-a-lifetime design opportunity. We haven't opened it up to young bands. But we've done tons of testing. We can put an unknown band up there and get as many designs that as good quality as I will with any superstar.
That's something we know for a fact. So far, the key to our success has been to not overload our designers. We don't want to put too many opportunities up. We are slowly opening up that channel to younger bands. The first thing we did was a program with the John Lennon Educational Tour Bus and the Warped tour. We did a merchandising makeover programs for one of the bands that won the Warped tour contest. Designs came in from all over the world, and the band walked away with posters, t-shirts and a lot of other awesome products.
We did a similar opportunity with ReverbNation. We received 8,000 submissions per month. We hand-picked young bands to get designs. We know there's demand there. We are going to launch a new version our band makeover program soon. Not only will bands get designs, but they will also get the ability to get an entire merchandising line, which means serious cash. And we're getting an entire creative team around them.
The other thing we're excited about is that around Christmas time, we're going to launch a way to insert our platform into your Facebook page or your band's website. We can create an opportunity for bands to come in at a really low cost and use the engine. They won't get all the viral aspects of it. It will be for their fans, and some of our better designers will see those opportunities as a better value. And they can upgrade if they want more of the social networking. But a lot of young bands come to us because they need artwork. And the truth is, most of the bigger bands, festivals, etc. don't just come to us because they need artwork. They come to us because it's an amazing social marketing play.
To learn more about Sean O'Connell and the work he does, visit the Creative Allies website.