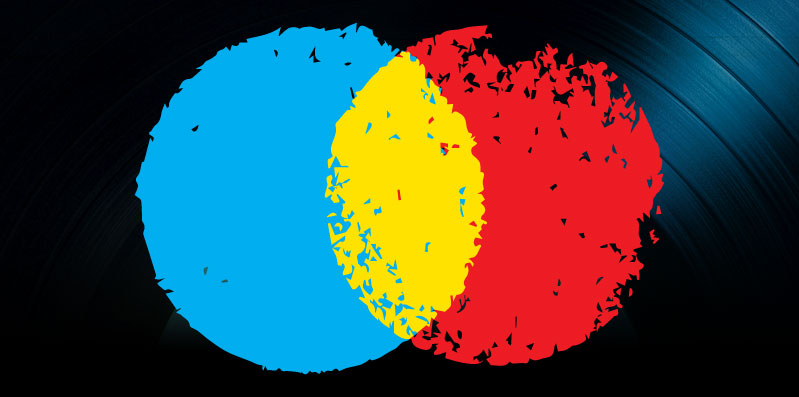 Adapting to New Music Business Models
Russell Pollard is a songwriter and the founder of the band Everest, in which he sings and plays drums and guitar. A lifelong musician, he started playing in bands as a teenager, embarking on his first tour when he was 17. In 1997, he was asked to join Sebadoh as their drummer to help put together their final album The Sebadoh after members of the band saw him play a show in Louisville, KY. He went on to become front man Lou Barlow's main songwriting partner and to play in bands including The Folk Implosion and Alaska!. During his time with Sebadoh, he also developed the passion for engineering, producing and studio work that would eventually drive him to put together Everest in 2007 with Eli Thomson, Jason Soda and Joel Graves. Everest will release its third full-length album, Ownerless, June 26 on ATO Records.
I recently spoke to Russ about his career path, his experience with labels and how, as an artist, he has navigated and adapted to the ever-changing music industry. He also shared some thoughts about why musicians have to take control of their own careers and continuously seek out new and creative opportunities in order to make a living at their craft.
Musician Coaching:
Thanks for taking some time to talk, Russ. How did you get involved in the music business?
RP:
It was really a fateful accident. I'd always played instruments since I was a little kid, and I knew from that time that I wanted music to be a part of my life in some way, shape or form. I pursued business as my degree in college and never dreamt of putting the two words together as "music business" until I got a little older and realized that I had to think about things that way in order to survive.
I think when I really got serious about it was when I started Everest. I had played in bands throughout my early 20s. And I even did my first tour when I was 17, but I didn't have a clue. I just had the drive and desire to do it no matter what. And I was willing to do whatever it took, which included getting kicked out of my parents' life for a while, losing my apartment and struggling with maintaining any income or stability in my life. I bounced around until I got into Sebadoh.
Musician Coaching:
And how did you get involved with them?
RP:

I joined later on, in 1997. I had just gotten out of college, and I was playing drums in a few bands out of Louisville, KY. I was really involved in the music scene there, which was very creative and insular, but not really about going out and making money from it. One of the guys in Sebadoh came out and saw me playing late one night.  I had rushed to get to the show from my late-night pizza delivery job. My only ambition that night was to get the show to play for my friends and have a great time.
One of the guys from Sebadoh liked the way I played drums. At that time, they were going through conversations about finding a new drummer. I was 21, and they courted me and asked me if I wanted to come over one afternoon and play some songs with them. We ended up going through some Sebadoh songs, and they liked my playing. They invited me to come make their last full record with them, The Sebadoh. We wrote that record together and spent months working on it. It was my first time in a real studio. We went to Los Angeles and recorded, and it was all a really overwhelming, big deal for me.
I asked a lot of questions along the way. Those guys were older than me. And the engineers, studio owners and producers were all people I quizzed a lot and watched. I ghosted them, because I wanted to know how they were getting sounds. I realized I wanted to control that all myself someday. So, I got to tour the world for two years. I met a lot of lifelong friends and really good musicians, and I learned a lot.
Back then, I was still looking for something different. I moved to San Francisco, started my own band there and lived off what I had saved up off touring for a while. Then, I was drawn to Los Angeles to play with Lou Barlow again in the Folk Implosion. He was developing new songs and needed a partner and a drummer.
Musician Coaching:
Now, was this Folk Implosion …or Deluxe Folk Implosion?
RP:
He called it "Deluxe" for a couple releases that involved ex members of Sebadoh and friends around Northhampton, MA or Boston.  But it's always been Folk Implosion. And John Davis was a part of a couple of the records. And when John decided he wanted to try something new in life, Lou brought me in, which was how I ended up in L.A., where I learned a bunch more and met Rob Schnapf, who produced Everest's latest record. He's a really skilled guy and has a way with people. He draws the best out of musicians.
I spent the last 11 years in L.A., and figured out in 2006 that I was ready to be fully committed to my own project with the people closest to me at that time. And these musicians – Eli Thomson, Jason Soda and Joel Graves – were of a caliber that I'd never played with before. These guys were all on the same trajectory as I was at the same time. And we just happened to all have the time to put this together. I think all of us were full of questions about how to do things right and how to not get screwed – how to protect ourselves and be smart about what we were doing. Because, there was a lot more at stake when we were starting Everest. It wasn't so easy to just pick up and leave.
Musician Coaching:
That's the bitch about leaving your 20s behind. Somehow, things get a little bit more real.
RP:
Yeah. We knew realistically what it meant to go beyond just playing some fun shows and parties and saying we were in a band together, putting a record out by ourselves and calling it a day.
Musician Coaching:
You guys wound up doing some impressive things. Clearly you had a track record at this point, and by the sound of it, so did your other band members. For a band that is still developing and growing, you've really pulled together some amazing partners, and that's something a lot of musicians desire. What was the process of getting involved with a label like ATO like in the current climate? And how did you get hooked up with Girlie Action PR?
RP:
When we started, we were really immaculate in how we recorded. We took our time and were fortunate enough to catch the ears of music manager Elliot Roberts (Neil Young, Joni Mitchell, Bob Dylan) through a friend that thought he would like what we were doing. I had wanted to release a record on Vapor Records a few years prior but had been turned down. He came to the studio when we were finishing up recording our first record, Ghost Notes. He listened to it, and about 15 seconds after the last song, he turned to me and said – with the tape still rolling, "So, do you want to release it in February?" That was that. That was his way of saying he was going to put our record out. And that turned into a performance on Conan O'Brien when he was still in New York doing his show. That really helped. And then Neil Young invited us to come play some songs in Europe. He was impressed with our live show, so he invited us out for what ended up being three legs of his 2008/2009 tour with Wilco and Death Cab for Cutie.
And then we did some shows with My Morning Jacket, who was on ATO and got in front of their crowd. I think ATO was already aware of us and knew that we were a hard-working band. They knew we were on the road a lot and that we were older guys who had established something cool with Neil Young and his label. They saw us as a good partner.
Musician Coaching:
It's interesting you put it that way, because I run into this misconception that I shared as a kid that people are purely investing in love of music. And you describing having built something, toured and been on an indie is less of an A&R – artists and repertoire – and more of an "M&A" – "mergers and acquisitions" experience. This was somebody who loved your music but also wanted to partner with a business, which people often forget.
RP:
Yes. And today, we all have to face it:  The old model is over, and that dream is gone. Big, fat advances and your name in lights is probably not going to happen unless you're someone big that is going to sell multitudes of records right in the beginning of when their record comes out. It's all suits that are looking at numbers. All the A&R people are scared to take a risk, because they want to keep their jobs, and those jobs are going away rapidly.
When you talk to record label as an artist that doesn't have a bit history or a big catalog, you're going to them and saying, "How are you going to  market our record?" Because, they're not going to give you a bunch of money up front. And they're not going to take a big hit on a band that doesn't have a history of selling a lot of records and a lot of tickets.
ATO is one of those labels that's excited to develop bands they believe in and acts they think are truly good. But there are still numbers involved. The day of a studio executive coming to a young band and saying, "Here's $250,000 to make your record, and here is some living money and a tour van and a big, fat checking account for tour support" are gone. Now, bands have to become clever on their own about how they want to market themselves and how they can afford to tour, get out on the road and pay gas and shortfall prices when tours are not making the kind of money they need to cover expenses. We've had to find ways to grow our own business, whether that is through finding a sponsor to underwrite some of our touring and get us out in front of people, or taking on our own ecommerce and making money off that on the road.
Fans of music can't look at bands taking corporate sponsorships or partnering with brands as a negative thing anymore. They're bringing the bands to the fans. It used to be that they were the ones footing the bill. True fans of music and bands need to understand that when they see Portugal. The Man with a Jagermeister logo on their tour poster, that's the reason that they're in that club that night. They couldn't afford to get there otherwise. It doesn't matter if you like Jagermeister as a drink or think as a company. I think it's ultimately the choice of the band. If they're aligning with a brand, it's a means to an end. It's a way for them to get out to fans and support the cause.
That's been a huge part of the learning curve in the industry in the past few years. And even labels used to do it. They would skim all the profit off that. Now, I think, more than ever, the artists are holding the cards. As long as they don't get into those 360 deals and start losing future profits before they even make a dime, they can find ways to make money, whether it's through publishing, licensing songs. That's been happening for years and is obvious. But now I see a lot of sponsorship happening. I think that's just the way things are going.
Musician Coaching:
Clearly you came into this process with some business savvy. Do you still handle your own social media? What have you found is the most effective when communicating that way?
RP:
We do still handle our own social media. People are more engaged when we're out doing stuff. But, the posts have to be meaningful and about something that people want to hear. You don't want to drive people crazy with your posts. When we're doing something cool that is important to us, we post it. For example, this month we're out in D.C. doing a residency. And we repost other people's tweets and Facebook status messages about us, which seem to pick up when we're out and busy. Twitter has also been really effective for us. And anytime we put anything cool on YouTube, it points arrows to our records and iTunes for people to pick up our records.
Musician Coaching:
You spent so much time on the road. Are there things you would've done differently looking back? Is there something you would want to tell yourself as a kid in Louisville just trying to figure things out?
RP:
I've always enjoyed it. And it's always been hard at the same time. But that's a tough question. I think, "Don't take it too seriously" is one thing. When you show up on time and even early and are ready to go, most of the clubs you play when you're just starting out have staff people who will show up an hour late and don't care about you. So, I think advancing is important and making sure you have a club head person who knows you are coming and is prepared.
Promotion is another thing. When you're out there driving and driving, thinking about the show, if somebody doesn't promote it correctly, that can be totally frustrating. Try as much as you can to promote the shows yourself, because most promoters on a club level do the least possible for the budget they get. And sometimes that means no one comes to the show. And that's regrettable.
You can learn more about Russell Pollard and his music on the official Everest website and also follow him on Twitter. The band's new album, Ownerless comes out on June 26 but is currently available for pre-order on iTunes and through ATO Records.