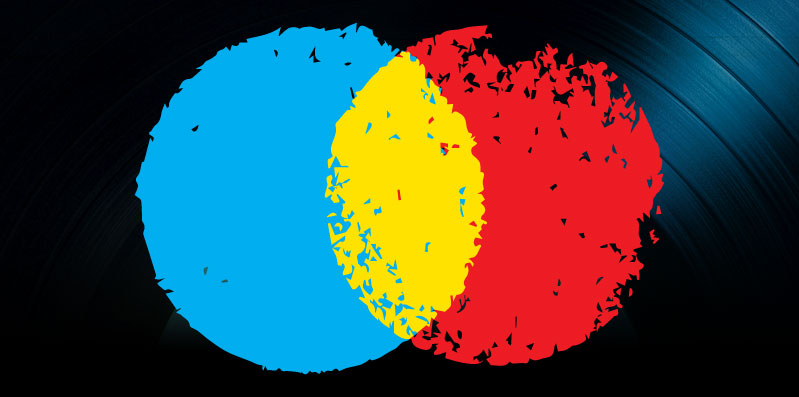 David Krinsky is Head of Label Relations and Business Development at the online music subscription service Rhapsody, which now has more than 750,000 subscribers. A long-time music fan, David got his start on the retail side of the music industry, working at Tower Records and then eventually moving onto BMG Distribution. An interest in the internet as it was first taking shape revealed to him the real opportunity it presented for people to get information about smaller and developing bands that music magazines or zines might miss, and he learned web programming and helped BMG start to develop its online presence, which led to a position on the BMG online team. Throughout the late 1990s and early 2000s he helped build an internet presence for a variety of music companies, including GetMusic.com and RollingStone.com and RealNetworks eventually landing in his current role at Rhapsody.
I got to sit down recently with David and discuss how he got involved in the internet music industry, what sets Rhapsody apart from other music services and how DIY artists can get their music heard and get more fans in the rapidly-growing online space.
Musician Coaching:
Thanks for taking the time to talk to me, David. First of all, how did you get into the music industry?
DK:
It's been a slow evolution. I've always been interested in music. If you really want to go all the way back to the beginning, my first music job was as a clerk at Tower Records about 17 years ago, which I still consider to be one of the most fun jobs I ever had. I'm still really sad that Tower is not around anymore. After that, I stayed in the same retail vein working for BMG Distribution for a couple years. Organically at the same time, I became interested in the internet and realized companies were starting to set up websites, and it was a great way to find out information about bands that weren't necessarily being covered in magazines or zines or were part of things that were happening overseas. I started to learn how to do web programming and started to do some web work on the side for BMG. Back in the mid to late 90s, they didn't have a lot online yet.
Because I had built up some music experience, but also had an interest in the internet and was watching the space very closely, I got invited to join the BMG online team. That's at the point where my career pivoted from being just music, retail and marketing to being internet specific. I've actually been in an  internet-specific vein ever since then, moving from BMG online to GetMusic.com, which was at first a BMG project but then became a joint venture with Universal. It's basically a music content and marketing site. I went around to a few different sites, but the next big stop after GetMusic was RollingStone.com, where I worked for a couple years. I wasn't working on the editorial side, but I was working overseeing content and label relations on the operational side, because the magazine only really handled at that point the original content. I was in  charge of getting video, audio, original performances, which I had also done a little bit at GetMusic.
Musician Coaching:
And that was your introduction to content wrangling?
DK:
I actually started to do some original content work for GetMusic in 1999, some of it boiling down to me interviewing bands while I held a video camera. I can't even imagine who would've been watching those interviews, because I don't know who would've had the bandwidth to watch it at that point, even just as a tiny square that was just basically a talking head. Obviously doing that work at RollingStone.com was doing it on a much larger scale, interfacing with a  magazine and understanding the complexities of a big, multi-platform system where people could get into what you were doing from print, web and email and diversifying my understanding of different ways to reach a consumer and different ways to get content out there. When RealNetworks took over operation of Rolling Stone I ended up migrating over from being Rolling Stone-specific to being matrixed in the RealNetworks' organization across music properties, ultimately landing on the Rhapsody side of the fence, where I've pretty much been ever since. I'm still largely working more on the content promotion and the strategic marketing side of things, but I moved over into the business development side of my role about three or four years ago.
Musician Coaching:
What does your job as Head of Label Relations and Business Development at Rhapsody entail?
DK:
I wear two hats that are complementary in some ways but also strangely divergent in others. I'm responsible one-half the time for the business side of label relationships – creating the deals that get label content into the Rhapsody system, both from a basic standpoint and from the standpoint of how we use it. So, when we made the service available on the mobile platform, that was something we had to make sure was within the rights of our deals. We had to get everything in line there. I make sure we have enough content in our system and that our users can access it. On the other hand, the other half of the role is managing the actual relationships with the labels, working on marketing opportunities, making sure that beyond the core deal itself we get in as much content as we can and promote it and do outreach and let fans know about opportunities. We also help our editorial team to create original content for our users, whether that's interviews or some of the other special features we do within the service. That's who I oversee, along with a small team that is scattered across the country.
Musician Coaching:
From an outsider's perspective, there have been all these talks with Pandora and Spotify coming and going. And it seems that Rhapsody is out there continuing to offer more streaming music and growing very quietly into a very reliable service. The last few times I was on it,  it didn't miss, even when I tried to stump it with some obscure queries.
DK:
I think that's the byproduct of really having been so early in the space and having had a lot more time to pick up the licenses. A lot of people now try to shortcut and do a couple different deals that grab all the content. We actually wound up going and getting hundreds of individual label deals. I think we have more individual label deals than anyone other than perhaps iTunes. Because of that, you see us having catalogues you don't find in a lot of other services, like Discord and Warp Records. Some of these labels have migrated from different back ends to newer back ends, and not all the content has made it with them. And because we've been around for so long, we have some titles from different labels that I know they don't have the ability to redeliver to anyone else, because it got lost somewhere along the way, and we just happen to have it from back in the day. Our longevity has really been one of the things that's benefited our catalogue and in turn what users can get from us. We want people to find what they're looking for, and all this gives us a good leg up to actually deliver on that.
Musician Coaching:
I know there's concern from people that are very ensconced in the way music is bought and sold about the shift over to streaming and not really owning anything. They wonder what it really is going to mean when everything is on demand. What are you seeing in that space, and how soon are we at a reality where people won't need to own music?
DK:
I think we try to be aggressive in the space by doing a lot of the portable device integrations. We've done a lot of things in the past few years with SanDisk, Philips and others. It's really been our pivot to mobile in the last year or so where we've really been able to give people an experience through mobile that actually excels beyond the ownership experience. When you own tracks, the only way you have them with you is if you put them on your device and load them up in a way where you can access them. It's a very manual process that at the end of the day still only leaves you with what you've specifically purchased for yourself. Our catalogue is infinitely bigger than what people can grab for themselves, even if they're using P2P. We make it effortless for them to listen to that music on their PCs, home audio devices, through certain TVs and set-top boxes as well. But it's really the ability to take your smartphone – your Android phone, iPhone, Blackberry and now even Windows Mobile – and log into our catalogue and access any track. If I tell you right now about a band I'm obsessed with, you can go and listen to those tracks on your phone and take them with you as well. That's not something you can do with tracks you own; you can't expand on them openly. We're finally being able to deliver a superior experience to ownership. I think the ease of the use, particularly with the combination of our new website and the enhancements we continue to make to our mobile phone apps make the whole experience easy, seamless. Our catalogue and the way we're allowing people to access it is really what the users want. It's something you can't duplicate with owned content. You can only do it with a long-term and more robust library.
We've also optimized the format of that music based on the device you're using to listen to it. If you're on your mobile phone, you're going to get it at a different bit rate than if you've downloaded it or are listening to it at home. On the other hand, if you've purchased the track in a certain format or quality, that's what you're going to get no matter where you are, for better or for worse.
Musician Coaching:
Do you think the music in a cloud services that Google and Apple are working on will catch on?
DK:
It's so hard to say, because there's so much conjecture about what Apple and Google are going to come out with, and no one knows what the effect and value is going to be. It does seem to be centered around purchased content, your existing library or some combination of the two, which does give you more flexibility than you have now. But it's not going to be as much flexibility as what we offer. I think, not knowing what they're going to have in detail, the only thing we can say is that in a sense we're not particularly anxious about those companies entering the space, because at a bare minimum they're still going to educate people about accessing through the cloud, freeing people from the notion that their content can only live in one particular place and that where it lives is the anchor. I think helping people understand that there's more flexibility than they currently enjoy is a positive. Because we can offer people a broad and flexible catalogue, I think it's easier for us to take that education they may provide to some people and explain the value of what we're providing. So, ultimately, it's hard to say what will happen without knowing what Google and Apple will come out with, but the education alone should be helpful for us.
Musician Coaching:
You implied there's a certain amount of editorial space, and you're working with labels in a promotional capacity. Does any of that extend to developing artists? Are you making space for the currently massive DIY movement?
DK:
Absolutely. It is hard because there is so much content coming to the space. We ingest thousands and thousands of  tracks every day of the week. It's a crowded space, but one of the things that sets us apart from other services is that we do have a full-time editorial team that is writing about albums and artists and creating associations and maintaining the hundreds of genres we have. If you want to make things really easy and just look at pop artists, you can do that. But we also have detailed sub-genres and sub-sub genres like shoegaze and Italian pop – all kinds of really niche categories that help people find exactly what they're looking for.
Musician Coaching:

Is that information available in front of the pay wall or behind the pay wall?
DK:
Through our website you can see any of the editorial content, including the genre and sub-genre breakdown and editorial content. So, you can see the original pieces, album descriptions or recommendations on each album and artist. It's really only the content playback that's behind the pay wall. Everything is geared towards you listening to whatever track you start with, whether it's music you looked for or a track we presented to you on our home page or that you saw in an email. We want to take you from that first track to more content in one way or another. The editorial team is really dedicated to giving people next places to go to after they've listened to a track, album or artist. That's what helps people get deeper into the catalogue and explore a lot more things that aren't just Britney Spears or Rihanna top-of-the-chart-type artists. If you look, you'll actually find we have a more diverse Top 100 artist list than many other services. There's a lot more catalogue and a lot more indie. At the same time, we have done some analysis to show that the Top 100 artists represent less of our activity than virtually any other way of accessing music. The Top 100 means more to iTunes and P2P than it does to us. Our editorial and interface is optimized to getting people deeper in the system, and that in turn gives more opportunities for smaller, developing and niche artists to be discovered and listened to. A lot of the different editorial genre features help with that. We do new music indie reviews where we'll do ten new releases for a week or two-week period. It takes people beyond the most obvious release in whatever that sub-category is and gives them a deeper look. I think it helps expose a lot of artists and releases that might not get a look in other places.
Musician Coaching:
You've worked with a lot of different apps that have been music and internet related. And you've worked peripherally if not directly with a lot of artists that have succeeded. Do you have any insight as to what has made people successful in music either on the executive or the musician side?
DK:
On the musician side, I think a lot of it comes down to knowing how to connect with your fans. I don't think it's necessarily being on Twitter or Facebook every five minutes, but you should be on those outlets or sending out band emails enough. You need to engaged enough so the fan can perceive a sense of connection with the artist. I think giving the fan a lot of easy ways to connect with you will make them more likely to do it. Make it easy for them to follow you on Twitter, friend you on Facebook, sign up for your mailing list. I know that even I get frustrated when I'm interested in a band and I figure, "I'd love to see them if they ever come through town," but there's no mailing list or anything else. I may not remember to go check back on them again. The easier you make it, the more likely you're going to be able to make a connection. I think you also need to make it easy for fans to know where they can find you, whether that's in a live setting or listening to different services. There might be a couple tracks on MySpace, but then what? Let people know they can listen to your whole record on Rhapsody before they go out and buy it if that's something they want to do. You need to let people know the different outlets where you can be found.
So, I think making it easy for the fan to find you and making them feel a sense of connection are very important on the musician side. You need to know there are a lot of different tools at your disposal. All an artist has to do is sign up and get a release out through TuneCore or CDBaby, and, just like that, their release is available in iTunes, Amazon, Rhapsody and all these other different services. Each of those services is potentially another way to be discovered.
On more of the business side of music, it's really about trying to be aware of different trends and knowing what's working in the business today but also trying to keep your eye on what might work tomorrow, because it is such a quickly-changing space. You need to have a love for music, because it is a difficult space to work in right now. Having it be something you're passionate about helps the drive. And you need to use that drive to be a really hard worker. To really be effective in the music business today, you need to be willing to put in nights, weekends or extra hours in some way or another to get stuff done and get ahead. It can be daunting, but if you love of music is driving you forward, it makes it easier.
To learn more about David Krinksy and what Rhapsody is doing for subscribers and artists, please visit the Rhapsody website. You can also follow David on Twitter.