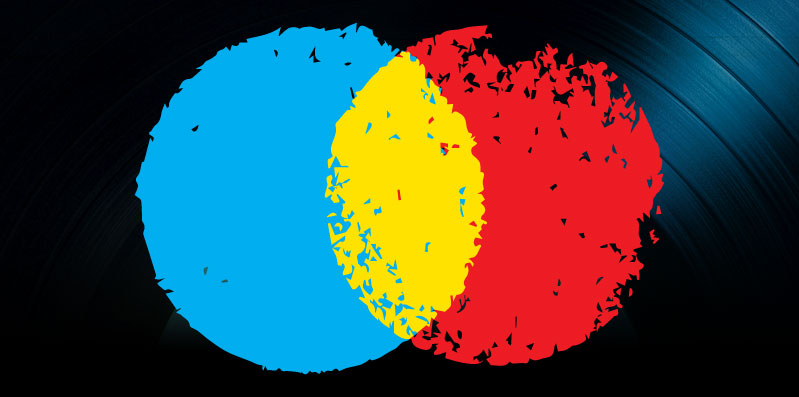 Music Placement and Royalties
Chris Woods is the Executive Vice President and COO of TuneSat, a technology-based service that offers a solution to the problems of inaccurate performance reporting, lost royalty payments and copyright infringement within the music space. A graduate of Berklee School of Music and a proficient musician, composer, engineer and producer with over 15 years of industry experience, Chris has created music branding packages for many television networks, including Fox Sports, Versus, Comcast, Fuel and Big Ten. He co-founded TuneSat in 2007 along with Scott Schreer and has helped build the company's technology offering, including surveying, acquisition and development of audio fingerprinting algorithms. Chris is also a regular speaker at industry events, including CMJ, the Billboard Film & TV Music Conference, the NARM Convention and the CISAC Copyright Summit.
I recently spoke to Chris about his experience in music and technology, how TuneSat works for artists and some sound advice he has for musicians that want to get their music placed in film, television and on the Internet.
Musician Coaching:
Thanks so much for speaking with me, Chris. How did you get involved in the music industry, and how did the idea for TuneSat come about?
CW:
Like a lot of people who are in the music industry as performers, musicians or artists, I got started at an early age. I played guitar and piano growing up and played in rock bands. After a couple semesters in college I decided I wanted to work in music, but I didn't want that career to be traveling around in a band with a bunch of smelly dudes working for $50 a day. I decided I'd like to get a better understanding of the music industry and get involved in a way that wasn't just trying to be a rock star – and ended up at Berklee in the late 90's.  Outside of music, I have a real passion for technology, so I studied a lot of the music technology programs and majored in music synthesis. I learned a lot about creating things like reverb algorithms and effects. Berklee is a great place to develop a large understanding for the tech side of music and audio.
When I graduated, I came to New York and got a job as an engineer and producer at a jingle company. While I was there I met and worked with Scott Schreer, who has a rich past in the music business. He had a vision to automate how music on TV is reported to PROs and used Watermark technology to learn how much music was reported correctly with the current manual process.  Using a production music catalog that he owned, we tracked the performances on TV for a couple of years and found that of half a million detected performances, less than 20% made it to a cue sheet. So, we really had a lot of information by using that catalog that showed a huge discrepancy in how music is used vs. how much is actually reported to PRO's.
Musician Coaching:
So, your product really brings to task not so much the PROs but the people who report to the PROs.
CW:
Exactly. It just highlights a broken link in the chain. It's not really the PROs that are at fault here. It's the mechanism of reporting. It's a manual process and the same process that it was when they started almost a century ago. It's still a paper business, which seems kind of crazy in this day and age, when you have all this technology that can do it for you.
We wanted to move away from watermarking in 2004, because we knew it wasn't the end-all-be-all. The problem with watermarking is that it's a "going forward" technology, and only recordings that have the watermark embedded in them will be detected. So, let's say I watermark the White album today, only versions with that watermark will be detected. Everything that's been in distribution will never be detected.  Fingerprinting solves this issue.
Musician Coaching:
Sure. It's dependent on an additive. And because of the Internet, things are spread everywhere. So there's no guarantee you'll get even a percentage of the marketplace.
CW:
Yes. Fingerprinting has been around for a while. But before, it was cost prohibitive, because it's very memory and CPU intensive. Around 2004, the cost started going down on hardware, and it became a viable solution.
We scoured the universe testing with every major and minor fingerprint technology out there at the time. The benchmark for the technology we needed was that it would have to find the music in a highly dirty audio environment and calculate the amount of time it played, because for the most part music performances on TV play by duration. In sports broadcasting, half the time you can't even tell music is playing because there's so much extra noise and it's so low in the mix.
After months of testing with various technologies, we found a guy in France who had developed the holy grail of audio fingerprinting algorithms – Sylvain Demongeot. His particular fingerprint algorithm was by far the most robust we'd ever tested, and had the ability to detect music in as few as three seconds, even in a dirty audio environment such as crowd noise, voiceovers, or sound effects. We brought him into the fold and started developing what would ultimately become TuneSat.
Musician Coaching:
And how does the business work?
CW:
It's a subscription-based company. Anyone can join:  small, medium, or large. We charge a monthly subscription fee based on the number of songs you put into the system and the territories you want to track. We expanded in the fall of 2009, built another data center outside of Paris, and started monitoring broadcasting in France, UK, Germany and Italy.
A little more than a month ago, we added eight new countries to our monitoring lineup:  Spain; The Netherlands; Austria; Switzerland; Sweden; Denmark; Norway; Finland. It was a pretty large expansion for us.
We also developed a platform on our website where anybody can go and sign up anytime and anywhere, by picking which territories to monitor, the number of songs they want to put into their account, upload their files and push a button to fingerprint it. Clients can then get access to their TuneSat account and near-real-time detection data. The detections typically come in within an hour after the broadcast. We provide the date, time, channel, show, episode, number of plays, and more.
Musician Coaching:
Is this a product geared more towards people who have larger libraries and a significant income from sync? Or is your average guy in a band going to benefit from this?
CW:
The size of the catalog really doesn't matter. We have clients with 10 tracks in the system and clients with 250,000 tracks. Our clients represent a really wide range. You can see a good sampling of them on our website at www.tunesat.com/clients
Musician Coaching:
So what would be the benefit of opening a TuneSat account for people that fit into the category of what you mentioned before – "a bunch of smelly dudes" just scraping by, touring in a van?
CW:
That's part of the expanded services. We used to have larger tiers as a minimum in our system – starting at 50 tracks. Now our entry tier is "up to 10 tracks," which starts at $10 per month. For that amount, you can upload and track 10 songs on television all across the U.S. The value in the data is to know exactly when and where your music is being used and using that information to make sure you're being properly paid.
We are in the midst of launching an Internet monitoring service, which will expand our client base. What about all the people that don't have music on TV, but they're YouTube stars, or they just want to know who's using their music and where it is. We'll be monitoring millions of websites for the use of our clients' music and we'll provide them with the URLs and contact information when an identification is made.
Musician Coaching:
I would imagine you're also drilling down on places where people do get paid.
CW:
Absolutely. I've been on a number of panels recently where the hot topic is the future of music and the Internet. It's funny, because a lot of the societies still refer to it as "new media." And it's a 20-year old platform. The societies are still struggling to find ways to collect the licensing fees and make the distributions to the right people. It's a real problem and a real challenge and the only way to solve it is through technology. That's why we're getting into the Internet monitoring space – to provide valuable information to the people who either own or administer audio content on the internet specific to music.
Musician Coaching:
It's just a gut feeling – and I don't know if you would know this – but I can't imagine there isn't a fair amount of fear at PROs surrounding the idea that if they suddenly became accountable for everything that was being played in perfect clarity, there would be no more float; they wouldn't be able to afford the payments. Is this true?
CW:
I couldn't have said it better myself. This is a highly disruptive technology, and there is a lot of fear.
Musician Coaching:
And I'm not looking to stir the pot too much. But it is a question that begs answering: How has the technology been received, and how are you guys dealing with that?
CW:
I think the problem is, as you said earlier, that there's fear:  "What about the current system? What happens to that, and how do we transition?" They don't know. They've been trying to figure this out for probably 10-15 years now.
We've continued to bring this technology to societies not just domestically, but also internationally. We've said, "Here's a better way to do it." It's more transparent, more accountable, and almost instantaneously delivers the detection results. This is a better way to track music usage, and not just for television. As we move into the future, and TV and radio license fees start to drop because licensing fees are being moved over to the internet, they're going to have to find a way to license websites for the use of music in a very effective way. Otherwise, the whole system will break.
Again, there's a lot of fear. It's a disruptive technology, and it certainly challenges the existing business. It's pretty much the same issue with the PROs in every country.
Musician Coaching:
Are people gaining any traction by having these reports in their hands when they approach PROs to collect royalties?
CW:
Absolutely. We don't tell people to use TuneSat as a weapon; they should use it as a tool. We have applications that compare digital royalty statements to TuneSat detections.  These delta reports show everything that was detected that was not a part of their royalty distribution, which TuneSat clients can use to go file claims with their local society.  Right now we're doing this for four different societies – ASCAP, BMI, PRS and GEMA. We'll soon add the other societies for the countries we monitor. Our clients have been very successful in using the data to fix the problem, which is the lack of reporting, under reporting and false reporting. The challenges in manual cue sheet reporting are vast.
Musician Coaching:
That's fantastic. I had no idea how it was being received, or if people were seeing it as voodoo.
CW:
It's been received well, and we're not only supplying time-stamped information. We also supply recordings of every captured detection as proof-positive of the use. It's irrefutable proof. If I capture my song playing on a commercial, I have a recording as proof.
Musician Coaching:
Wow. I didn't realize that. That's great.
CW:
Being able to supply recordings of it is a key part of the business. Not only do our clients use it to check their royalty statements and for the business intelligence, but they also monitor for copyright infringement. It's a much larger problem than we ever thought it would be on television. Obviously, it's rampant on the Internet. But you'd think broadcasters, production companies and ad agencies would protect themselves more. They really don't.
The typical TuneSat user finds unlicensed uses within the first couple weeks of service. Then they have the data to go out and take action.
Musician Coaching:
Which of course puts you in an advantageous position.
CW:
Our mission is to empower the rights owners. That's really what it's all about.
Musician Coaching:
As somebody who gets his music placed and is also an expert at making sure it gets found, aside from using TuneSat, are there lessons you've learned the hard way that you would impart to musicians looking to get their music placed?
CW:
Yes. I'd say for musicians looking to get their content placed or who are just starting out in the music space and looking to get music placed on TV, the most important things are:
Know your rights and educate yourself. Once you start getting into this you'll have work-for-hire contracts shoved in your face and all different types of contractual issues put in front of you. If you don't understand them, you could really put yourself upside down.
Understand how the royalty system works. If you don't look within these agreements what is happening with your writer's share, that could be a big problem as well. Understand what a writer's share is and the different portions of the copyright and what that represents. A lot of artists could be selling their music on iTunes, but have no idea what mechanical or performance royalties are. And those royalties could be just sitting on a shelf somewhere at another society or at SoundExchange waiting to be collected. If you don't know what a mechanical royalty is, you're never going to collect it. And if you don't know what a published performance royalty is, you're never going to register with the societies to get paid properly. These first two pieces are step one.
Diversify yourself as much as possible. Creatively, don't get pigeon-holed as the guy who writes jingles and is just a commercial guy. There are tons of production music libraries out there that get placements all around the world. I would definitely suggest finding a good production music library – or libraries – that want to buy your music and do some deals with them. It's just going to help diversify where your music is getting placed and the popularity of your music.
Attend as many music events as you can. Go to as many music events as possible so you will be able to meet some music supervisors or people from ad agencies, etc. You really have to put yourself out there. You can't just wait for people to come to you. You have to go to them.
Put together a reel. Even if you're doing pitches, put together a reel that people can access through a link, so they can see what your work is.
Be talented. That's probably the first thing I should've said. If you don't have talent, it's not going to work anyway. And you definitely need to be creative.
Know your competition. If you want to get into TV music or advertising music, listen to what's out there. Go on websites and listen to the quality of music and type of production that's out there so at least you know what you're up against.
To learn more about Chris Woods and his company, visit the TuneSat website.