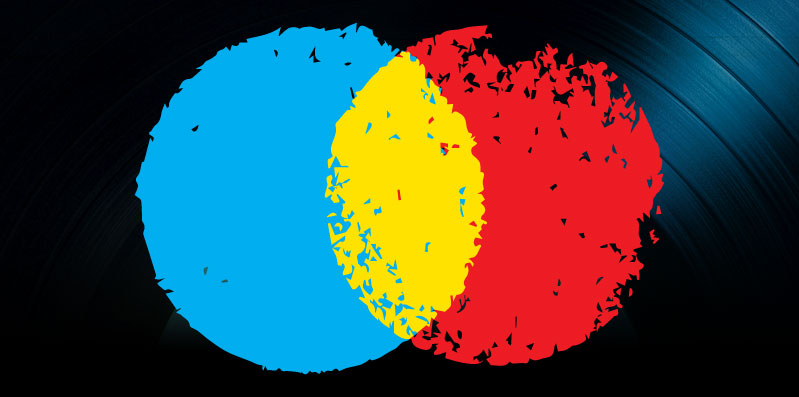 Electronic Musical Instruments
Vince De Franco is the inventor of the Dimension Beam (which was later licensed to Roland Corporation as the D-Beam) and the Mandala, an electronic drum and percussion tool that translates strike position into control signals for producing sound. He got his start in the music industry as a musician, picking up guitar at 11, inspired by his family friend and neighbor, renowned guitarist G.E. Smith's success. He continued to play instruments and parallel this with his love for technology, which he formally studied in college and graduate school. Eventually, he joined the team at Record Plant studios in Los Angeles as an engineer, where he worked with artists including Mick Jagger, Tina Turner, Prince and Mariah Carey. Vince has enjoyed a career spanning over 20 years and focused on engineering advanced sensor technologies, during which he has collaborated with some of the world's most talented musical artists to test and develop his inventions. Motivated by his passion for finding practical ways to apply his technologies and expertise to mainstream music, he invented the Dimension Beam, first popularized by artists such as U2, Peter Gabriel, Yes and Stevie Wonder. It was also used by visual artist Marcos Novak in his installation at Venice Biennale, Greek Pavilion in 2000. As a musician, Vince has performed on tracks and albums by Tool as well as performed with them live in concert as a synthesizer player. His flagship product, The Mandala was developed while working with Tool's drummer Danny Carey, the only instrument of its kind that translates contact position into control signals for producing sound and taps into musicians' intuitive musical abilities to enhance their playing.
I had the opportunity to talk to Vince about what inspired the Dimension Beam and the Mandala and how these inventions work for artists looking to expand their horizons. He also shared some thoughts about how he believes technology will change the way everyone plays and experiences instruments in the future.
Musician Coaching:
How did you get started in the music industry?
VDF:
It started when I was about 11- or 12-years old. Something that really flipped me over was seeing a neighbor of ours – the guitarist G.E. Smith – suddenly appear on MTV. He is older than I am, but the Smiths were our friends from down the street, and G.E. appeared just as MTV was taking off with Bowie, Mick Jagger, Hall and Oates. Then, of course, he was on Saturday Night Live. That compelled me to take the guitar from my older brother and decide to play. That was when I first realized it was realistic to have a career in music, because I saw somebody at the top of his game who actually grew up in my neighborhood.
From then on, I stuck steadily with playing instruments and keeping up with the whole music industry. And I also paralleled that with my extreme interest in technology and science, which squared with my academic upbringing.
Musician Coaching:
And then you ended up working on the Dimension Beam – the D-Beam – and the Mandala. First of all, what is the D-Beam, and how did you come up with the idea?
VDF:
When I took a leave of absence from graduate school, I went to work at the Record Plant studios in Los Angeles. I was engineering a session in one room, but in another room was a start-up technology company that had rented out a room to show some infrared light MIDI triggers to Prince. I was also an assistant engineer on that session. So, when that company relocated to Los Angeles, I started to work with them. I was able to use my physics and electrical engineering background combined with my musical interests.
We started by just breaking the infrared beams to trigger notes and then transitioned to actually entering the beam and moving within it to reflect relative levels of infrared light back to the source, creating a full-on continuous controller. The controller had the same range as a MIDI controller, from zero, to 127. Basically, I took an on/off switch in the form of a light beam and made it into a fader. The reason I did that was because I decided I wanted to take my guitar, hit a chord and drop the neck of my guitar and have the pitch bend like I was stepping on a Whammy pedal. I wanted the control signal to go straight into a DigiTech pedal so I could control the Whammy effect. I also wanted to be able to switch over to a Wah effect and change the cutoff of the filter.
Musician Coaching:
So, I played through a DigiTech Whammy as a kid. Does the Dimension Beam power that?
VDF:
Because many of the DigiTech Whammy pedals have MIDI input, the MIDI output from the Dimension beam can be assigned directly to the pitch. Most light that hits the Dimension Beam is just background radiation. It is impervious to sunlight, spotlights and other frequencies of light. It is very specifically looking for 880 nanometers of infrared light reflecting back into it. It's a force field that is very exact; every millimeter is another level of output.  
The Dimension Beam started as a floor pedal, then moved to the table top connected to keyboard. And then it jumped from outputting controller data to outputting note data. It made a progression straight into being licensed by the Roland Corporation. It was featured on the first MC-505 Groovebox.
The first prototype I created was in about 1994. We initially sold it as a standalone product at which point it was picked up quickly by artists like U2 and Peter Gabriel. Then, the Roland deal happened in 1996. They've been going strong with it for quite some time now.
Musician Coaching:
What were you working on between the D-Beam and the Mandala?
VDF:
I was playing in bands myself, using the technology I created. I started to work with bands in different capacities. I produced a few tracks for The Melvins and Tool. And I worked with Mike Patton and Fantomas. Then, I did more work with Tool on their Lateralus record. I worked as basically an associate producer, tracking vocals, etc., working with David Bottril, who was the main producer on that record. We came up with a title for me:  "Neurocistant." I was a utility player on all different aspects of production and engineering across the whole record, from start to finish.
Musician Coaching:
What contributions did you make more specifically to that record?
VDF:
One of the things I did was make a lot of transfers of the drum tracking from the 2-inch into Pro Tools. I controlled the computer on a lot of the vocal tracking and did a lot of editing of the vocal tracks and comping of the different layers. I also kept track of all the digital files once they were transferred from 2-inch into Pro Tools and maintained all the hard drives. And the Tool guys are wide open to suggestions on all levels at all times, so that was great. Any bits of advice along the way that anyone could offer were welcome.
Musician Coaching:
So how did your experiences working with bands like Tool in that capacity inspire you to create the Mandala?
VDF:
As we moved forward, I got to know Danny Carey better by working with Tool and playing synthesizer with them. My two-piece band Engine Ear would also open up for them when they did smaller shows at places like The Palladium and even the Santa Barbara Bowl. My band consisted of me and Ryeland Allison, who is an incredible composer and sound designer. He's currently on tour playing drums with Ariel Pink and Haunted Graffiti. In Engine Ear, I played guitar and ran Max/MSP programs and controlled them with the Dimension Beam. And Ryeland would play little bits of percussion and trigger beats and loops from his Roland DJ-70. We sometimes had singing. But we did a lot of experimental sound creation. The Tool guys had us play with them and The Melvins. I would also jump up and play synth on "Third Eye" with Tool at those shows. I also played down at UC San Diego at Rimac Auditorium. They actually used that live track as a song on their limited-edition Salival album.
So through these experiences, I got to know Danny. And he knew I had developed the Dimension Beam. He had been using Simmons drums since the '80s. And they're great, but computer technology had come a long way since then. For years, he was asking me to design a drum that interfaces directly to a Mac without a proprietary computer. He wanted to be able to have unlimited RAM and sample size for triggering different samples without being stuck to 8-MB floppy disks and the green vector screen computer. He wanted them to trigger instantly when they were hit.
For a long time, I was too busy to work on it. But finally, the timing was right, and I asked him what he wanted, specifically. He wanted a drum that knew if you hit it in the center, a little off center, or at the edge. He wanted three zones and for it to interface right to a Mac to trigger sample player software.
In designing the membrane switch that would do that, I discovered it would be much more versatile and accurate if instead of just three concentric zones, I made the membrane as a spiral underneath the rubber surface that would allow different gradations of one sound blending into another. Instead of just three separate areas, there were an unlimited number of concentric circles by way of the spiral. Once again, I went from zero at the center, to 127 at the edge. And I allowed him to define the sizes and MIDI notes that came out however he wanted.
Musician Coaching:
So, you're a guy who really likes a fader. And it's turned into a wonderful thing.
VDF:
It's just about adding a dimension. I love taking ON/OFF switches and making them into faders in different layers of technology, whether through infrared or membrane switches. All the other electronic drums are essentially just ON/OFF switches that depend on how hard you push that switch rather than where you push that switch
Prior to my Dimension Beam and Mandala, the light beam was about "in or out" and the electronic drums were about "How hard did you hit the switch?" I changed the light beam to being about "Where are you within it?" and the drums to "Where are you hitting them?"
Danny has seven of these in his kit. And it saves him from lugging around tablas, trash can lids, all kinds of different toms and a lot of other equipment that he would need. What he gets from the Mandala is a really accurate representation of those different components. And it gives him the ability to just press a button and be completely experimental with sounds that are not necessarily related to percussive and analog instruments at all.
The membrane switch was granted a patent as a position-sensitive membrane switch. It doesn't have the word Mandala in it, because that is the trademark I grabbed for the name of the product. It existed as Danny's drum kit for a couple years before I even came up with a name for it. And then I eventually opened it up to everyone.
Musician Coaching:
This is obviously an amazing invention that can be used to as a wonderful complement to a musician's tools. But just to address the other side of it, as with anything other type of music technology, of course I would be afraid of people who might come to rely on this tool at the expense of musicianship.
VDF:
Well, and you can take a keyboard and load up a program that will always be playing something pretty, no matter which key you hit … or use auto-tune …
Musician Coaching:
And there are 15-second instrumentalists because of the ability to cut and paste easily with Pro Tools. I suppose that is one of the downsides with any sort of technology.
As someone who has been at the forefront of technology and also a working musician, what advice would you give an analog artist about adapting in a world where new technologies are becoming prominent? And which new technologies do you think will develop in the near future?
VDF:
In terms of surviving, I don't think technology is killing anyone as more and more tools emerge. I think the range remains wide open for analog music. The Beatles came along and started using an 8-track machine to make an album. And then Hendrix used pedal after pedal. And then years later, Radiohead came along and created a hit song using the KAOSS Pad. And there is still a wonderful world of music that doesn't use anything that plugs in at all. So, within the range of where you want to go as a musician, you have a big and exciting canvas that is just getting bigger and more exciting by the day.
In terms of advice for musicians that want to keep up with technology, I would say if you're a session player, you'll be considered for the sessions you fit into. For example, back at the Record Plant, Jim Keltner would come in and play with someone, and you wouldn't expect he'd come in with synth drum system. I think the musicians gravitate towards what it is that fulfills them in their playing. A lot of guys may want to widen their knowledge base to increase the number of jobs they can get. It's great to become known as a specific type of session player with a specific arsenal of gear. There's a place for everyone within the recording scene. And a person will get called in when the job is relevant to his set of skills and batch of instruments.
What I'm doing with introducing the Mandala is telling people across the board about it – the ones that are already associated with and familiar with electronics who will be naturally drawn to the Mandala but also traditional acoustic drummers. We're exposing this to all of them, because there are elements of it that can make parts of the experience of being a drummer easier and also open up their mind in different directions. If they've been hitting a skin their whole life, spending thousands of hours hitting a piece of Mylar with two pieces of wood, they will find that when they slide in a Mandala, the same things they've been doing for years will now produce a whole different range of percussion. All of a sudden the language they're speaking is totally different, and they're speaking it beautifully. The Mandala helps release a lot of expression and adds more colors to the palette.
Musician Coaching:
I think part of being a musician or simply a person in this decade is being willing to adapt. Still, I notice a lot of musicians are still somewhat tech phobic and have become entrenched in the way they do things and a bit resistant to change.
VDF:
I think there will always be the people that use technology as a crutch and people that use it as a tool to expand their horizons.
Musician Coaching:
You've already taken music to a new level and given people new technological tools. What do you think instruments will look like in the next few decades?
VDF:
I believe that the core instruments will stay the same; the essence of guitar, a keyboard panel and a bowed instrument won't change. But there will be more expression capabilities through those instruments by the player using other elements. For example, people were playing the guitar with their hands for years, and then all of a sudden their feet came into play through pedals. Stevie Wonder would lean his elbow out into the Dimension Beam as he played with his fingers, and it adjusted slight aspects of his sound. I think these types of subtle expressive changes will continue.
I don't think people will layer and layer upon the core sound. I think they will imbue more expression into the sound – trills with fingers, bending strings, etc. I'm seeing things develop straight towards a world where a person's mind will become another device used to alter the sound of an instrument while playing it.
Musician Coaching:
Are there other innovative technologies aside from your product that you would recommend musicians keep their eyes on?
VDF:
Not specifically in the music industry. But I see things going on in the medical community which have had a little bit of a projection into the toy and entertainment industry. I've seen brain wave devices that pick up on neuron activity and provide insight into neurological pathways. They are mostly being used for medical purposes now. So, for example, patients think of a word, their thought pattern is recorded by a device, then they think about the word later, and doctors can tell them what word they were thinking about. I believe that's a step towards thinking of dropping everything by an octave as everything drops by an octave. It's a capturing of expression that is just as organic as fingers on a fret board.
I'm not saying this technology will be used at some point in the future to generate the sound. But I am interested in how it could potentially flavor the sound you are creating on the core instrument.
To learn more about the groundbreaking work Vince has done with musical instruments, visit the official Mandala website.
You can also see a demonstration of the Mandala below, featuring Danny Carey of Tool: