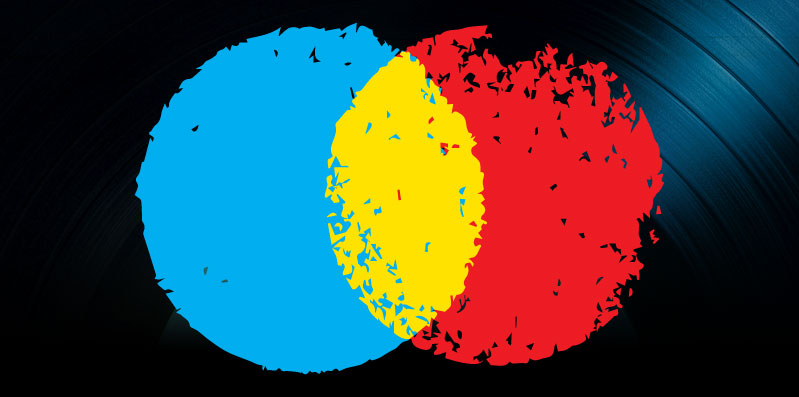 Effects of Music Piracy on the New Music Industry
Rob Reid is a L.A.-based author and entrepreneur, and the founder of Listen.com/Rhapsody, the first online music service to get full-catalog licenses from all the major music labels and one of the top online music services, with over a million paying subscribers. He got his start in music growing up as an avid guitarist and songwriter, eventually choosing to focus on business when he attended Harvard Business School and wrote his first book, a first-person account of what it was like to be a student at that particular business school, which was published by William Morrow &  Co. After business school, he got involved in the Internet as it was just beginning in the mid-'90s, initially working at Silicon Graphics, a company that made graphics workstations, supercomputers and web servers. While there, he wrote his second book, Architects of the Web, in 1996, which chronicled the rise of the Internet as a commercial medium. Eventually, Rob decided to start Listen.com, which he grew from a barely-funded startup with just a handful of employees, into the now-renowned Rhapsody music service. At the 2012 TED conference, he presented his now infamous "Copyright Math" theory, the term he uses to explain the often confusing and intangible numbers cited by the two major organizations within the entertainment industry – the Motion Picture Association of America (MPAA) and the Recording Industry Association of America (RIAA) – in an effort to get others to rally against piracy. He has written pieces and features for various magazines and websites, including Wired and The Wall Street Journal. His first novel, Year Zero, is closely tied to the "Copyright Math" theory and releases on July 10 via Random House/Del Rey. It is a comedic science fiction story set mainly in present-day New York City about  a society of highly-advanced aliens who are so enamored of American pop music that they accidentally commit the biggest copyright infraction of all time, thereby bankrupting the entire universe.
This is Part II of my recent conversation with Rob. He talked to me about the issues surrounding music piracy that inspired his recent TED talk and how he believes artists and the rest of the music industry can benefit from new business models. He also shared some more information about his new novel, Year Zero.
Musician Coaching:
Thanks so much for continuing this conversation, Rob. I want to talk to you a little bit about where your TED talk came from. Why did you choose to speak on "copyright math" in a way that musicians could understand? How does copyright law work – or not work?
RR:
Right – "or not work." Have you seen this recent back and forth that's going on? There was an intern at NPR named Emily White who wrote this piece for the "All Songs Considered" blog. She pounded her chest about the fact that she has all these MP3s, but only ever bought a handful of albums. She wasn't being snide about it, but she made the point, "I have 11,000 songs on my computer, and I've only ever bought 15 albums in my entire life, because I'm 21, young, fabulous and that's the way we do things. Get over it, old people."
And David Lowery, of Camper Van Beethoven and Cracker, who has been teaching some music courses at the University of Georgia for the past two years wrote this very long, well-written rebuttal to that. He's friends with Sparklehorse, who apparently said he killed himself partially because he was living in destitution because so many of his songs got pirated, and he couldn't make a living. It's a pretty intense debate. This back and forth points to what a nuanced and complex topic copyright is.
The reason I got engaged in it and ended up doing my TED talk about copyright math is that I think we have lost the balance to such a degree in the realm of copyright that reasonable, level-headed people like the woman who wrote the post to the MP3 blog no longer take Copyright Law seriously, because it is so insane and disproportionate.
The example I like to use – which I didn't use in my TED talk – is that in your state, the state of New York, if you get pulled over for drunk driving, you face a maximum fine of $500. It's probably a little too low. But that's the law of the land and what New York State has decided is the penalty for endangering your own life and the life of others on the road. If you get busted swiping a digital copy of "My Sharona," the maximum penalty is that infamous $150,000. That goes so far beyond passing any reasonableness test that I think people who are confronted with laws like that and with all the major examples of overreaching on the part of record labels, legislators and litigators – and there are thousands of examples of the RIAA's retail litigation – they can't take the entire law seriously.
I think what has happened over a period of decades to copyright related to the music industry is the result of two things:  1) crazy laws; 2) a refusal on the part of the music industry during a very critical period of time to sell portable music downloads. Those two things were happening simultaneously. It led an entire generation to feel "morally comfortable" with the whole notion of piracy. The laws enforcing it are lunatic, and they weren't selling the product anyway, so this piracy culture took root throughout the late '90s and throughout the first part of the 21st Century during a time when I spent three-and-a-half years trying to get licenses from the record labels to sell their music online. The licenses weren't there, because they were not licensing it. In fact, they were de facto encouraging it, because they were essentially saying, "If you want this music, you're going to have to pirate it, because we will not sell it to you."
Musician Coaching:
A mutual friend of ours has said, "It wasn't the digital download that killed the music business. It was 40 years of greed and arrogance."
RR:
Yes …and a refusal to adopt the new format. Think of this:  The first mass-marketed MP3 player was the Diamond Multimedia Rio. It was announced in September of 1998 and shipped a couple months later. What the record labels did immediately was sue Diamond Multimedia to make portable MP3 players illegal. That didn't work. And it's a good thing it didn't, because that led to a product trajectory that led to the iPod, which led to the iPhone and a revolution in mobile computing that I believe simply would not have happened if the record labels had successfully litigated portable music players out of existence, which was their absolute intention.
The first portable MP3 player shipped in about December of 1998. The iTunes Store was first licensed in April of 2003. So, for four-and-a-half years, this format was being adopted rabidly by a public that was more excited about music than it had been since the early '80s, the rise of MTV, Thriller,  the rise of the CD and all that other stuff. And the music industry was boycotting. They were saying, "If you want this, you have to steal it, because we're not selling it to you."
And I believe that piracy is wrong. But enough years went by, and there was enough draconian laws and enforcement, that it created a level of moral comfort, so the notion of pirating music has never gone away. And record labels heaved a begrudging sigh and agreed to start selling their music to a ravenous public in 2002 in streaming form with us on Rhapsody and then in 2003 with downloads. So, while in 2006 you could buy a download, everybody has big brothers and sisters, or seniors at the high school when they're in eighth grade. The culture of comfort with music piracy has been passed on from generation, to generation, and it's not going away.
I found Lowery's piece to be incredibly moving, and a very powerful statement on many levels. But I think this whole problem was created by tight-fisted laws that have no connection to society's actual priorities. How can you say that filching a 99-cent download is 300-times worse than drunk driving? It's absurd. And when people see laws like that, they start looking at copyright holders like me not as being victims of theft who deserve sympathy, but as coddled special interest groups. It's tragic. But more and more draconian laws and crazy lawsuits is not the answer. The answer to it is to make piracy a low-rent experience that most people would rather not indulge in.
The example of that idea, which I think is most contrary and meaningful, is in the books industry, where we have a very minimal piracy issue. The first mass-market e-reader was the Kindle. And instead of suing the Kindle to stop existing, the six major publishers licensed their full catalogs to it the day it launched. So, 93 of the best sellers were available on the Kindle the day it came out. As a result, the world learned about portable books through a very elegant, fully-integrated, legal and beautiful experience. Piracy just never got any breathing room. You could download a crappy PDF if you got on BitTorrent. But why do that when you have Amazon's immaculate retail sensibilities and at the time cutting-edge hardware and a seamless wireless network? The first consumer experience with e-books was beautiful. And it was legal. The first consumer experience with online music was with piracy, and that experience lasted for five years.
Getting back to the TED talk, I feel very passionately about this copyright issue. And I believe that overreaching laws that say you can put a billion dollars worth of pirated music on an MP3 player actually damage people like me and artists like Sparklehorse. Because, it turns us into objects of derision.
Musician Coaching:
I agree with you. I have an eBook in the works, and I feel like I have no idea how to approach it. Giving it away doesn't feel quite right.
RR:
And the good news is, you don't have to worry very much about piracy when it comes to eBooks. Even the folks at Random House whose job it is to worry quite a bit about this will tell you that piracy is maybe a top-10 concern. But because of the power of Amazon, etc., piracy is just not a very big phenomenon.
What's interesting to an eBook author is that you already have a platform. For example, you have 15,000 readers out there. If you decide to sell your book directly to the world, as opposed to going through a publisher, Amazon will give you 70% of revenue. The normal publishing deal is that you get 25% of their 70 percent. So, now you're down to 14 percent. And if you have an agent – as most of us do – there goes another few points. The difference of your take as an author is about five times. Do you need a publisher to get through to the world? You may not. If you have a niche book that is primarily of interest to the people who are already following you, you don't. You can sell it direct for a few dollars and sell a lot of them, because it's a really easy purchase decision.
Musician Coaching:
You've clearly really thought about all the intricacies of the piracy issue. But do you think the cat is out of the bag for the music industry? Is there any way of repairing this issue of being "morally comfortable" with piracy?
RR:
It's very hard to change the behavior this level of comfort. I think what's going to start to change it powerfully is the rise of "all-you-can-eat" streaming services. To pat myself on the back a little, we were really early with that idea with Rhapsody – a little too early. Rhapsody was the first company to get all five major record label licenses. We were ahead of Apple by nine or ten months.
Musician Coaching:
That's saying a lot more now, because at that time there were five major labels.
RR:
Definitely. We had an all-you-can-eat subscription service back in 2002. We signed Universal in July of 2002, and from that day forward, we had everything. But the entire world at that time only cared about downloads, and it's been that way until recently.
It's only now with the ubiquity of broadband, the increasing ubiquity of wireless broadband and the acclimation to it that a lot of younger folks are getting to the elegance and ease of use that describes an all-you-can-eat music streaming service. That's where I think things change. Services like Spotify offer an experience that is unbelievably superior to piracy. Everything is there with a single click at your fingertips. There is friction-free and cost-free discovery. There's no concern about viruses, lawsuits or being able to find music. It's such an immaculate experience that I think even people on a super tight budget will look at that and say, "$10 per month (or whatever it ends up stabilizing at as a price)? That's a fabulous music experience." Let's say the CD-buying public was probably 150 million Americans in 1999. Let's lop a third off that and say there were 100 million Americans who cared enough about music back then that they were spending $100 per year on it. They can be persuaded to spend $10 per month/$110 per year on a streaming service. All of a sudden, you have a commercial music industry that's even bigger than it was back in the day.
Musician Coaching:
But the question is, does that translate into something that provides a sustainable income on an artist-by-artist basis?
RR:
This gets into an area I know less about, because it relates to the nature of the deals the artists cut with the labels and the sharing of digital revenue.
Musician Coaching:
And even the revenue paid out by Spotify comes under fire by artists a great deal. I have never received payment through those types of services, because I don't write at this stage in my life. But it is a common complaint among artists that it is not enough to live on.
RR:
Let's do the math here. Let's say that we're talking about a world of 100 million consumers. Let's say 100 million people used to buy CDs, and those same people could be brought over to pay for Spotify. 100 million at $10 per month – though I actually think the price will stabilize at a bit higher than that – is $12 billion per year in top-line revenue. The music industry peaked at about that in 1999, though I think it was $14 billion.
Now let's think about the money. We have $12 billion as a notional maximum addressable in streaming. We had something similar to that in CDs. When we had that figure going on in CDs, a very big percentage of that went to the retail channel – probably more than goes to Spotify. I can tell that having run one of those services, they are very low margin. I think retail markup for music on CDs was 35% of the end dollar. So, if someone bought a CD for $15, I think about $5 went to the store. There is no way that 35% of the money that goes to Rhapsody ends up in Rhapsody's pocket.
So, the money that goes into the music eco system – the labels or the artists – is at least as high as and maybe even higher in a streaming environment than it was in a physical retail environment. That should tell us that the same amount of money is going back to the labels and the artists in that community. The question is, how does that money get carved up? But if it's getting carved up in a way that's less favorable to artists than it used to be, that's a brawl between the artists and the label. But, $12 billion being spent on music in the U.S., which feels like the ultimate point of stability or equilibrium for streaming services once they have reached equilibrium is as much money as has ever gone in there. And if it was possible to make a living off CDs, it should be possible to make a living off streaming.
The other thing that becomes interesting in that realm is, if you're an artist and want to get on the shelf at Wal-Mart, as we know, you have to do a deal with a major label and deal with everything that comes with that. If you are an artist in the Spotify eco-system, you don't need any label to do that. What you need to do is drum up your audience. And if you're capable of drumming up your audience – building relationships with followers and fans as we were talking about earlier – you're not going to have to share anything with a label at all. If you've figured out how to cobble together your 15,000-30,000 listeners, the revenue generated by them connected to your music is going to go directly to you.
I think the disintermediation favors us. But I think just as we have no more Beatles – no one of that stature and level of homogeny – for the average artist novelist, etc., because we all can get through to our audience, yesterday's "big" is not today's "big."  Today, there are hundreds of thousands of us who can actually get through to an audience, whereas previously there were dozens or maybe hundreds, so that means we're all going to be selling fewer books, fewer albums, etc. So there might be a diminishing of scale that happens when there are just a lot more people getting through.
Musician Coaching:
Eric Garland of Big Champagne is somebody else you've probably come across at some point. In an interview with me, he said something so profound. Someone asked him if there would ever be another Michael Jackson, and he said, "No … I'm not saying there will never be another quadruple threat talent or that there won't ever be someone who captivates the bizarre imaginings of the world the way he did. I'm just saying that we will never again live in a world where so few media channels allowed one artist to dominate the attention of the world n the way that Michael did." The ascent of Michael Jackson correlates beautifully to the ascent of a monolithic global media structure, and our world will never again see that. You'll never again have just three channels on television with Michael Jackson on two of them."
RR:
And it flows all the way down. My favorite band right now is The Hold Steady. And I'm convinced that in the '80s, they would've been as big as Pavement or The Replacements. In this environment, they're not. Because, there are just a lot more people who are reaching and developing their audiences through these direct channels. I can go see The Hold Steady at a venue that seats 100-200 people. And I get a kick out of that. But I'd frankly be a lot happier if they were playing for 2,000-3,000 or more, because that's the audience they deserve. But there are 150 channels instead of the three. You can't be on 138 of them.
Musician Coaching:
I guess this all comes back to the fact that it's about curating a niche.
RR:
Yes. It's about cultivating a niche. And I want to keep writing fiction. So, I think as an author, my #1 directive is to try to cultivate a direct relationship, certainly with readers, but also with folks like you and book bloggers – people who have small-to-mid-sized blogs and publications. And I want to get out to the big ones too. Nerdist.com is a fairly big site that recently gave away a free MP3 of John Hodgeman – who narrated the audio version – reading my book. I definitely want to get out to Nerdist, Wired and other big sites. But it's really important to cultivate all the different channels. My goal is, a year or two from now, to hopefully have several dozen folks like you with whom I have a warm email relationship. That way, when I have something I want to get out there, I can talk to them. And that really wasn't incumbent on a major published author 15 years ago. It is now. And I think it's cool, because I think it's good to talk to the world.
Musician Coaching:
And you've definitely accomplished your mission. In closing, is there anything else you wanted to say about your book?
RR:
What I would say about Year Zero is that it is very Douglas Adams-like. It is a comedic sci-fi novel set primarily in present-day New York City. There is some galaxy traipsing. But it's not hardcore, deep-future, crazy-alien-technology science fiction. It's playful and present day. Although it is very playful and also fiction, it does consider the issues of copyright and intellectual property very seriously, although that's a subtext. So, it's not like if people aren't interested in those topics they will be put off by it. It's not heavy-handed or a lecture. It's very heavily informed by my experiences with the music industry when I was building Rhapsody. So, if people are interested in the music industry and particularly in the way it interfaces with Washington, I think they're going to really enjoy it.
You can learn more about Rob Reid and his work on the official Rob Reid website and follow him on Twitter and Facebook. Year Zero comes out today, and can be purchased on Amazon, Barnes and Noble, and IndieBound. Watch the book trailer, below! Please also check out Part I of this interview, "How to Connect with an Audience."