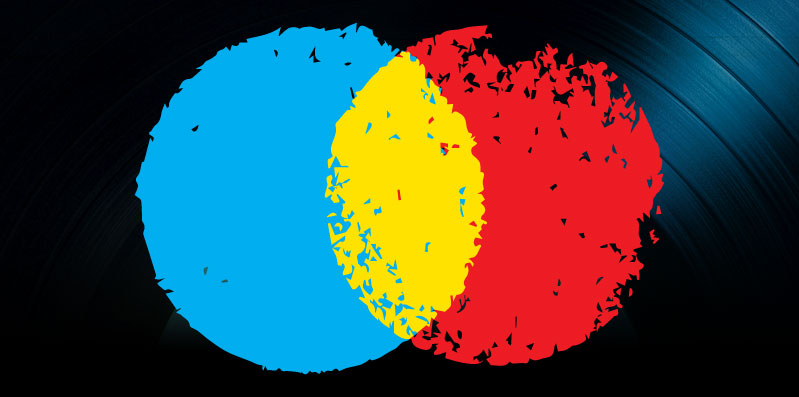 Digital Music and the Modern Artist
Scott Ambrose Reilly is the head of U.S. expansion at X5 Music Group, a Stockholm-based non-traditional music label that licenses the catalogs of approximately 50 other companies and repackages the recordings into compilations designed for the digital space. Scott got his start in the industry as a fan and spent years following his favorite artists, particularly Mojo Nixon, as they went on tour. In the late '80s, he was hired as Nixon's road manager, eventually moving onto manage him and many other artists throughout the '90s. Through his management duties of jam band God Street Wine, he became an early adopter of the online music movement and was responsible for one of the first band websites as well as one of the first online ticketing systems in the mid '90s. His work in the digital space eventually led Amazon to hire him to oversee the launch of its MP3 service. Under his leadership, the company was the first to launch all four major labels in MP3 format, leading to the end of DRM. While at Amazon, he oversaw content acquisition, label relations and global operations for Amazon MP3 worldwide, building a catalog of more than 15 million tracks.
Scott recently spoke to me about the evolution of digital music, the experience of building an all-digital music label. He also delivered some advice for artists that want to successfully market themselves digitally.
Musician Coaching:
Thanks so much for taking some time to talk to me, Scott. How did you get started in the music industry?
SAR:
I started in the business – as many people do – as a fan. If you're in the music industry, either there was a particular artist that drew you in or you were a musician. I think it would be hard to fall into this business any other way.
In the late '80s, I found myself following around Mojo Nixon wherever he played. Then all of a sudden he needed someone to go on the road with him as his career started to take off. Since I was already at all his dates, and even the ones out of town, driving and helping load up the truck just because I wanted to be there, he figured he could con me into the position of going out as road manager and splitting a share of the proceeds at the end of each tour. And that's what we did for a number of years. I remember the first tour was six-weeks long, and I came home with $400 for the six weeks; I thought it was the greatest thing ever.
From there, I became his manager and started managing other artists. I spent ten years managing artists through the '90s. The fortunate thing there is, to this day I still manage Mojo. Because he touches so many different things – radio, television, acting – it gave me great experience there. Then, I was lucky enough to manage a band called God Street Wine in the '90s. It was very much on the cutting edge of internet promotion and technology, mainly because of their age and where they went to school. But also, they had a fan who was a college student and was at the cutting edge of a lot of different technologies. He spent all his free time helping the band. So, we were doing internet promotions before the World Wide Web, selling tickets online and doing IRC chats backstage. We launched a website in 1994, which may have been the first band website. Without even realizing how big all this was going to be, I got to see a lot of different parts of the process that was coming up.
When I realized after ten years of full-time management that it wasn't the right path for me, luckily I had lots of experience to translate to the digital music space.
Musician Coaching:
That's why I knew your name. I remember doing research at Lava/Atlantic under Jason Flom and trying to find out who this God Street Wine was and what they were doing with the internet.
SAR:
Yes. And I had met Jason a couple times. His wife went to college with the drummer, I think. And Dan Pifer, the bass player ended up going onto become the COO of Orchard and then the COO of Rightsflow.
One of the things I wanted to do in moving from a large, stable company like Amazon to a smaller innovative company like X5 is build the strongest possible team, because I know how important that is. So, I brought Dan Pifer on board. And Griff Morris from Amazon is our chief content officer. I felt that if I was going to do this and do it right, I needed to have the two smartest, hardest-working guys in the field alongside me. Dan came on shortly after I did. And the three of us are the U.S. office of X5 Music.
Musician Coaching:
How did your other experiences lead you to XM, and what is the function of the U.S. office?
SAR:
Amazon was a great experience. There, we basically launched a DRM-free service with all the content and finally putting an end to the inoperability of digital music.
Musician Coaching:
I almost feel like saying, "Thank you" for that.
SAR:
Yeah. It was part of the fun and part of the challenge. And it's amazing how emotional that decision was for a lot of people in the music business. It seems like a pretty minor blip now in hindsight. It was great to launch that in the U.S. and in the UK, Germany, France and Japan.
X5 was one of our best vendors – this little label out of Stockholm that we hadn't heard of, as quick, smart and flexible as any we'd seen. When we did a promotion with them, and it worked, they said, "How can we do more of these?" And they would create products within weeks for the store. I started to realize that this idea of a digital-only label that's creating products specifically for the digital market and specifically to have mainstream appeal in the digital market had a lot of power. What the three founders in Stockholm built is very exciting. And their vision for the future is very exciting. It's been a lot of fun, and it's been a smart choice for me to make that jump. And the main business is licensing entire, complete catalogs from labels with rights to make compilations from those catalogs. And there's a lot of research, science and technical stuff that goes into creating the compilations, to make them products that we can get surfaced in digital music stores – surfaced by responding well to search, by different marketing techniques we can do, by a concept that will appeal to editors of that particular store. Then, once its surfaced, we hope we've created an album cover and a name that's very compelling and lets people know what it is and compels them to click on it. If you can surface it through marketing and winning the search, then you can with the click. And if you can win the click, you can have albums that stay on the Billboard Top 10 classical chart for ten years, which we've done.
Musician Coaching:
I was just explaining to somebody the other day that I feel like this has been such an open playing field. I just don't feel that there have always been enough products rising to the top, due to conventional SEO techniques or because they represent music for a dedicated purpose. I have been of the belief that you can create customized products that will be tailor-made to being in  the stream of search. On the most macro level, that means going into the Google keyword tool and saying, "How many people are searching for music for yoga, music for meditation, or music in a certain style?" At a certain point, when you would go and see the search results for the top-ten keywords, there wasn't necessarily a strong batch of competitors. And you still find a bunch of people squatting on domain names that have been there for a while.
SAR:
Yes. And people do spend time, money and effort studying how Google and SEO work. But I don't know of a single company outside of X5 who looks at how that works in the iTunes Store and in the Amazon Store.
Musician Coaching:
And how does that work?
SAR:
The only way to optimize for search in those stores is to create products that optimize for the search in those stores. That's a pretty radical idea and approach. We're creating products so that if someone types in a certain phrase, they will be the top products that pop up.
Musician Coaching:
Sadly, it's very radical in the music space. The music space is just finally growing up. Because a company like Crest might spend a million dollars determining whether or not you and I want white or off-white on our toothpaste box. Meanwhile, the music business has spent a million dollars on a video without even knowing whether there's a market for it. So, it seems like you guys just finally got smart about it.
SAR:
Yeah. It's easier when you don't have a physical product and a legacy business. And it's easier when you're dealing with mainly catalog and not new release. So, if you're a digital-only company focused on catalog, there's not something else out there like that. When labels try to do this themselves, first of all, there's a lot of marketing dollars and creative energy to spend on the back catalog, which isn't necessarily where labels should spend their creative and financial energy. And if they're successful, they'll become known as a back-catalog label. Labels should spend their money and creative energy on new releases. But once those new releases are a few years old, it's hard to find a way to market them through digital services. What we do is find a way to rise tracks, artists and concepts up to the surface in a way that it is fulfilling a customer need for people that aren't very familiar with a particular genre.
For example, if you met a girl at a party last night, and she said she was really into World Music, so you want to get some World Music downloaded onto your computer for a playlist, and you type in "world music" at one of the music stores, it's not going to help you. It's going to give you Italian drinking songs, Justin Bieber albums, Glee albums, etc. And if you look at the charts, it  doesn't get much better, because you'll find Canadian folk singers on the World Music charts.
Musician Coaching:
Your vantage point is unique, as someone that has had experience growing this company, has witnessed the digital music revolution firsthand and has of course worked at Amazon. Do you have any tips on techniques for artists to make their artwork, marketing, meta data creation, etc. successful?
SAR:
It's an easier thing to describe when it's catalog based. Obviously if you were going to create an album of 20 great Italian love songs today – specifically for the digital market – you'd be foolish to call it Amore as opposed to 20 Great Italian Love Songs. As much as you wish you could call it Amore, people aren't going to find it. And even if they find it, they're not going  to know what it is. But if it's 20 Great Italian Love Songs, they'll at least know what it is from the title. And hopefully, your cover says, "quality" to them.
We've tried this approach two times now with new releases. We commissioned the London Philharmonic Orchestra to record the 50 greatest classical music pieces of all time. We did a lot of research on which were the most popular classical music pieces from history based on rankings and streaming and download, etc. And it's called The 50 Greatest Classical Music Pieces in History. And it has a cover that says, "London," "classical" and catches your eye. It's done incredibly well for us. It's been a top seller at both iTunes and Amazon for two years now.
And we're doing a second one that comes out in two weeks that's the London Philharmonic again, and it's titled The Greatest Video Game Music. It's really catching fire, because it's the concept, tied with the cover, tied with quality – because the London Philharmonic is one of the greatest orchestras in the world.
Musician Coaching:
Because you had to do so much research on products like that, you must've learned a lot about what works and what doesn't work for artwork, and that really applies to new artists. What have you found about artwork?
SAR:
How it looks as the 12" collector vinyl is irrelevant. Whether you wish it were the case or not, the artwork is going to be a thumbnail and has to be compelling in that format. What's amazing is that we've discovered that things that are compelling as a thumbnail are also compelling as a 12" collector vinyl cover or a poster. The other way around doesn't work.
The real message you learn when you work at Amazon – because you can't have a meeting where this doesn't come up – is "How does this affect the customer?" What's the customer point of view and what's the customer experience? And this is important in digital music.
Also, the recording process is phenomenal. It's probably my favorite thing in the whole music business – being around when a record is being made. I was fortunate enough before I worked at X5 to be in London when the London Philharmonic was recording the 50 Greatest. It was just fun to be there for a couple hours. But listening to it in the speakers and getting excited about the big artwork is not where the customers are nowadays. As an artist, you have to think about where these customers are listening to their music, purchasing their music and experiencing their music. And you have to think about what that interface looks like and sounds like.
I remember when we first started doing online MP3s in the mid-'90s with God Street Wine. Nobody was happy with the quality. They would say, "This doesn't sound as good as a CD." And I really thought that was going to impeded the growth of the digital download. I thought the quality was going to have to get better. But that turned out not to be the case; people wanted convenience more, which was a big eye opener. In the digital space, convenience is a huge quality component for people.
There are a lot of people who wish the world were still vinyl:  The artwork was phenomenal and the sound was different.
Musician Coaching:
Well, and it's really hard to roll a joint on an MP3.
SAR:
Yes. It is. But I think we gave up that whole fight with the CD. I don't get any tactile pleasure from a CD. Just accept the reality that this is how people are listening to music. If you wish people were sitting and looking at the liner notes while they listen to the music instead of streaming it as they're walking down the street, you have to remember that you don't get to make that choice for your fans. You're not going to convince somebody to go buy a CD if that person gets all music digitally as downloads. You're not going to convince people to download your album if they do all their listening through Spotify. You're not going to change that customer behavior.
Musician Coaching:
So, what can artists do to make themselves successful other than put themselves in the customer mindset?
SAR:
I don't think the path is any different. I think the definition of "success" has evolved. The path is, to just do as much hard work as you can possibly do. I recently came across the ledger book from 1987 on the road with Mojo Nixon. The number of $50 gigs that were being played was amazing. Looking at this book 20 years later, you'd say, "That's insane. How could that possibly ever amount to anything?" There would be a $50 dates in Bloomington Indiana. And then you'd see an $800 gig shortly after that and think, "Wow, something's going on here." Mojo Nixon worked hard for no money, because he had no choice. Music was what he was going to do.
And that's all you can do as an artist. You can't catch your lucky breaks by never taking any chances or by being so concerned about protecting all your rights. You can catch your lucky breaks by saying, "This is what I'm going to do, and I don't care. I'm going to buck all the trends." Your chances are less, but you can. And you better be genius. You have to be a world-shaking genius of the Elvis/Beatles variety, and you have to be at the right place at the right time – because you can take any brilliant artist in a time period three or four years earlier or later, and it doesn't happen for them.
If you're world-shaking genius, just do your own thing. Don't worry about the album cover. There were a small number of bands that were very successful during the MTV years without making videos. There are always those that buck the trend. But there's also the belief that you can grow slowly, build your career just a little bit at a time and be smart and try to make a living doing it.
Musician Coaching:
So, what's happening next at X5?
SAR:
The main thing that ties back into the concepts we've been talking about is this new release of The Greatest Video Game Music. The record was finished September 23. Within weeks, we realized we had something special. It came from us taking the science that X5 has done so brilliantly in Sweden with concept, design, naming and packaging, the A&R concept of getting the right song and finding the right artist to make it. We took that science and laid it on this product that people have a lot of passion for. And there's a certain science to the packaging in digital. But there better be real art and passion that sits underneath it if you want to hold people's attention.
We feel this project is so special that we are going to put it out physically, having never put out a physical release as a digital-only label. It's not easy to put out your first physical title. And it's certainly not easy to put it out during the fourth quarter when you've missed every possible deadline for the Christmas holidays.
Musician Coaching:
Oh, I empathize.
SAR:
It shows all signs of doing something special when it comes out in a couple weeks. But it's taking a lot of hard work to take this potential and turn it into something real. And of course, we have no way of knowing if it's going to be as special as we think it is going to be. And we think it's going to sell. It's already getting a lot of press, attention and pre-orders.
When you create that product that has that potential, you better start working really hard. I don't know that I've worked harder on a release even when I managed bands than I have on this one in the last five weeks. And it wouldn't have had a chance of seeing the light of day if all of us in the U.S. and in Sweden weren't working this hard on it.
Musician Coaching:
So, it's still true in the Digital Age that a "hit" just feels different.
SAR:
Yeah. People are drawn to it.
Musician Coaching:
Doors that weren't there suddenly open, and it feels fundamentally different. I was lucky enough to be standing at least close enough to a hit to appreciate that.
SAR:
The snowball starts to roll. This wouldn't be a "hit" by the definition of what a "hit" would've been when you were working at Lava. But it's different for every artist. For example, with Mojo Nixon, you knew "Elvis is Everywhere" was changing his life. That alone wouldn't have done it. The hard work he laid on top of it was why it succeeded.
A hit opens doors to the next level. But you better work really hard to get through those doors. And then you better earn your keep once you're there.
To learn more about Scott Ambrose Reilly and to get details about the release of The Greatest Video Game Music, performed by the London Philharmonic Orchestra, visit the X5 website.  You can also pre-order the compilation on Amazon.