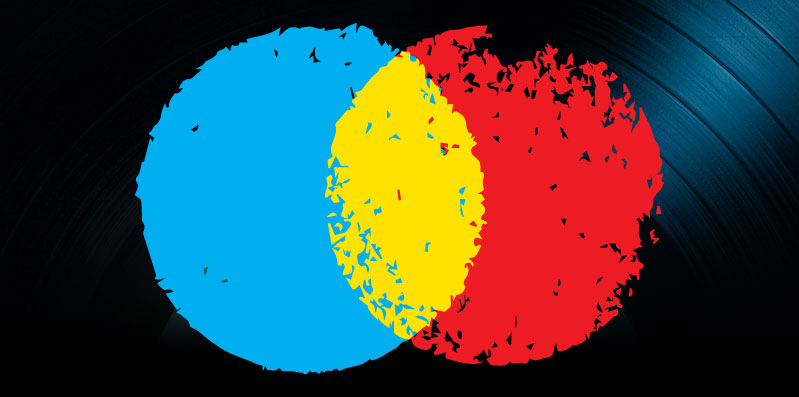 Checking in with MySpace –
Jimmy Roc is the Music Evangelist at MySpace Music (Yes, it says so on his business card).  Prior to being at MySpace Music Jimmy was a DJ at WAAF in Boston for four years and a musician prior to that.  I wanted to talk to Jimmy about what was going on at MySpace given they have recently announced new customizable music profiles and launched a blog dedicated to helping musicians called Artist HQ.
.
Music Consultant:
Jimmy, thanks for taking the time to speak with me today.  Let's start by discussing a bit about what you did at radio.  How often were you on and how much control did you have over what you played on the air as a DJ?
JR:
I was on five, to six nights a week and had a six-hour block.  It was good, but I had absolutely no control over playlists.
Music Consultant:
I think people have  a big misconception that your average DJ can control what gets played where, and that's just not true.
JR:
That's what led to my decision to leave. They've taken the art out of Radio.  Unless you're on a morning show, your ability to free-form what you want to do and say has been taken away in modern FM radio. If you listen to any FM station around the country, you'll hear a DJ back-selling a song:  "That was that, and this coming up is this" and that is the whole gig. To me, that wasn't worth saying, "I'm on the radio." I felt like I was reading lines. If I broke away from a very rigid format I would find myself in the program director's office on a Monday morning getting yelled at. It became a little difficult. Pretty much no matter where you go in the country or which shift you listen to, most DJs don't have control over which songs they're playing.
Music Consultant:
So you landed at MySpace next?
JR:
Yes, I was picked up by MySpace Music in 2006.
Music Consultant: What do you do as a Music Evangelist?
JR:
I spread the good word of MySpace and help artists at all stages in their careers – though my focus is really on the unsigned artist and helping indies get the most out of their MySpace and online experience.
Music Consultant:
So it sounds like you do a fair share of showing people how to use MySpace to maximize their music and their career using it as a tool…
JR:
Right on the money.  I want to help any way I can to help an artist get where they want to be. And hopefully when they're on the top of that mountain, they will look back and say, "MySpace did some good stuff for me." That's what we're trying to do.
Music Consultant:
Before we get into artist HQ, tell me about what's going on with the new profiles?
JR:
We're giving artists a new platform. It's a lot simpler to navigate than the old profiles. We have a fixed navigation box on the left side. In the past, you would visit an artist's profile, and you couldn't even find the "add" button, because they have so many graphics on the page or everything is all over the place. We fixed that box so you can get to an artist's page and quickly navigate to their music, their videos or any events they have, their blog. That's all right there. In addition to that, the overall profile is a sleeker design. You have the ability to keep a large banner marquis. The way we designed it is as an expandable marquis, so you have the option to start off with a 960×240 pixel size, but you hit a button and you can expand it. A lot of artists are getting really creative with that and are putting videos there and links to their online stores. To date we're pushing 700,000 artists that are now on the new artist profile.     
Music Consultant:
So I was told that all artist profiles are going to roll over into the new 2.0 whether they are updated or not at a certain date, is that so?
JR:
No decision has been made as far as a forced migration is concerned. But I recommend that if artists are spending time tricking out an old profile, it's probably going to be a waste of their time. I say get on the new platform. We're showing a lot of love to artists that are doing it. We rolled it out last summer as a "friends and family" invite only thing to get feedback, and then once the beta rolled out, artists are coming back to us and asking us to check out their profiles. The feedback has been amazing. On artists' HQ, we actually feature an artist profile of the day. The major label artists have in-house designers that are doing amazing things. But the independent and unsigned artists are doing it themselves or hiring independent designers and coming up with some beautiful stuff. We're trying to showcase those on the site.
Music Consultant:
I know many people believe the platform is in decline, but I'd love to hear recent success stories.  When I am on MySpace I feel like I am so inundated with bands saying, "Look at me, look at me."  What should artists be doing on MySpace in this day and age to advance their careers?
JR:
I would take advantage of the tools we have to offer. A lot of bands are not as active on MySpace, but they set up their Twitter sync. So they can simply update their Twitter status and have more presence on MySpace. It's good for time management. What I would do if I had a band is make sure anything I had up online is the best representation of the message I'm trying to put across:  keeping the photos recent; making it a place where you can showcase new music. Even if you're bigger on Facebook or Twitter, use the status updates and the feeds to say that you have a new song up on MySpace. And then just tell people to go there and check out the new music.
If you're going to be interacting with fans elsewhere, that's fine. Of course, we'd like your first stop to be MySpace, but if it's not, we still have a lot of assets that aren't available elsewhere that you can make the most of, such as the music player, the video gallery and the photo gallery. There's nowhere else right now where you can put a huge 960×99 photo of yourself at the top of the page and have your name in lights for free.
Music Consultant:
Is there ever going to be Ustream integration?
JR:
Unfortunately I can't speak on that right now. There has been discussion about it though. We have a lot of tricks up our sleeves that will be rolling out soon. And I'll say this, a lot of the new products we've been showing to bands when they've come in one-on-one have been getting great results. It makes me feel really confident about the future of the music site.
Music Consultant:
Which bands are really using the platform well?  Are there bands that are really actively working MySpace that you would recommend as powers of example?
JR:
This band called Mary Madeline is in the unsigned artist program. They are pushing 260,000 friends and have a very interesting rap/rock, what they call "hood rock" fusion. It's definitely a rock band, but they take the hip hop route and are calling them mix tapes. They choose MySpace first to showcase their stuff. They are doing exceptionally well for an unsigned band. They are self-funding coast-to-coast tours and selling tons of merch. Their traffic all originates with their MySpace profile.
Music Consultant:
When I see an artist that has 250,000 friends I start to question if it is real or not. I know a lot of people are using bots. I always recommend against this practice, because I'm a big quality over quantity guy.  What has been your experience with people inflating their numbers and auto adds? I know it's been a technology war between MySpace and people developing new ways of auto-friending. Do you have any experience with that at all?
JR:
We cracked down on that. If we find an artist that is cheating, they will be banned from the charts. If they continue to cheat, their profile runs the risk of being removed. We try to keep the quality aspect in play. We want the best we showcase to be the best and be legit.
The quality of the music usually speaks for itself. If you're putting out quality work, the fans will come. For instance, this band Mary Madeline has been on the site since it began, and they've just been pushing hard. If you look across the board at any of their networking sites – even their YouTube account – they have good numbers across the board. In house, we have so many things in place now as far as security features and spam features, it's really hard to run a successful bot anymore. I f you don't have it set right, you will be banned from sending messages and banned from friending. It's a system that is really strict, and a lot of times a band will write in and say, "I was sending individual messages to people, what happened? Because it's based on rate and how many messages are being sent to people. Most likely, if somebody is using a bot at this time on MySpace, it's not going to be successful. If you see an artist with big numbers, I'm going to say nine times out of ten, they are going to be legit.
Music Consultant:
You were about to get into the MySpace Unsigned profile. What is that?
JR:
MySpace has a program currently called the "friends and family" program. Possibly that name will change soon. We just revamped the program – Dave Andreone of MySpace Records and I. We're running that with 140 artists, and we're hopefully going to double that in the next six months. Some of the benefits you get from being in the program:  any album you get released or video or EP, we get you featured on the site, as well as a really generous ad campaign package. Then we look out for those artists first as far as opportunities that come up. For instance, we had a sales campaign with Wendy's where they wanted to know what unsigned artists do in the meantime until they make it. What is their day job all about like while they are waiting? We reached out to artists in the program, they hit us back, and Wendy's made the final decision and picked three artists and gave each of them $10,000 and did a three- part webisode showcasing how they balance having a real job and being in a band.  The bands were psyched.
We really look out for our artists first and with the new revamp of the program, we're going to roll out a whole new profile, so we can almost put the A&R in the hands of the fan. There will be a submission process. If there's a band out there that we need to know about that would make a good fit into this program, we need to know. Out of six million MySpace music profiles online right now, this is an extremely small percentage of that. We're trying to curate it and make it the best of the best, the best 300. All we ask for in return is a first right of refusal. We show you a lot of love, so if you get a deal, you sign something that says we have ten days to match that deal. And it would be either through Interscope or Downtown Records that we recently partnered with. Some bands – unfortunately no household names – have signed to smaller labels and graduated from the program. Everything Everything is a band in the UK who are a good Example.  They are doing big things right now. We're hoping the new revamp of the program will take it to new levels.
Music Consultant:
Let's get into artist HQ. When and why did that come about, and what is it?
JR:
Artist HQ  is the number one resource on MySpace for artists, musicians and bands. It came about approximately two months ago. I am responsible for hosting most of the content on the actual profile.  It came about because there is no guide or manual about how to succeed in rock and roll. There are a lot of horror stories and a lot of "would've, could've, should'ves,  and a lot of bad things in the music industry. We're trying to create a place on MySpace where artists can go and get advice to help further their career, whether they are doing it for the love of it or want it to pay their rent someday. If you're new to MySpace, we'll show you everything from how to upload a photo or a song, to how to customize your profile, and then we'll take it to the other side and have columns from music managers and producers and lawyers and other music professionals that have seen a lot of things and can offer expertise.
Music Consultant:
Is it going to remain as an advice column, or will it grow into more thatn that?
JR:
As new tools roll out – and there will be a lot of things in late 2010 and early 2011 – this will be the place to get all the information you need to use the new tools to the best of your ability. We're getting guest columns from bands that have made it. For example, there's a band called In This Moment. They were a band on MySpace in 2006. There was an era if you had 100,000 friends, there was a good chance a label was going to look at you. And this band, since they've been signed to Century Media, has been on every tour possible, whether Mayhem Fest, Ozfest, a really talented bunch of guys and an exceptionally beautiful front woman that can scream like Randy Blythe of Lamb of God. The girl's amazing. I hit them up and said, "You guys had a lot of success on MySpace. Do you want to come back and write an article?" I gave them free reign to do whatever they wanted. It's called "From Van to Tour Bus:  Surviving Touring in a Metal Band." And Chris Howorth, the guitar player, touches on everything from packing light to making sure to be nice to the fans, Gold Bond powder, everything you need to make it through a summer tour. It's been one of our most popular articles to date.
For More information on best business practices on MySpace check in with Artist HQ.