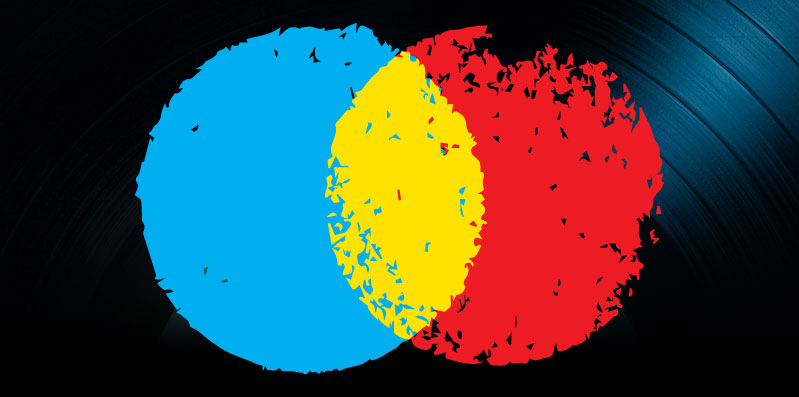 Rhapsody and Twitter Partnership, Pandora vs. BMI and UMG vs. Indie Artists on YouTube, March 22, 2015
Rhapsody formed a new music-sharing partnership with Twitter. Also, Pandora and BMI awaited the results of a big royalty lawsuit. And an issue between and indie artist and Universal Music Group (UMG) called YouTube's takedown policies into question.
Rhapsody Making its Entire Catalog Available via Twitter
Rhapsody announced a partnership with Twitter that will make its entire catalog sharable and playable via the platform, according to Music Week. The news broke at the SXSW music festival last week. Rhapsody is the first streaming music company to offer totally licensed full-track playback on Twitter, meaning that artists, labels and publishers will be paid properly for all plays.
With the help of Twitter's audio card technology, Rhapsody listeners will be able to share songs with their followers through the Rhapsody app. Rhapsody's audio cards will allow Twitter users to listen to entire songs without leaving Twitter.
Ethan Rudin, CFO of Rhapsody International said, "We loved how Twitter audio cards work seamlessly within the Twitter app and we wanted to make the experience of sharing music with friends easy by bringing great licensed content to one of the world's largest conventional platforms."
He added, "Our goal with this launch is to not only help make streaming more social, but also to reinforce that music isn't free – every song played is accounted for and fully paid up. The support from the artist community is invaluable as we continue to innovate and introduce new ways to stream licensed music."
Pandora and BMI Awaiting Decision on Major Royalties Trial
The arguments in the royalty rate trial begun February 11 between Pandora and BMI closed on March 13, and both parties are still awaiting the court's decision. The verdict will decide how much Pandora must pay BMI to use its catalog.
Billboard reported that Pandora's lawyer, Kenneth Steinthal closed with a reminder to Judge Louis Stanton that the court's decision would affect everyone in the music business. Steinhal suggested that if Judge Stanton rules for BMI and allows the performance rights organization to pay 2.5-percent of total revenues, he would be setting a precedent for the entire industry.
Steinthal explained, "Not only will other standalone services, whether startups or otherwise, have Pandora's rate applied to them … but it would not shock me in any way, shape, or form that broadcast radio will be faced with whatever the results are… especially given the arguments that Pandora and broadcast radio are absolutely competing head-to-head."
Setting a 2.5-percent royalty rate would be good news for those in music publishing. The current rate is 1.75 percent, and Pandora is requesting to pay a royalty rate between 1.70 and 1.85 percent. BMI's requested rate would be a 43-percent increase.
Pandora's argument is based on the rate that the Radio Licensing Music Committee pays, which is 1.7-percent of revenue. Both BMI and Pandora agree that the company competes against terrestrial radio and its digital simulcasts.
However, BMI lawyer Scott Edelman argued that Pandora uses more music than regular terrestrial radio, which combines music with DJs and news, weather and traffic reports. His argument for BMI getting 2.5-percent of revenues was that the "consent decree" dictates that if BMI makes a "reasonable" proposal, "then the court's job is done," and no additional arguments will be necessary.
Publishers have been disgruntled and threatening to leave PROs since 2011 if these PROs do not allow them to make direct deals with digital services in order to get better rates. Both BMI and ASCAP responded to publishers' requests by rewriting by-laws to make this possible.
In court, Edelman said that direct deals signed when music publishers withdraw digital rights at rates that are significantly higher than the one paid to BMI also support the rate BMI is asking for. For example, the deal made between Universal Music Publishing Group and Pandora for a 7.5-percent-of-revenue rate while the publisher was withdrawn from BMI was considered a "competitive market rate deal set between willing buyer/willing seller."
Steinthal noted that deals made when digital rights are withdrawn are typically "under unprecedented market circumstances." Judge Denise Cote, who was involved in the ASCAP rate court and Judge Stanton both ruled in late 2014 that the consent decree does not account for partial withdrawals; publishers need to be "all-in" or "all-out" of PROs when making deals.
Pandora argued that the deal made with UMPG and other withdrawn publishers were not rates set in a competitive market because Pandora was forced to agree to a deal in just a matter of weeks or face copyright infringement.
Edelman's counter claim was that when publishers withdraw from PROs, they are reacting to rates they got from digital services, especially those they got from Pandora. In regards to the Universal case and others like it, he said, "The publishers did not seek to withdraw from TV or from radio or from bars or from restaurants. Their frustration was directed at Pandora … They sought to withdraw from Pandora, and other digital music services like it, because Pandora has adopted a business model where it's practically giving music away and only inserting three minutes of commercial time in each hour. The action on the part of the publishers is clear evidence that the prevailing PRO rates were not sufficient."
In the case between Pandora and BMI, Judge Stanton will rule on how much money Pandora can take out of royalties for advertising. Many digital deals involving ad-supported services include an ad deduction. In these situations, the ad agency collects advertising revenue and takes its cut off the top before giving revenue to the radio/music service. BMI said it will allow a 15-percent deduction for outside commissions, which would reduce Pandora's royalty rate to 2.125 percent. However, the radio service is asking for the deduction to include its internal costs as well as its outside commission so it can keep its own sales staff.
Judge Stanton also has to figure out the length of the Pandora license. The license initially began on January 1, 2013. BMI wants the contract to terminate on December 31, 2016 but Pandora wants it to end one year later. Steinthal insisted, "If one thing has become apparent in this trial, it is that too much has been invested in this proceeding for us to have hit the reset button at the end of 2016."
Universal Music Group Caught Taking over an Indie Artist's Channel
Universal Music Group (UMG) was caught taking over Norwegian indie artist Bjorn Lynne's YouTube videos, according to Torrent Freak. UMG was running ads on videos of Lynne's music tracks and initially refused to stop, despite requests from the artist and take-down notices that were filed.
This issue sparked controversy over the efficiency of YouTube's takedown notice system. Automated bots detect and report millions of potential copyright infringements, which are then processed by web services, often with no human involvement. YouTube also allows copyright holders to upload their work into a fingerprint database to make finding matching content easier.
The fact that this system does not necessarily involve human intervention has caused a large number of false takedown notices. For example, a video of a cat purring was recently flagged as pirated music. However, even more problematic are situations in which original artists are declared pirates of their own work.
Lynne was one such targeted artist and had two of his videos taken over by UMG, who ran ads alongside his work, thus profiting from it.
Lynne explained when the issue began, "Can I just state publicly that I hate Universal Music Group. For the second time now, they have hijacked my music and claimed ownership of it in all YouTube videos that include my music, thereby monetizing my music."
UMG does have the rights to an audiobook that incorporates Lynne's music track "Kingdom of the Persians" as background music. Of course, this is fine, since his music can be freely used as long as licensing fees are paid.
But UMG entered the audiobook into YouTube's Content-ID system, thus bringing up his original video for the song and giving them the ability to put their own ads on the video. UMG also rejected Lynne's dispute through YouTube when he explained the problem to them.
He said, "One thing would have been to have done this unwittingly, by mistake. But I have 'disputed' the claim on YouTube, written an explanation and told them about the origins of this music – then waited the full 30 days that the claimant has to process the dispute, only to be told that UMG have reviewed the dispute and upheld their claim!"
For an indie artist like Lynne, suing such a huge entity would not be an option without a lot of money in the bank: "The only reasonable thing to do here, for me, would be to hire a top lawyer to go after them legally. But realistically, it's like $350 per hour for a lawyer and a 3 hour minimum for a case, so I'm looking at over $1,000 just to get something started."
UMG also took over Lynne's track "Mystical Pyramids" earlier in the week.
Lynne's videos were finally freed after he took the issue to YouTube's highest appeal process. He said, "I have not had any communication with/from UMG, but what seems to have done the trick is that I used the 'appeal' process at YouTube after I was told that my original dispute had been rejected by UMG. Going through the 'appeal' at YouTube is a pretty scary process, because YouTube uses some very strong language to warn you that you may face legal action and/or your YouTube account may be shut down. I did it nevertheless, I was that hell bent on getting UMG to stop monetizing my music and claiming ownership of it."