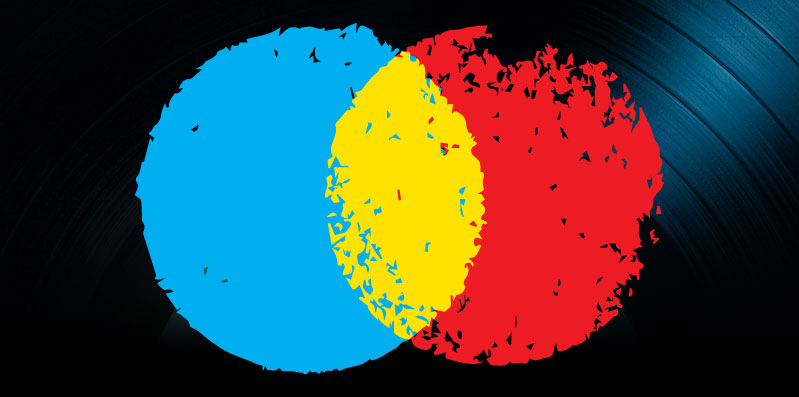 Music Piracy Arrest, Tesco Vinyl Sales and Music Sample Licensing News, September 6, 2015
UK law enforcement arrested a prolific music pirate. Also, British supermarket chain Tesco said it will start selling vinyl. And a major label gave artists and producers six months of amnesty on licensing fees for music samples.
Prolific Music Pirate Arrested in the UK
A suspected notorious music pirate was finally brought to justice by the Police Intellectual Property Crime Unit (PIPCU) in the UK on September 3. The 38-year old man was arrested in his home and brought to a local precinct for questioning about millions of dollars-worth of uploads of Top 40 songs to sites like Pirate Bay and KickassTorrents, reported TorrentFreak.
Millions of music tracks are shared weekly across hundreds of torrent sites, typically in the form of full albums. The man in question has been suspected of downloading entire discographies of Top 40 artists as well as weekly packs of the Billboard Top 100 and the UK's Top 40.
The PIPCU and Merseyside police joined forces to raid the suspect's home in Everton, Liverpool to find evidence of his illegal distribution of music online. The man allegedly uploaded the UK's Top 40 Singles to many torrent sites weekly and ran his own website that offered users both regular album tracks and acapella versions of songs. Police reported the man earned "significant" ad revenue from these activities.
City of London Police Detective Inspector Mick Dodge explained, "Today's operation in Liverpool demonstrates how PIPCU are prepared to travel nationwide in the pursuit of those suspected of being involved in the illegal distribution of content online … This is a crime that is costing the UK creative industry hundreds of millions of pounds, money that not only supports the artists but the thousands of technical and support staff working in this sector, and PIPCU is committed to working with partners national and internationally to target those involved."
Head of Litigation, Enforcement and Anti-Piracy at PRS for Music Simon Bourn confirmed that music piracy has had particular impact on the creative industry in the UK, despite many measures that have been taken in recent years to crack down on illegal activity. He added, "We're committed to partnering with PIPCU to enforce against illegal services that are not willing to work with us towards a legitimate licensed model and which continue to exploit our members' work without permission."
While the name of the suspect has not yet been released, sources indicated that the man in question has uploaded hundreds of torrents to sites illegally over the course of the past five years.
Tesco Tapping into the Vinyl Market
Tesco announced it will be selling Iron Maiden's new album The Book of Souls, not only in CD form but also in vinyl form. This will make the large UK supermarket chain the first to sell vinyl in its stores.
UK sales of vinyl plummeted in 2007, but have been steadily growing each year since then. The British Phonographic Industry (BPI) reported that vinyl album sales were at 1.3 million in 2014, the highest sales figures since 1995.
The Official Charts Company in Britain said, "Only five years ago this business was worth around $4.6 million a year … This year it's going to be worth $30.7 million."
The Iron Maiden's first studio album in five years drops Friday. The album's triple LP version will be on sale in 55 Tesco Extra stores for $36.83 alongside the two-CD form for $13.81.
Even though the rest of the UK music market experienced decreased sales in 2014 (both CD sales and download sales dropped), vinyl and streaming sales both rose.
Tesco music buyer Michael Mulligan noted, "In the last year, we began selling record decks in our largest stores and initial sales are very encouraging so giving our customers some new vinyl to play on those decks seems like the logical next step … We are anticipating demand for The Book of Souls to be high as Iron Maiden's last album was the band's most successful to date, reaching number one in 28 countries, including the UK."
Mulligan also stated that if the current vinyl trial is a success at Tesco, the store would likely add more vinyl to its music offering before 2016.
He clarified, "The trend for vinyl doesn't seem to be confined to one particular age group. Parents are getting their old vinyl albums down from the loft and teenagers are discovering the joy of the 12 inch record for the first time."
Tesco spokespeople also said it will feature discounts on Iron Maiden's personal beer brand, Trooper with purchase of the band's LP or CD.
Iron Maiden co-manager Dave Shack admitted, "It was a proud moment when the UK's biggest supermarket created a landmark opportunity for us to present our fans with a one-stop shop for our brand-new album and award winning Trooper beer. We have put a lot of energy into all our formats of the new record but the vinyl has to be one of the most impressive packages I have ever seen."
Major Label Offering Temporary Amnesty on Samples
Sony/ATV Music Publishing-run company EMI Production Music started a six-month-long "amnesty" covering samples from its music library on September 1. This break will let DJs, artists and producers worldwide who have used a drum break, saxophone hook, keyboard pattern or melodic bass line as part of their music without clearance to get a license without fear of legal action or a royalty back claim, according to Billboard.
This "worldwide amnesty" is said to be "the first of its kind." Its purpose is to "encourage" producers, artists and labels to use the EMI Production Music catalog and make recordings that have previously used the library sound. The library covers six decades and more than 125,000 master recordings.
EMI Production Music global director Alex Black explained, "If you look at the length of time now that sampling has been in place in pop music and look at the depth of our catalog, there's probably a fair few samples that go unrequested out there … All we're trying to do here is say: 'Let's engage.' Let's work with the record and artist community that we think are interested in sampling, or have sampled our catalog, and see if we can do something positive that might well stimulate new and exciting collaborations."
Black continued: "The sample community has always been a bit more DIY … Certainly where we are now in terms of technology being so good at a home level and there being so many great composers out there, just doing their thing and putting their music out amongst their circle. This is really creating awareness within those communities … as well as getting recognition for our composers."
Catalogs included under the amnesty initiative are KPM, Music House, Selected Sound, Colour Sound, AV Music, Castle Music, Ded Good and Sparkle & Burn. All these catalogs are attached to the creation and licensing of production music for TV, commercials, film and computer games. Many of the samples are not well known, but the collection does include quite a few British TV themes and music from genres including dance, classical, psychedelic rock, jazz, funk, punk and indie.
Many superstar artists have legally used samples from this catalog in recent years, including Jay Z, Fat Boy Slim, Mark Ronson, Ghostface Killah, Gnarls Barkley and Jurassic 5.
EMI Production Music will support its sample amnesty project by digitally releasing undigitized archive recordings from its famous KPM Greensleeves, Original and 1000 series, which were recorded by session musicians in the 1960s and 1970s. The cult samples were previously not available on vinyl, but have now been remastered at Abbey Road Studios.
Black concluded, "Our aim is to create an awareness that what we have here is a catalog that has amazing depth and richness to it … It's a positive for everyone … It benefits our composers, the labels and any artists wishing to sample our catalog."