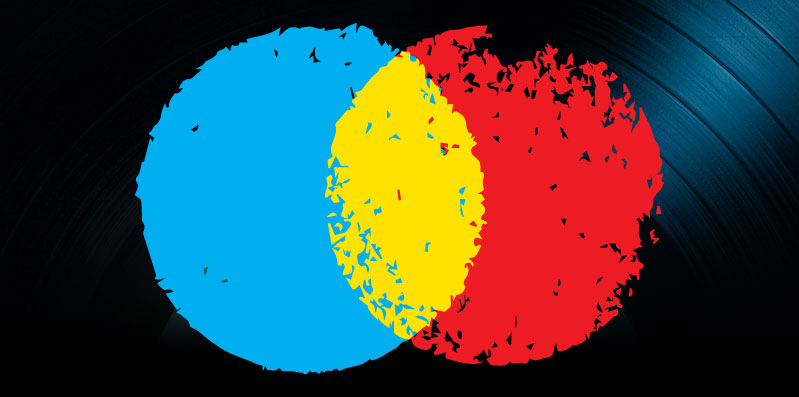 U2 Freemium, In-Tweet Purchasing, and Music Unemployment News, September 14, 2014
U2 decided to go the freemium route with its latest release. Also, Twitter launched its new "in-tweet" music purchasing. And the unemployment rate in the sound recording sector of the music industry hit a new high.
U2 Giving Away its New Album via iTunes
U2 surprised the music industry when it decided to adopt a "freemium" model for its new release, Songs of Innocence, on iTunes Tuesday. This tactic raised questions about whether or not other artists will build their fan bases by giving away free music in the Digital Age, Fortune reported.
Album sales have been in decline for years in great part due to fans' preference for buying individual songs along with rampant music piracy. A recent Nielsen Sounscan report said that U.S. album sales are down 14.6 percent so far this year, with digital album sales also falling 11.7 percent.
The fact that a mega band like U2 is now trying the freemium model could mean the music business is ready to try new, "radical" tactics in order to improve its economy. U2 is hoping that instead of relying on album sales for revenue, it can grow its fan base and sell more concert tickets.
Releasing Songs of Innocence on iTunes will give U2 direct access to as many as 500 million listeners. Free albums attract young fans, many of who would be interested in seeing live music, which could tap into a new, younger demographic.
Bono admitted he wants the latest partnership with Apple to introduce more people to his band's music: "From the very beginning U2 have always wanted our music to reach as many people as possible, the clue is in our name I suppose—so today is kind of mind-blowing to us … It's exciting and humbling to think that people who don't know U2 or listen to rock music for that matter might check us out."
The deal with U2 is also great for Apple. This release could grow iTunes users and drive them to big-ticket points of purchase like iPhones and iPods. The album will be exclusively available until October 13, the date of its global release. Apple CEO Tim Cook explained, "It makes music history because it's the largest album release of all time."
However, the jury is still out on whether or not this marketing strategy will work for U2 in the same way Beyonce's exclusive iTunes album worked in December of last year, which sold 800,000 copies.
Apple has been closed-mouthed about how much it paid for exclusive access to U2's music, though Bono admitted it was not given to them free of charge: "We were paid … I don't believe in free music. Music is a sacrament."
Because of U2's superstar status, it does consistently well with ticket sales at huge venues and does not have to rely heavily on recorded music. The band has had a "flexible" relationship with its label, Island Records since it resigned with them in 2013.
U2 has maintained a close relationship with Apple throughout its existence and was close friends with former CEO Steve Jobs. U2 played a large part in the development of the iPod and released a special edition iPod with a copy of all band members' signatures.
Twitter's "In-Tweet" Purchasing Launched
Twitter announced the launch of a new "buy" button that will let music fans in the U.S. buy merch, music and other items from a tweet, said Billboard.
The company rolled out its new "In-Tweet" purchasing feature on September 8 in order to leverage artists' millions of followers and turn the platform into a barrier free direct-to-fan sales channel. Among the first to participate are Brad Paisley, Eminem, Panic! at the Disco, Wiz Khalifa, Ryan Adams and Soundgarden.
On September 7, Twitter's first-ever head of commerce Nathan Hubbard said, "We're introducing this product with the intention of scaling it up to as many merchants and fans as there are in the world … but we're starting small. Tomorrow it will start with a small percentage of our user base and the number of artists that you see, but in the coming weeks and months it will ramp up from there."
The first run of the new program will be a test. Users will be able to access exclusive offers and merchandise. According to the Twitter blog, they "can act on them right in the Twitter apps for Android and iOS; sellers will gain a new way to turn the direct relationship they build with their followers into sales." eCommerce sites and fulfillment platforms Fancy, GumRoad, Musictoday and Stripe have partnered with Twitter for this first test.
An example of how "In-Tweet" purchasing works: An artist could present a limited-edition t-shirt to his/her followers, and they would be able to buy within the tweet without leaving the Twitter environment. Users enter payment info when they sign up for the program, and their data is stored securely and editable at any time. Hubbard clarified, "With just a few taps, you've purchased that product and it's on its way to your inbox or front door."
Several brands and charities like Home Depot, Burberry and GLAAD are also participating in the test run. However, Hubbard stated there is a reason so many artists are involved: "Twitter brings artists and fans together like no other platform can, and this gives artists the ability to reach and connect to not just the fans that follow them, but all of the fans who are having a conversation about them. The point of this in large part is to bring together artists, first and foremost — along with brands and charities and others — more closely with their fans, and to help fans in a really easy and simple way connect with the artists that they love."
The simplicity of this new offering has many in the music industry asking why Twitter took so long to enter the music ecommerce space, and why the company decided that now is the right time. Hubbard responded, "Twitter's focused on it, that's why … Until Twitter, there really hasn't been a platform that allowed artists to build those direct, one-to-one connections with their fans at scale. There are always going to be reasons and needs to work with distribution partners to help get broader reach for your product if you're an artist. We think this is a really powerful tool for artists in the evolution of the connection between artists and fans."
Hubbard also explained why fulfillment platform partners stand to benefit from working with Twitter: "They know how to handle logistics and customer care," he says. "But the struggle that I think a lot of direct-to-fan platforms have had is distribution, and reaching a wide-scale audience of followers. Well, that's exactly what Twitter is, Twitter is the place where quite literally millions of fans connect with the artists that they love. What we've done is create a way for artists to have that direct conversation with fans, and now, when it's appropriate, to turn those conversations into transactions in a way that's fun and meaningful for fans and feels right for the artists."
Even though making purchasing easier has been known to boost sales for artists, they are not likely to start pushing a lot of merchandise: "There's a self-regulating process that happens on Twitter, which is if you're alienating your followers, they're going to leave … It's the same approach that Twitter has taken as a whole with native advertising; we had to find ways to bring advertising into the platform in a way that enhances the experiences, and doesn't detract from it … This is just a tool that closes the gap between discovery of a product and the actual conversion moment."
Twitter will start small in an attempt to make sure the experience is positive for users. The company plans to scale up the number of artists using "In-Tweet" purchasing in the third and fourth quarters. Hubbard said Twitter plans to let artists themselves dictate the direction it takes.
Unemployment in the Music and Film Industries Rising in 2014
The film and sound industries have been taking a hit in 2014, having lost 30,000 jobs since January. The Bureau of Labor Statistics (BLS) also projected the number employed in these sectors is under 300,000 people in the U.S., revealed Billboard.
The employment in these two industries, which control the production and distribution of motion pictures and sound recordings, dropped to 298,000 last month, down from 330,000 since the beginning of 2014. There has been a 19-percent decline in this area over the course of the past two years.
The way the BLS compiles data for these sectors does not allow statistics to break down numbers by industry, so there is no way to determine how much of the drop in employment has been caused by film and how much has been caused by sound.
The report released by the BLS also showed that employment numbers were holding steady in the 340,000 – 350,000 range, but that in December of last year, figures began to fall sharply. Despite this, those still employed have experienced a rise in their hourly earnings. The average hourly earnings were $29.20 in 2014, up from $27.50.