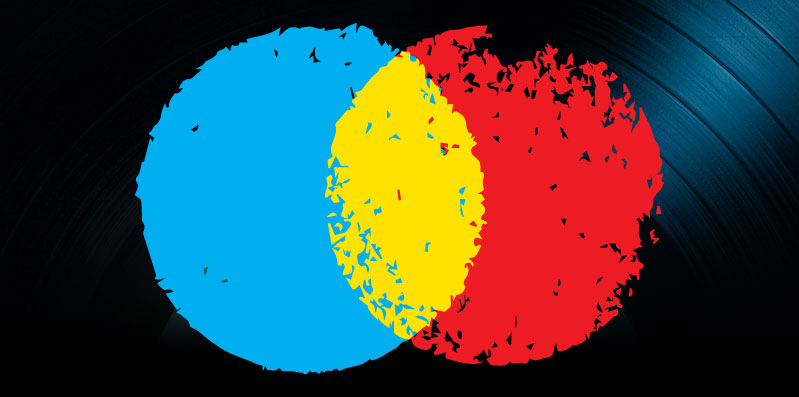 Music Metrics, Megaupload and Wu-Tang Clan News April 13, 2014
Experts talked about how music analytics are helping record labels, artists and others predict the future. And the film and music industries finally sued defunct online storage site Megaupload. Also, Forbes explored how Wu Tang Clan's recent album release strategy is sparking sales and why replicating it might help other artists in the future.  
Can Studying Music Metrics Help Build Stable Careers for Artists?
While labels, some artists and others have complained that the Internet has taken away their power, it can also help them see into the future and better predict marketing and sales strategies, reported The Guardian.
Before the Digital Age, music lovers would show support for their favorite artists by buying posters, t-shirts and physical copies of albums. But in the early years of digital downloads, before Last.fm and Spotify, fans could keep their listening habits private. While labels and artists could tell which radio station was playing specific songs or where CDs were popular, there was no real way to track information about what listeners were sharing with friends on tapes, CDs, etc.
Director of digital at Universal Music UK Paul Smernicki said, "The traditional metrics like sales told us a record or CD was sold, but nothing about what happened after that."
Now, data from torrenting, music streaming sites and social media platforms is allowing the music industry to better understand fans and predict future superstars. Music analytics has exploded into an approximately $3 billion annually.
The music industry has always been full of talent scouts and tastemakers responsible for finding "the next big thing" before it was discovered by the rest of the world. However, now music analytics is turning finding future hits into a science.
Music analytics firm Musicmetric has been tracking thousands of artists for the past five years and can now pinpoint some signs that reveal whether or not a song or an artist will be a hit. A successful artist will have followers on Twitter, "like"s on Facebook and sales via sites like BandCamp.
Gregory Mead, chief executive of Semetric, the company behind Musicmetric stated, "It's no different [from] a sensor in a factory that's detecting vibrations on a machining piece, and when the vibrations start vibrating in a particular way they can detect that it's going to fail."  
When an artist starts "buzzing in a certain way," music industry experts can tell that artist will hit big. Mead said that in one study for an undisclosed client, they were able to predict with 90 percent accuracy who was going to hit #1 in three months.
However, making predictions means making sense of a huge amount of information coming from a variety of websites, platforms and services. Most artists have several albums and dozens of singles and music videos circulating across several platforms.
Mead admitted, "For a big artist like Katy Perry, there [are] about 19,000 different signals we have just for that artist. Each video, in each territory, on each platform, each release and each song and so on. No one's going to be able to look at that [by hand]."
And the ultimate issue is being able to turn those "signals" into information a manager can use when choosing a tour route, or that a talent scout can use when deciding whether or not to follow up with an artist.  
Spotify has also entered the metrics game. In March, the company acquired The Echo Nest, a U.S.-based music analytics company in order to improve its music discovery services. And competitor Next Big Sound was called "Moneyball for Music" by Forbes. The music industry is starting to realize that social data and big data are critical.
However, Mead stressed that the ability to scientifically predict a hit does not tell artists what music to make:  "It doesn't say this is the song you should make. It just tells you a little bit in advance that it's going to be popular."
He added that it also can create greater artistic diversity and see more closely into niche audiences and fan bases:   "It opens up opportunities for artists to help promote themselves, rather than restrict everyone to conforming."
Mead concluded, "It's important to remember that it's just a set of tools to help inform us. That data doesn't make the decisions; that's an un-replicable part of what we do."
Entertainment Industry Finally Suing Megaupload
The Motion Picture Association of America (MPAA) and the Recording Industry Association of America (RIAA) filed civil suits against the out-of-commission online storage site Megaupload this past week. According to The Wire, the allegations are that the site willingly hosted pirated material and encouraged users to use the site for illegal purposes.
The site's founder, Kim Dotcom was raided in January, 2012 when the FBI seized the Megaupload domain name and filed criminal charges.
RIAA's complaint read, "To ensure a vast and ever-growing supply of popular copyrighted content to which they could sell premium access … defendants paid users to upload popular content to Megaupload's servers."
Dotcom's lawyer, Ira Rothken responded, "The Department of Justice asserts that Megaupload cost the film and music industries more than $500 million. Online storage sites like Megaupload and video sites like YouTube that allow user accounts are normally protected against legal action for content uploaded by users. What makes this case different, according to the DOJ, is the claim that Megaupload actively encouraged copyright infringement."
Wu-Tang Clan's Sales Strategy:  Wave of the Future?
Wu-Tang clan announced it would only be pressing one copy of the new release The Wu – Once Upon a Time In Shaolin, then put it up for auction after a museum listening tour. And music industry experts said it was just a publicity stunt. However, as Bobby Owsinski of Forbes pointed out, the "stunt" has worked, increasing the group's visibility. And it also presents a case study for the methods behind Economic of Free, a theory concocted by economist Chris Anderson.   
As Owsinski pointed out, The Economic of Free applies to modern music industry sales, because the artist has two kinds of products:  infinite and scarce. "Infinite products" include digital music or videos, which are free to reproduce. "Scarce products" are custom CDs, CD box sets, signed merchandise and personal and exclusive access to musicians in the form of backstage passes, private concerts, etc.
The first principle of the theory is "Give some or all of your infinite products away for free in order to charge for the more scarce ones." This is happening across the Internet with "freemiums." For instance, when a user signs up for the free version of Pandora or Spotify and then likes the experience, that user can then purchase the ad-free version with better audio quality.
In the music industry, those transactions that embody the first principle involve "social currency," such as a free download/exclusive content, traded for an email address. This type of transaction makes it possible for artists and bands to keep offering other products to fans that can be purchased later and bring in more revenue.
The second principle of the Economic of Free, said Owsinski is used less frequently, but is working well for Wu-Tang Clan:  "The more scarce a product is, the more you can charge for it."
Wu-Tang is only offering one copy of the album, so that album will be incredibly valuable to hardcore fans. The auction has yet to begun, and reports have already indicated some fans are willing to pay $5 million for the product.
Other artists offer limited-edition items like pictures, drum heads and guitars. However, the scarce items that are the most valuable to fans tend to be related to an experience rather than a product:  backstage passes; entrance to a VIP room; dinner with the artist; a visit to a rehearsal or the recording studio. Britney Spears charges up to $5,000 for a "Total Experience" VIP package to her Caesar's Palace show in Las Vegas. This package involves a backstage tour, a meet and greet, a Britney-themed gift bag and an opportunity to appear on stage with her.
Wu-Tang's latest marketing and sales strategy is not new in the music industry. And, the physical album is only valuable as long as no material leaks. A lot of boutique record labels have used this sales model for years, issuing 1,000 copies of an album that are numbered. The superfan would pay to have a number as close to one as possible. Wu-Tang has taken this idea to an "extreme" level by only making one copy.
And Wu-Tang's strategy could work well in an industry where physical product sales are dwindling, but not going away entirely, stated Owsinski. Knowing they will not sell a lot of physical copies of albums, artists could print a limited amount and make them collectors' items. And this could potentially help artists and labels recoup some of the money lost on album sales.