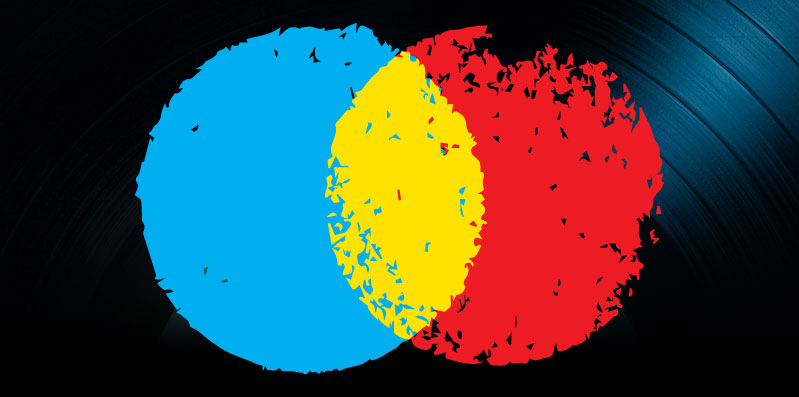 WDM, Fan Management and Parlophone News, February 9, 2013
The value of music fans was explored this past week as Billboard analyzed how the gaming and gambling industry's customer-centric business model might help the music business rebound, and a major study of digital music piracy revealed that customers will be key to future market growth. Also, Warner Music Group closed the deal on the Parlophone purchase.
How Can "Whales, Minnows and Dolphins" Help Artists and Labels?
Leading music industry experts and analysts continue to point out that many labels, artists, managers, promoters and venues are stuck in the past when it comes to making money. This past week on Billboard.biz, Hany Nada, founding partner of the global, expansion-stage venture firm GGV Capital explored how the customer-focused whales, dolphins and minnows (WDM) segmented monetization strategy that is used in the gaming and gambling industry could benefit – and potentially triple revenues in the next ten years – by focusing on satisfying fans rather than selling products.
According to Nada, each music fan is like each player in a casino, with a different value based on how much he/she is willing to spend. Fans can be separated into three types:  whales; dolphins; minnows. In the casino system, whales make up the majority of the profits in the casino industry, because they are the people willing to pay more for an "elite experience." And because of whales' inclination to spend more, the casino caters to them, treating them to incredible services like flights, suites, private chefs, rebates on losses and shopping sprees to keep them spending.
Games companies also follow the WDM model. As Nada pointed out, Korean video game companies – "free-to-play" or "freemium" companies – decided to give away their products in order to attract new gamers, turning games into a service instead of just a product/box that ships every 18 months. They get more of what they like and truly "engage" when they get special updates and virtual goods. And players are happy to pay for these extras. In fact, freemium companies have 10 times more gamers than other types of gaming companies, 30-percent longer play sessions and three, to five times the revenue.
Free-to-play games companies have become experts at WDM, stated Nada. Minnows make up about 90-90% of the players in a freemium game, and the games that do the best take care of their minnows, because they are fans who help attract new players through their networks and become experienced players that make the game experience better for paying "dolphins and whales."
Freemium games also treat dolphins well. They are not better players than the minnows, but they get better customization and access to premium content, because they typically generate 50% of a game's revenue. And gamer whales get the same "white glove" treatment as casino whales get. They make up about 3-4% of the paying users for a game but generate the remaining 50% of revenue. Sometimes whales will spend thousands or even tens of thousands of dollars per month on a game, so they get special avatars, gifts and exclusive opportunities to help test new games and connect directly to developers.
How can this apply to the music industry? Nada suggested that the music industry has to start seeing music as a service, and then monetize that service in the WDM way. Then, artists and labels need to accept that some people will never pay for music, rather will get their music from radio, YouTube, downloads from friends, etc. These are the minnows, and they are important. Without them, no artist or label could attract dolphins or whales. They provide critical influence.
And dolphins are willing to pay for albums and concert tickets. They make up about half of an artist's fan base, according to data collected by Kickstarter. They go to concerts, buy merch and are the second-biggest money makers for artists next to whales.
Whales can and will spend a lot of money (more than most artists and labels probably realize). They will buy plane tickets to go to a band they love's show in another part of a country, and they will pay tens of thousands to personally meet the band, maybe even hundreds of thousands for a private concert. While they only make up less than five percent of a fan base, they still represent 50% of revenue. Artists need to reward these fans' loyalty and build very personal relationships with them.  
Some bands, like Radiohead, have already explored the WDM model, but the business model is still a new concept in the music industry. And even with its In Rainbows project, Radiohead didn't figure out how to monetize the dolphins and whales they attracted. And fan funding sites like Kickstarter, Indiegogo and some artist websites are just scratching the surface of WDM.
Nada concluded, the music industry has to adopt new business models "that focus on what's driven the consumption of music since the days of minstrels and Mozart:  the emotional relationship between a fan and an artist. By treating listeners as fans instead of customers, and monetizing them accordingly, the rapid and unpredictable advance of technology becomes a tool for innovation and success instead of a menacing threat."
Is Enhancing the Music Fan Experience the Key to Ending Digital Piracy?
Researchers at Bristol's University of the West of England (UWE) recently concluded that while online piracy needs to be curbed, the industry also needs to start trying to woo customers disinterested in digital downloads.
A major study of piracy around the world conducted by academics at UWE revealed that more government controls preventing illegal downloading will help protect the music business, according to an article on the Bristol 24-7 website. However labels, fans and others in the industry need to explore methods for winning back music fans that have stopped buying music due to the digital revolution.
Research revealed that globally, 28% of digital music is shared illegally through file sharing, providing additional insight into the latest trouble brick-and-mortar chain HMV has faced. Results from the study of 10 countries showed that the range of illegal downloading was between 14 percent (Germany) and 44 percent (strange). And revenue from the music industry worldwide has fallen from $22 billion in 2000, to $13 billion in 2010.   
Professor Glenn Parry of UWE said, "Our results support the need for policy makers to introduce stronger legislation to protect this industry. However, preventing piracy through legislation is not the only response open to the music industry … We found that the fall in revenue is also partially due to a reduction in consumption. We identified a large percentage of people who enjoy music but have not been engaged by the digital music market. They represent an important segment of people who may come back to the market through innovative new approaches to music provision."
He added, "… There is a need to look more closely at customers' behavior and to develop businesses which seamlessly meet their needs and get them passionate, engaged and buying music again."
Parlophone Purchased by Warner Music Group
Warner Music sealed the deal this past week on Parlophone, purchasing the label for $765 million, stated an article on Vintage Vinyl News. The original home of the Beatles, was nabbed by Warner after Universal bought EMI and was forced to sell off some of its assets.
Warner music, owned currently by Russion billionaire Len Blavatnik was able to win out over fellow music executives Simon Fuller and Island Records founder Chris Blackwell. However, the sale excludes The Beatles Parlophone catalog (everything from Please Please Me, to Sgt Peppers Lonely Hearts Club Band). This catalog was picked up by Apple and will stay with Universal.
Artists that will make the switch to Warner are Air, Coldplay, Daft Punk, Danger Mouse, David Guetta, Deep Purple, Duran Duran, Edit Piaf, Gorillaz, Iron Maiden, Itzhak Perlman, Jethro Tull, Kate Bush, Pet Shop Boys, Tina Turner and several others.
Other Warner labels are Asylum, Atlantic, East West, Elektra, Fueled By Ramen, Nonesuch, Reprise, Rhino, Roadrunner, Rykodisc, Sire, Warner Bros. and Word plus Warner/Chappell Music, a leading music publisher that holds more than one million copyrights throughout the world.  
EMI's oldest running label, Parlophone began in 1955 as a label that released mainly comedy act recordings. Parlophone manager George Martin signed The Beatles in 1962 after the group was turned down by Deca Records.