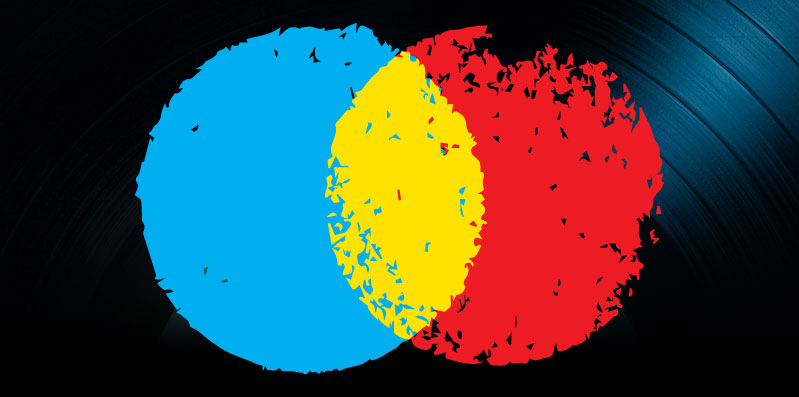 Record Store Day, Millennium Copyright Act and Rob Reid News, April 28, 2013
Record Store Day 2013 sparked a major rise in vinyl sales. Also, a New York State judge ruled that the 1998 federal Digital Millennium Copyright Act does not fully protect online music-sharing services. And author, entrepreneur and Listen.com/Rhapsody founder Rob Reid announced he will be giving a talk this week to celebrate the release of his comic musical novel Year Zero in paperback.   
Record Store Day and the Vinyl Boom
Record Store Day on April 20 caused weekly vinyl album sales in the U.S. for the week ending April 21 to spike considerably, according to Neilsen SoundScan and Billboard.biz.
Retailers sold 244,000 LPs, the largest number vinyl albums sold during one week since Nielsen implemented tracking techniques in1991. The previous record was 213,000, for the week ending December 23 of last year.
Many artists release special vinyl versions of their music for Record Store Day to independent record stores, so a slight increase in sales is expected during this time. Independent music stores sold 544,000 albums across the board the week of 2013 Record Store Day, which is three percent more than the same week in 2012.
Retailers said they credit the jump in sales to the fact that more artists created special releases in celebration of this year's event than they created last year. Record Store Day co-founder Michael Kurtz admitted,  "Record Store Day increased the number of special releases we did this year to over 400 titles, as compared to about 300 last year … This was done mainly to accommodate regional releases and small runs from independently owned labels."
Billboard charts were also affected by the event. The "Tastemakers Albums chart" ranking the top 25-selling albums at indie retailers included Mumford & Sons' new EP "Live at Bull Moose." The Record Store Day exclusive album sold almost a third of the 10,000 total copies manufactured. It also charted on Billboard at 174. Several other debuts – not Record Store Day exclusives – hit the Tastemakers chart, including the Yeah Yeah Yeahs "Mosquito" and the Flaming Lips "The Terror."
Record Store Day exclusive vinyl singles also hit the 25-position chart, including "No Fun" at No. 1, featuring the Stooges' original song and a 2002 Black Keys cover, which sold 2,000 copies of the 7,000 produced.
1998 Millennium Copyright Act:  No Defense for Online Music
A New York state appeals court ruled on April 23, the 1998 federal Digital Millennium Copyright Act does not cover online music-sharing services from copyright infringement as far as recordings created prior to 1972.
Reuters reported, the Appellate Division, First Department ruled against Grooveshark, sued by Universal Music Group because it allowed users to share recordings created before 1972, including Chuck Berry's "Johnny B. Goode" and The Temptations' "My Girl."
Grooveshark enables users to upload files to its servers in order to share it via streaming with friends. Universal originally filed a suit against the service for copyright infringement in 2010. A decision on the entire lawsuit between the two companies has still not been made.    
The court's decision to not apply the DMCA "safe harbor" provision to these recordings marks a major win for labels, who have often claimed online file-sharing companies are in violation of U.S. Copyright Law. DMCA was designed as an amendment to the Copyright Act and states that all sound recordings made prior to 1972 were not subject to federal copyright law. These recordings are, instead, protected by state or common-law copyright protections.
"Safe harbor" also protects online services as long as they do not know infringement is taking place and immediately remove infringing items from their service. Escape Media, owner of Grooveshark confessed in court that it cannot guarantee every song uploaded is in line with copyright law.
The lawyer for Escape Media Group announced an impending appeal:  "The court's decision, if it stands, will significantly undermine the safe harbor protections of the Digital Millennium Copyright Act and may severely disrupt the operations of all Internet service providers who, like Grooveshark, permit access to user-generated music content."
Last year, Manhattan Supreme Court Justice Barbara Kapnick did not agree with Universal's claim last year that the DMCA should not apply to pre-1972 recordings in the case of Grooveshark. Kapnick said she found "no indication in the text of the DMCA that Congress intended to limit the reach of the safe harbors provided by the statute to just post-1972 recordings."
The ruling on Tuesday reversed the original ruling. Justice Angela Mazzarelli stated, "It is clear to us that the DMCA, if interpreted in the manner favored by defendant, would directly violate section 301(c) of the Copyright Act." She added that the U.S. Copyright Office decided in a 2011 report to members of Congress on extending the Copyright Act, the DMCA is not applicable to pre-1972 recordings and that the DMCA would need to be amended before any different ruling could be made, so Congress could "clarify its intent."
Grooveshark is also being sued for copyright infringement in Manhattan federal court by Universal, Sony Music Entertainment and Atlantic Recording Corp. together as a group.
Rob Reid Talking about Copyright Law and Year Zero
L.A.-based author, entrepreneur and the founder of Listen.com/Rhapsody Rob Reid's comic music copyright law-related novel Year Zero is coming out on paperback. In celebration, he will be giving a talk at 6 p.m. on April 30, 2012 in New York City at the NYU School of Law based largely on his now-infamous "Copyright Math" TED conference talk in 2012. Reid will be taking a unique look at the institution of copyright law and signing his book. He will also be joined by David Pashman (General Counsel, Meetup and adjunct professor at NYU Law).
"Copyright Math" is the term Reid uses to explain the often confusing and intangible numbers cited by the two major organizations within the entertainment industry – the Motion Picture Association of America (MPAA) and the Recording Industry Association of America (RIAA) – in an effort to get others to rally against piracy. Reid has written pieces and features for various magazines and websites, including Wired and The Wall Street Journal. His first novel, Year Zero is closely tied to the "Copyright Math" theory and was released on July 10, 2012 via Random House/Del Rey. It is a comedic science fiction story set mainly in present-day New York City about a society of highly-advanced aliens who are so enamored of American pop music that they accidentally commit the biggest copyright infraction of all time, thereby bankrupting the entire universe.
More about Rob Reid and his thoughts on copyright law can be found in his Musician Coaching interviews from last summer:  "How to Connect with an Audience" and "Effects of Music Piracy on the New Music Industry."