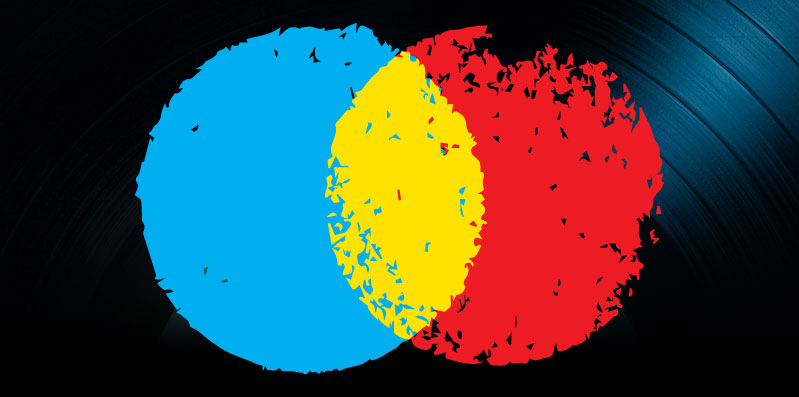 Pink Floyd, Music in Advertising and Music Merchandise News, September 29, 2013
Pink Floyd drummer Nick Mason talked about why his band has changed its tune about the value of streaming music to artists. And The Globe and Mail explored why TV ad agencies are turning to more indie artists for custom-made music. Also, Worldcrunch discussed how creative merchandise is helping keep many legacy artists afloat.
Nick Mason Changing Tune about Streaming Music
Drummer Nick Mason of Pink Floyd admitted at The Wall Street Journal Tech Café in London that streaming music services are "the future" of the music industry. This contradicts the band's previous resistance to make the shift to digital and get on board with services like Spotify. Mason added that while the business is finally embracing streaming music, there is still a great deal of "tension" between record labels and artists.   
Mason asserted, Pink Floyd has never wanted Pink Floyd's individual songs to be grabbed by fans like singles, separated from their full albums. However, he said that Spotify and other services should be embraced, and CDs are a "dying art," with Apple iTunes also on a "downward trend."
He revealed, "Spotify for us was a success … A lot of people have been streaming our music, and importantly also a lot of people who weren't yet familiar with our music. Perhaps I would say something different if we were having this discussion a year and a half ago, but now it's becoming clear that streaming is not another form of piracy, and you can argue that more music is being listened to now than…in the past."
And, in his opinion, record labels continue to have a difficult time adapting to new prevalent business models:  "Record companies need to work more comfortable with artists … or they will lose out."
He also argued, labels continue to struggle because they are not working on strengthening relationships with their artists:  "The main problem with record companies is that they can no longer afford to do the sort of development for new artists that they used to. Launching new artists or bands has simply become too expensive for them now that their business model and their revenues are under pressure …We're going to have to find other ways of identifying the grassroot talent out there and bring them into the spotlights. As artists we used to have a ladder that we needed to climb, and there were clearly defined steps we needed to take, but now it feels like the first four rungs are missing."
And Mason asserted that more artists need to learn how to communicate with fans and manage the many aspects of their own careers – even those with management or who are signed to labels – and understand how music distribution, tour booking, etc. – to stay in control.  
TV Ad Agencies Looking for Custom Music
More indie bands than ever before are finding success by licensing 30-second excerpts of their music for TV ads, and real songs are becoming more popular with consumers than classic "jingles," according to The Globe and Mail. TV viewers now regularly search Google, YouTube and other sites for the music they hear on television. And emerging or unknown artists are also finding a real market for short pieces of music written specifically for use in advertising.
Canadian music licensing and production firm Grayson Matthews recently found success with a Mumford & Sons-style 30-second folk composition written for an Alexander Keith ad. And once viewers responded by looking for the song, the firm recorded a full version, "Toast This Life," which has been selling well on iTunes ever since.
Toronto-based composer Ari Posner said in the past few years, advertising agencies have been particularly interested in "lo-fi" music:  "I can't tell you how many times I get a brief where I'm told, 'We're sort of looking for that indie sound' … I have been told, literally, 'This is great but can you make it sound crappier? Can you grit it up, make it sound more indie – like it was done in a garage with a bunch of teenagers?'"
The trend towards using indie music in commercials has been building since at least 2005. In 2005, Capital One Canada aired a TV ad with a custom-written song by composer Jim Guthrie called "Hands in My Pocket." After viewers started to look for it online, Guthrie cut a full track.
Dave Sorbara, co-creative director at Grayson Matthews noted, music production houses have to offer up real music now instead of jingles in order to stay in business:  "It used to be, I'm going to put on my advertising composer hat on and write something for an ad, and then go write the music I want to write … We don't do that anymore. We make real music, we just happen to put it in commercials." This phenomenon is often called a "needle drop":  Ad music that sounds like hearing a piece from the middle of a real musician's record, even when a real song or record does not exist outside of the ad.
Vice president and business leader of consumer and digital marketing for MasterCard Canada said that commissioned indie music that sounds like a real song is becoming a way to help audiences emotionally connect with advertisements, so they will feel more personally connected to a brand or product:  "A lot of marketers are doing this because [they] want to sell their story … We want to make sure that it emotionally connects."
And this connection is important, particularly when people's attention spans are shorter than they ever have been. Viewers typically skip the pre-roll ad that appears on YouTube and other sites before the video they want to watch. And when watching television, people are typically looking at their smartphone or tablet during commercials.
"I've heard clients say more and more, they like music that is going to break through … So if you're not in the room, or you're on your phone or doing something else, the music draws you in and makes you look up at the TV. When people start saying, 'I love that spot and I love the music,' that's the feedback that we love to hear and clients love to hear. Because you know they're connecting," remarked Judy John, CEO of Leo Burnett's Canadian arm.
And budgets also come into play. Unknown indie bands will license songs for a few thousand dollars apiece, or even for free just to get exposure. But established artists might charge tens or hundreds of thousands of dollars for a song, or, in the case of The Beatles, a million dollars.  
Nashville-rooted singer/songwriter Greta Gaines said her custom-written song won out over Alicia Keys' "Girl on Fire" for a spot in a new espnW brand ad in July:  "…[The company will say], if the entire budget is $100,000 for this commercial, we don't have another $100,000 to license that song."
Also appealing to espnW was the fact that Gaines' song was written with their brand in mind. She was paid $2,000 for writing "Girls Like Us." And she had to write multiple versions, from punk, to orchestral and more before the client accepted it. The popularity of the piece led her to record a full version. However, she did not give it to iTunes, rather sold it to espnW for $20,000, giving the company the power to use the song as they see fit and improving her relationship with them.
Gaines added, "Musicians are basically doing couture with their sound … You've got to be a little more subtle. People are sophisticated. You're fooling the consumer into thinking they're hearing a piece of contemporary music that's already popular, but at the same time they're telling you what's popular."
Still, advertisers cannot get greedy and over-use one of these songs, said Darren Hollowell, president and co-founder of Los-Angeles- and Richmond-based firm Black Iris:  "The irony is, as independent music becomes more commodified and packaged, a lot of the qualities that made it feel special to begin with are now in jeopardy."
And Marco DiFelice of Canadian music company Indie Joe said companies like Apple are starting to recognize the need to use indie music sparingly, and that others could follow suit:  "When is the last time Apple's done a really music-centric commercial? As soon as you see the trailblazers not doing that … I think you'll see the number of ads with songs that sell their brand, go down … What you might start seeing is songs being used – and they might not be as generic sounding. I'd like to see it widen the scope so that we're not in the same sonic area. I hope you'll start seeing braver takes on it."
The Globe and Mail also published a list of some of the most successful indie songs written specifically for commercials here.
Heritage Artists and Creative Merchandising
With revenue from recorded music going down and ticket sales in some markets dwindling, many legacy artists have been peddling other branded products in order to stay afloat. Worldcrunch pointed out that the market for band merchandise exploded in the band Kiss' heyday and has become an important point of focus for bands that have been touring and releasing music for many years.
As an example, the band Iron Maiden recently showcased its own personal brand of beer, "The Trooper" at a concert in Rio de Janeiro last week. Lead singer Bruce Dickinson pulled one out two hours into the show:  "The beer here is such sh*t I had to bring my own." On the label was a website address where people can buy the beer and the cover of their 1983 single "The Trooper," where the lager gets its name.
Minutes after the show ended, the website ironmaidenbeer.com – which also offered mugs, key rings, stickers, coasters and collector beer glasses for sale – had crashed because of too many visitors. At 8 a.m., users were still struggling to connect.
"The Trooper" even outshone Heineken, the company that had paid $10 million to be the sole beer sponsor of the Rock in Rio festival where Iron Maiden was performing. Even without "The Trooper," the Iron Maiden brand was omni-present at the festival in the form of the band's stage set as well as t-shirts worn by band members and fans. And because of the relationship Iron Maiden has built with fans and through licensed merchandise, the band has managed to join the ranks of others that have created "band-brand"s, like Metallica, AC/DC, Kiss and U2.  
The strategy of building this type of mega-brand has also included stadium tours, pyrotechnics, regular DVD and merchandise releases as well as social media and specialty products. AC/DC, Motörhead, Pearl Jam, Sepultura and Kiss have all previously branded their own beer, and Whitesnake has its own wine.
Before the Digital Age, shows were designed to promote and sell albums. Kiss was one of the first bands in the early '80s to notice that selling unusual merchandise could lead to more income and began to sell action figures of members. Now that almost any album can be heard online before its official release date, concerts are becoming critical sources of income, which is why tours are getting longer and longer as time passes. Deep Purple's tour for the album Rapture of the Deep has been going on since 2005.
Many experts speculate that the objective, particularly for legacy artists, must be to sell tickets to concerts if money is to be made. World-famous artists have started to experiment with the price of their albums, and most bands need to offer one or two songs to fans for free in order to successfully promote and sell new material.