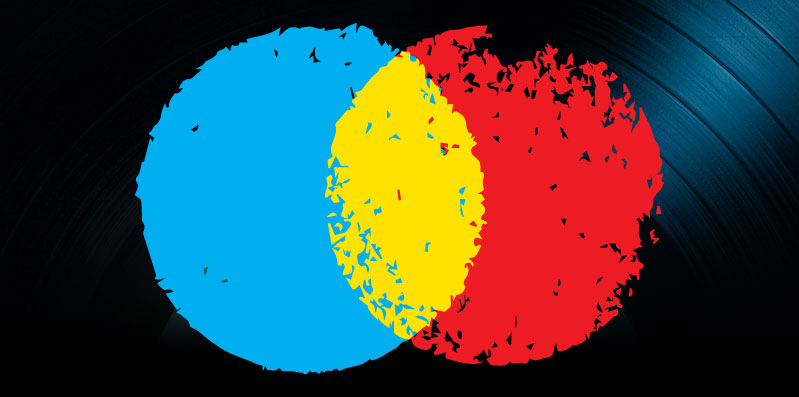 On-Demand Touring, New Music Business and iTunes Radio News, June 15, 2013
The Economist noted the increasing popularity of "on-demand touring" to help bring artists more income from live performances. And the White House's chief economist spoke at the Rock & Roll Hall of Fame about how the larger economy is shifting towards a "winner-take-all" economy similar to the one within the music industry. Also, the launch of iTunes Radio had experts discussing how Apple's latest business model might once again change music.  
On-Demand Touring on the Rise
Artists' live music income was a major topic of discussion at the recent SF MusicTech Summit, and many attending develpers and entrepreneurs stated that the machine of touring is not bringing artists enough money, according to The Economist.
Fans still demand concerts, but new options offered to them by digital tools has led to a significant decline in live concert attendance. Many are not interested in going out when they can see live music streamed on their computers and mobile devices. And others say the ticket-buying process has become so unwieldy that they opt out of buying altogether.   
Cellist Zoe Keating is one music entrepreneur that is uncovering new and creative ways to earn money from live performance. She publicly complained about the paltry income received by artists via streaming services for the past several years, announcing via her blog that she gets $0.0033 per play through Spotify. Yet, she is earning $200,000 – $300,000 per year almost exclusively through live performances.   
Solo performance and a lack of manager helps Keating take more money home. When she tours, she travels with, at most, a designated merch peddler. But it is Keating's ability to read her social media analytics that have helped her succeed. She looks through the data from her social networks to determine the location of her biggest fans and their favorite songs. By using SoundCloud, she measures which cities and countries bring her the most clicks so she knows where to travel, then reads comments for information about their favorite music and builds set lists based on these preferences.
When Keating began to use this system last year, she realized she had a large number of fans in London. On her own, she booked and sold out a show at a 100-seat jazz club in East London. And she turned to Songkick – a London-rooted live music site – for help booking an additional London show at St Giles-in-the-Fields in Camden with a 300-person capacity.
In response to the on-going challenges artists are facing with making money off live music, Songkick and other companies are starting to develop crowdfunding programs to help. Sonkick's Detour allows music fans to order advance tickets for potential concerts not yet planned, which shows artists how much money they might make if they travel to a specific city and play at a specific venue, before they invest the money in making the show happen. According to Ian Hogarth, co-founder of Songkick, after investing in venue rental, flight and equipment, Keating would have made somewhere between $3,000 and $4,000 for her London mini-tour.  
Detour and other services are starting to show that fans will still leave the house to enjoy live music if process of buying tickets and the show experience itself is streamlined and organized. Hogarth said, "Instead of waiting, fans say 'here are our credit cards, we're in.'" And tour crowdfunding also helps make the artist-fan connection more direct and personal.  
Additionally, because many venues do not like working directly with artists whose fans don't crave giant concerts, "on-demand touring" could be a great route for DIY and independent artists.
The "Winner-Take-All" Music Economy and Income Inequality
White House chief economist Alan Krueger spoke at the Rock & Roll Hall of Fame on June 12 about how the music industry's provides insight into how the overall economy of the U.S. is changing, reported The Washington Post:  "The music industry is a microcosm of what is happening in the U.S. economy at large … We are increasingly becoming a 'winner-take-all economy,' a phenomenon that the music industry has long experienced … [T]echnological change, globalization and an erosion of the institutions and practices that support shared prosperity in the U.S. have put the middle class under increasing stress. The lucky and the talented – and it is often hard to tell the difference – have been doing better and better, while the vast majority has struggled to keep up."
Kruger added that this is most visible in the music industry when looking at the big concert revenues going to the most popular bands. In 1982, the top 1 percent of performers earned 26 percent of concert revenue, and now, they earn 56 percent. He notes that technology is controlling that shift. A hundred years ago, a singer could only perform for as many people as showed up in the places he was able to travel. Because of high-quality recordings distributed to billions of people with one click, everyone now has access to endless amounts of music that exactly fits the type of music they like best. And that makes the process of building a fan base incredibly challenging for aspiring, emerging and mid-level bands and artists.
Kruger pointed out that despite all the opportunities for reaching music lovers technology has given all artists, luck still plays a huge role in which songs and bands achieve major success. He noted that during a study conducted by Matt Salganik and Duncan Watts, participants were given the opportunity to go on the Internet, listen to songs and download the ones they liked. But the researchers threw a cog in the wheel by showing some of the study participants a ranking of which songs had been downloaded the most previously rather than just a random collection. And the appearance that a track was in high demand actually did lead more people to download it. Kruger noted that this shows the music business is not a "pure meritocracy" where the best float to the top; instead, "popularity breeds greater popularity."  
Kruger added, "In addition to talent, arbitrary factors can lead to success or failure, like whether another band happens to release a more popular song than your band at the same time … The difference between a Sugar Man, a Dylan and a Post Break Tragedy depends a lot more on luck than is commonly acknowledged."
Will Apple Transform the Music World again with iTunes Radio?
iTunes chief Eddy Cue officially announced the launch of the new iTunes Radio service at its developer conference in San Francisco on June 10. For many months, analysts have been wondering whether Apple's entrance into the streaming music market will crush current leaders like Pandora and Spotify. But Paul Sloan of CNET revealed that this question could be irrelevant, because the digital music revolution is really just beginning.
Pandora was the first to criticize Apple's lateness to the party, reiterating its command of the market with 200 million registered users, 70 million regular listeners and 5 billion stations. Even Nokia felt it was more forward-thinking than Apple on music streaming, when a company spokesperson announced, "We launched our streaming radio service in 2011."
Apple's announcement that it was entering the Internet radio and streaming music space was subtle, likely because it did not strike deals with all three major music labels until the Friday before the keynote. Cue demonstrated the features of the service and how easy it is to use as Led Zeppelin's "Whole Lotta Love" played for 6,000 attending Apple developers. Considering how long it took Apple to develop the service, the short, four-minute demo that did not oversell the platform was a surprising first introduction.
And as Sloan noted, "This is a giant opportunity for Apple, which also makes it Apple's to mess up."
Streaming music now makes up the fastest-growing part of the music industry, but a majority of the world is still stuck on AM/FM radio. However, listeners continue to move to online channels, whether to hear AM/FM stations or stream digital radio. And despite Pandora's popularity and growth, it is not a global service, which could be a major challenge going forward with the globally-recognized Apple and iTunes brand. Apple struck deals directly with labels and publishers, whereas Pandora goes through PROs in each country, which means growing to new markets is expensive and wrought with challenges.
Comparing iTunes Radio to a service like Pandora might work now, but once Apple officially launches its service in the fall and likely expands to new countries including the UK, France, Germany and Japan shortly thereafter, Pandora could lose its footing. iTunes is already available in 119 countries and territories.  
Michael Nash, a music industry executive and former head of digital for Warner Music noted the real significance of iTunes Radio:  "This is the first global radio deal that any service has established … This type of service does not exist in many places. This is not about feature enhancements. Apple is in a position to execute, and no competitor has a business partnership with the music industry or a music operation in place to match them."
And because iTunes is a worldwide phenomenon, Nas said that Apple has access to rare data that calculates local tastes and genre popularity. Pandora uses musicologists who log music through the 13-year-old Music Genome Project, which does not make the company competitive with Apple, even if it can expand to new countries.
Nash has worked on countless deals with iTunes:  "Apple has the best music consumption data of anybody … They know not only what's in your music collection, but what you listen to and how often you listened to it. That's huge in driving recommendations."  
Additionally, historians note that Apple was not the first to bring a digital music player, a smartphone or a tablet computer to the table. It instead took its time bringing these to market, and the result has been, in all cases, wild success.