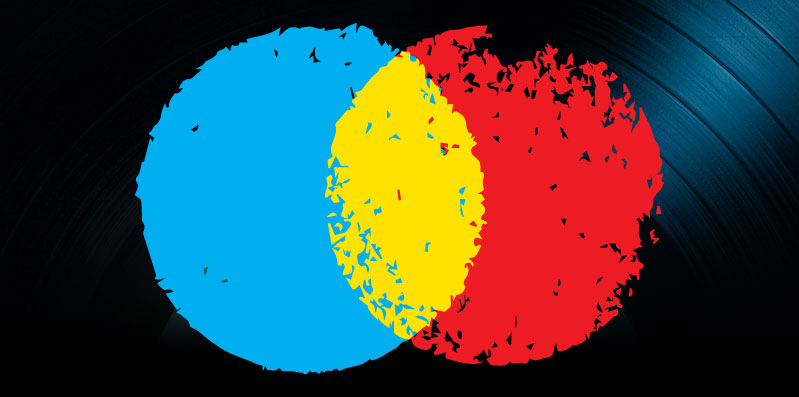 BMI Digital Rights, Rough Trade and YouTube News, February 17, 2013
The growth of the digital landscape in the past 15 years was directly addressed last week as BMI's Del Bryant wrote an open letter to the music industry about Sony/ATV and EMI's withdrawn catalogs. And the retailer Rough Trade announced its latest plans to combine physical albums and downloads. Finally, Universal signed a licensing deal with two major online video networks.
BMI, on New Digital Rights and Royalty Agreements
President and CEO of BMI Del Bryant wrote an "open letter to the music industry" last week that explained why Sony/ATV and EMI had recently withdrawn digital catalogs and clarified new royalty processing agreements. The Sony/ATV and EMI catalogs were removed from the BMI repertoire "only for certain digital uses" on January 1. The withdrawal was only of shares of compositions owned or controlled by Sony/ATV and EMI. Bryant's letter originally appeared on the Billboard website February 11.
The letter addressed the need for major music companies and others to continue to adapt to the music industry as it continues to change in order to bring maximum revenue to songwriters, composers, publishers, artists and labels:  "It is a dynamic time in our industry; it is a time of experimentation and transformation of many of the models which have generated revenue for recorded music and for music publishing, impacting songwriters, composers, publishers, artists and labels alike. Throughout BMI's nearly 75 years of representing writers and publishers, we have seen many challenges and opportunities to secure reliable and fair compensation for the creators of music. We have navigated through changing markets and the development of new outlets for the performance of music and created solutions which add value to the marketplace."
He also explained why changes in EMI and Sony's contracts necessitated the withdrawal of catalogs from the BMI repertoire and what the licensing process will look like for licenses going forward:  "BMI will continue to license the Sony/ATV and EMI repertoires across most digital platforms and services … As a result, in some cases the same licensee will have to secure both a blanket license for shares of songs represented by BMI and a separate license from Sony/ATV and EMI for their respective shares of publicly-performed musical works."
And Bryant assured other publishers that his company would still support their digital needs:  "BMI will continue to license on behalf of our other major and independent publishers for all shares of all works in our repertoire for all digital uses."
Additionally, he stated that publishers want to go down a path similar to Sony/ATV will be able to modify their existing agreements once their contracts near expiration. The names of publishers who withdraw will be posted in the New Media area of BMI.com.
The new agreement between Sony/ATV, EMI and BMI – which has the rights organization offering royalty processing and distribution services to the publisher – is the first agreement of its kind for BMI:  "These agreements are BMI's first entry into offering these types of administrative services and we believe this is one of many opportunities for our organization to provide additional value to our affiliates in today's dynamic market."
Rough Trade Launching New Sales Initiatives
The Guardian announced that it would be forging a new partnership with the UK-based brick-and-mortar music store Rough Trade in order to boost music sales and merge the digital and physical retail worlds. The website announced the "Tracks of the Week" music service on February 11, offering up six new exclusive music tracks each week hand-picked by experts at Rough Trade and The Guardian, delivered directly to users' in-boxes.
Record stores worldwide have been experiencing a major decline in the past 15 years. However, Rough Trade has been continuing to thrive in its two locations – the original branch in Ladbroke Grove, open since 1976 and Rough Trade East just off Brick Lane – thanks to a quality retail experience, knowledgeable staff and an eclectic selection of vinyl and CDs.
Rough Trade sales were up 8 percent in the last quarter, and the company has made plans to open its first U.S. store in Brooklyn. Rough Trade co-owner Stephen Godfroy said in January that despite an ailing UK music business, his business is "the best it's ever been."
Music fans that sign up for The Tracks of the Week service will get six new surprise tracks each Friday that will cover a range of genres and will frequently feature records that cannot be found anywhere else.
Godfroy said the service will help bring some of the wonder of old school in-store music discovery to the digital world:  "We're delighted to offer, in partnership with the Guardian, a music service that offers genuine digital value and excitement for the music lover. Not knowing what you're going to receive each week replicates the thrilling sense of adventure felt in our stores, providing customers a priceless moment of trusted discovery, surprise and joy."
Universal Will Work with Major YouTube Players
Universal Music Publishing Group (UMPG) inked licensing deals with Fullscreen and Maker Studios, companies that collectively garner 4 billion video views each month on YouTube. In each case, the deal will allow video creators that work with these video companies to use Universal catalog songs, either as covers or as soundtracks and samples, according to The Hollywood Reporter.
The revenue for publishers will likely be small at first, at millions of dollars per year. However, this could grow significantly depending on how often songs are used and how popular the attached videos become.
These agreements display that rights holders are diversifying the way they make money, tapping into a medium with billions of viewers. Universal's deal with Fullscreen and Maker immediately connects it to a higher-than-average advertising rate, because advertisers will typically pay a premium to ensure that ads are attached to these videos, which often have better production values as well as more interesting content.
Chairman and Chief Executive of UMPG Zach Horowitz said, "This is a groundbreaking arrangement that encourages the use of our music … We hope it serves as a template for all other multi-channel networks."  
The agreement also helps settle the score between major YouTube networks and music publishers, who have been concerned about user-generated videos that use copyrighted music but do not pay royalties.
Until now, Universal as well as other music publishers have not been efficiently making money from user-generated YouTube covers. Thanks to legal settlements and a variety of private agreements, YouTube gives publishers the option to take down a video featuring a cover song or place an ad against it. Most publishers choose to place an ad, which then gives them 15% of net advertising revenue for master recordings and 50% for covers.   
However, cover songs have been hard to locate when churned out in huge quantities, as Google's technology for song identification is imperfect and many publishers cannot afford the time and resources needed to search for songs on the 72 hours of video that go up on YouTube every minute.
Fullscreen founder George Strompolos admitted, "It hasn't been easy for publishers to locate all those covers in order to begin monetizing them … Once publishers have found those covers and allowed ads to be placed against them, those videos have usually peaked." Strompolos worked at Google and co-created YouTube's Partner Program in 2007, which allows approximately 1 million YouTube creators to share their generated video ad revenue.
He added, "With us, publishers start monetizing covers from the very first view." This means they are not put on the defensive, left with the task of identifying covers of their own songs.   
Direct deals with companies like Fullscreen and Maker will hopefully help publishers collect more easily. The agreements could also leverage deals with other large YouTube networks.
Strompolos also said that Fullscreen will give publishers additional benefits like a higher split of revenue than the average "take" in order to create true partnerships:  "Ultimately, we're saying that this cover video is not possible without them, so we want to treat them like a true partner by giving them a larger than typical split."  
Fullscreen works with over 700 aspiring musicians and signed an agreement similar to the one with Universal with Warner/Chappell Music in late 2012 that gives video creators access to Warner's catalog. Both Fullscreen and Maker are leading the way to support YouTube as it creates better methods for monetizing social video.
Maker, along with over 5,000 other YouTube channels, have 140 million subscribers. The California-based company produces a variety of music shows and personalities in house, including "Epic Rap Battles," The Gregory Brohters, Mike Tomkins and others.
Maker's CEO Courtney Holt said, "We have a network of creative people who have developed their own voices, but who also want to pay homage to the work that's inspired them … [The deals with Universal and others allow] them to do that and still stay on the right side of the music industry."