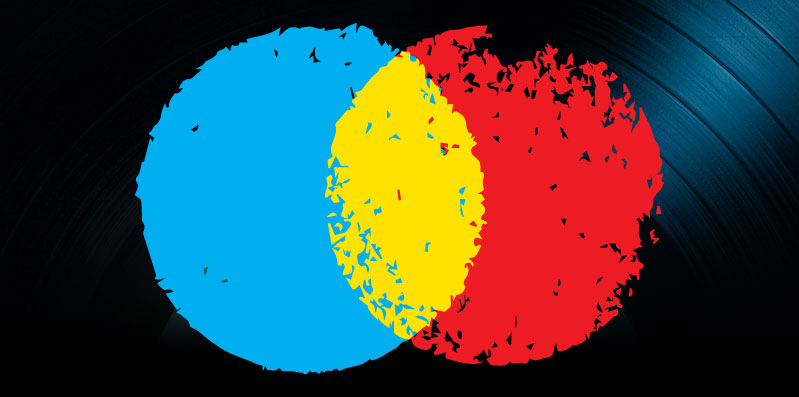 Universal Music, Streaming Music, Digital Piracy and The Osmonds News September 22, 2012
This past week, recent major changes in the music climate were the main focus, as Universal Music Group (UMG)'s bid for EMI's music division and a top music industry analyst questioned whether or not streaming music is already approaching its peak. Additionally, Musicmetric numbers showed that Australia has the highest instances of music piracy based on its population. And finally, Jimmy Osmond provided important tips for bands that want to sustain the over-50-year career that the Osmonds have enjoyed in the industry.
Universal's Bid for EMI Approved
UMG's acquisition of EMI Group Ltd.'s recorded music division for $1.9 billion was finally approved by regulators in the U.S. and abroad on Friday morning. This merger, which has been hotly contested by artists and professionals on all sides of the industry will put the label in charge of the entire Beatles catalog as well as the albums of artists like Coldplay and Katy Perry. This approval marks one of the final steps necessary to making the once four major record labels into three.
The U.S. Federal Trade Commission approved the deal with no exceptions, whereas in Europe, the EU will force Universal to sell a large number of EMI assets to keep the playing field fair for independent labels.
UMG officials were excited about their victory. Chairman and CEO of UMG Lucian Grainge told the Los Angeles Times, "[The merger] will allow us, I hope, to do our bit to return the industry to growth … It will enable us to continue to invest in more music, to create investment opportunities for the entire Universal group, it will give us the opportunity to work with entrepreneurs in different genres and it will give us a cushion through this crucial crossover period as we hurtle toward a primary digital business."
UMG contributed to 29.9% of total album sales in the U.S. in 2011, which put it ahead of Sony Music Entertainment's share of 29.3% and Warner Music Group's 19.1% share. EMI held 9.6% of sales, whereas smaller independent labels had 12.1 percent.
Is Streaming Music at its Peak?
The surging popularity of streaming music services has given labels and artists hope that they can finally adjust to and profit from music's shift to digital. But top music industry analyst Mark Mulligan, in his keynote speech at Future Music Forum in Barcelona on Thursday called this optimism into question, calling into question the actual growth potential of companies like Spotify, Rdio, Mog and Rhapsody.
According to Mulligan, while Spotify is a bright spot, everyone should learn lessons from past technological advances within the business:  "There is a natural ceiling of adoption of the people who are willing to pay $9.99 a month for music they don't own … If you look at growth from launch, Spotify is – at best – on par with where we should be. The likes of imeem were the future of the music industry once, too. The most Vodafone (UK) got to was about 600,000 customers. Spotify's (UK) paying subscriber count is about 600,000, to 800,000 … This market should be much more dynamic than where we are now. It's a niche proposition. The majority of mass-market consumers are still not interested in the pricepoint."
As skeptical as Mulligan admitted he is, he acknowledged the efforts of digital pioneers like Rhapsody, and encouraged those that have enjoyed quick success to continue to work to improve their business models:  "It took Rhapsody 11 years to get to one million users, it took Spotify nine quarters … Spotify has to work really hard to get to where it wants to be."
He said Spotify especially needs to work on creating a mainstream model that will satisfy more than just the early adopters, who enjoyed unlimited access for free:  "Spotify is having to acquire 1.9 million new customers a month in order to retain 400,000. It's a huge, huge marketing problem. The average pay TV service would want to see churn rates in the low single-digit percent … They're having to work so hard to keep where they are – like a duck: It may look serene under water, but underneath it's legs are going like the clappers … What it shows us is that streaming clearly isn't for everyone."
However, subscription services are banking on new devices and mobile carriers that give them the chance to bundle services with products and get new customers. And these efforts were not possible when imeem was trying to gain its fotting and Vodafone was only offering a music subscription service to its own customers. Still, as competition increases and music services go after the same partners to create bundles, they may experience some barriers to growth.   
Ultimately, Mulligan stated that downloads have not provided "hockey-stick" digital growth for the industry, and streaming, as with any other business model will have its own growth end point. He challenged music entrepreneurs to continue to improve the packaged music experience they are offering and find a way to incorporate exciting artwork, access to lyrics, chats with bands and other engagement opportunities and then monetize this format.  
Australia Revealed to Have the Most Music Pirates
Information from bit torrent sites gathered by Musicmetric revealed that Australians download more illegal music, more frequently based on their population than any other country in the world, according to an article published on The Age. Conversely, Australian music fans also pay for downloads and purchase physical albums at a surprisingly high rate.  
The Musicmetric survey showed that Australia placed sixth in the top 10 for music downloads in 2011, with 19 million. The most downloading country was the U.S., which downloaded music 96,681,133 times, twice the next-highest-downloading country, which downloaded 43 million units.
Of the 19 million downloads in Australia, which has a population of 23 million, the number of them obtained through illegal sites was higher than in any other country. And interestingly enough, the most popularly-illegally-downloaded artist was the local Adelaide-based hip-hop group the Hilltop Hoods. The manager of the group, Dylan Liddy, was skeptical of Musicmetric figures, but said that illegal downloads are unfortunately just something artists have to accept as the shift to digital continues to take place:  "We are in the business of selling records so it would be great if we could monetise everything. But at the moment, the way that the music world has moved is getting illegal downloads and that's very hard to police … It is what is. It's great that the boys are popular."
Still, Liddy said that while the Hilltop Hoods provide an example of the problems with illegal downloading, they also are still selling records in their home country, which is currently enjoying some of the best sales numbers of any country globally. The band's latest album, Drinking From the Sun continues to be in the Top 40 on the Australian sales charts, seven weeks after its debut and has sold over 70,000 copies in all formats combined.
Many in Australia are taking Musicmetric results on downloading with a grain of salt, though the numbers are noteworthy when compared to those offered by the Australian Recording Industry Association (ARIA) for 2011. Both sets show that Australian music fans are comfortable with digital music. ARIA found that legal digital sales have continued to rise, and sales were up by 37 percent in 2011, with digital sales also taking up 37% of the market. ARIA also found that 25% of downloading was done via illegal sites.
Jimmy Osmond:  "How to Survive in the Music Industry …"
Jimmy Osmond, the youngest member of the Osmonds recently spoke to the Daily Herald about how his family's band has managed to find success in the music industry for 54 years – longer than any other group in history. He said that while recording and performing has become such a normal part of his life that he does not really even think about it anymore, he has learned a lot about maintaining success along the way, especially as part of a band and not a solo artist:
Have fun. As Osmond has realized, there is no way anyone can spend a long time in showbiz unless he/she is having a great time along the way:  "We've never stopped, for 54 years, re-creating ourselves … just because we love it."
"Know your strengths." Band members need to be able to respect everyone's roles and talents. According to Osmond, he sometimes thinks of himself and his siblings as fish in an aquarium:  "Marie is our beautiful angelfish; Donny is the shark; Wayne, with his jokes, would be the clownfish, and so forth … I'm the little sucker fish, zipping around keeping the tank clean."
Embrace change. Keeping things fresh is what keeps bands interested in their music and the experience of creating art together … and also what holds fans' attention:  "Part of keeping it fresh for yourself and for people who follow you is change … We've had country hits, pop hits, rock and roll hits – we never wanted to be bored with us either."
A sense of humor is imperative. Osmond stressed that getting caught up in being successful can make the experience of being in a band and making music a chore. He said, "We don't take ourselves seriously … We're just doing what we do because we love it. We've never had those moments where we're so narcissistic that we stop enjoying what we're doing."
Have a dream. Sometimes bands can let ambition get the better of them and stop setting challenging goals. Osmond recently decided to book the biggest tour he and his brothers had ever done – so big, he wondered whether or not anyone would show up:  "We played 51 dates and sold more than 100,000 tickets … We're going to kick off another 50 dates in January."
Take a cue from Elvis. Though he has received a lot of advice along his journey as a musician, Osmond said that one of the best pieces came from Elvis Presley when they played together in Las Vegas:  "He always emphasized, 'No matter what, take time for your fans … As you go up the ladder, be kind to everybody, because you're definitely going to see them on the way down."