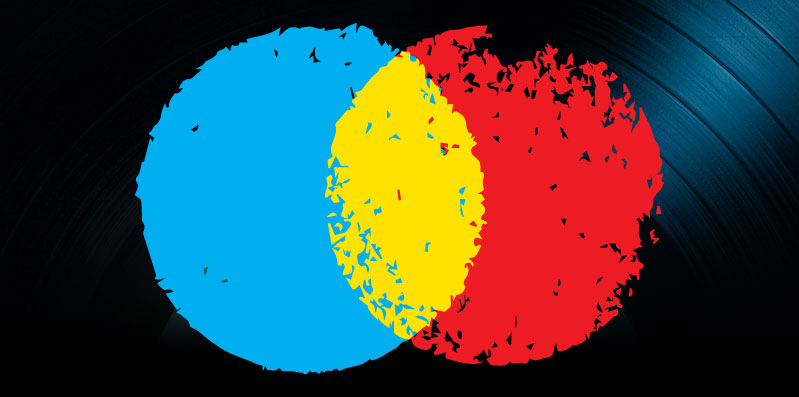 Pirate Party, New Music Business and Music Marketing News, December 16, 2012
Last week, the British Phonographic Institute (BPI) prepared to sue a pirate proxy service. Also, a collection of music industry stats pointed to exactly how the music industry is evolving. And media writer Sharmin Kent examined why creating a real community will be critical to rebuilding the music industry.
BPI vs. the Pirate Party
Britain's music industry trade association the BPI announced it is making moves to sue the Pirate Party UK for providing access to The Pirate Bay, which was banned by the High Court in April. The Pirate Party extends across a number of European countries and is opposed to entities that prevent information from being exchanged freely via the Internet. The group created a proxy late last spring that bypasses the government's ban; almost immediately, this website became one of the 150 most-frequented sites in the region.
A music industry representative told the BBC that the BPI has tried to settle with the Pirate Party outside the courtroom without success. The organization asked the Pirates to shut down the proxy website, but was met with threats. Pirate Party head Loz Kaye said the group will not acquiesce:  ""It is clear that we are facing a significant threat, and we will have to fight it. And fight it well, not just for the sake of the Pirate Party, but because of the principles at stake. I have always believed that it is not just enough to have principles, you need to act on them too, even if it gets difficult … I joined the Pirate Party because I passionately believe these are political issues. For every new person who starts to ask questions about digital rights, that's a win. For every new person who stands up and gets involved, that's a victory,"
Kaye added, "Geoff Taylor of the BPI has written to me to say we should expect a letter from their solicitors." Kaye also told TorrentFreak that the Party is fully prepared for an expensive fight in court.
However, Kaye shared with TorrentFreak that there was still no legal paperwork:  "As of Saturday [December 10], if paperwork has been filed then we are unaware of it. If the BPI chose to file a lawsuit then we will deal with it as we become aware of it. We would have thought they would have preferred to talk to us first, but it is their choice as to what they do."  
Kaye and the Pirate Party also highlighted the damage that can be done by government website blocks:  "Blocks now seem to have been used against services like Promo Bay, with the BPI being given significant power on deciding what they think should and shouldn't be blocked. I would add that up until last week we had not been contacted by any party to ask us to take it down."   
Despite threats to fight against the proxy being taken down, the Pirate Party lacks the funds to engage in a lengthy court battle. It runs through donations from the public and is also currently engaged in a fundraiser to deal with this potential legal issue. The BPI is funded in part by major music labels.
"13 Interesting Stats about the Music Industry"
The website Pigeons & Planes outlined the 13 most fascinating effects of the music industry's on-going and rapid evolution this past week. The stats below paint a realistic – and surprisingly optimistic – picture of the current music business and where it is headed.  
#1:  Streaming plays beat out radio spins 132 to 1 in 2011. Radio has not been rendered completely powerless, as it still helps break superstar artists, but it has weakened significantly as a music delivery method. In 2011, radio spins hit 158 million, whereas streaming plays were 21 billion. The numbers don't tell the whole story in and of themselves, but they do point to the fact that the streaming music is still growing rapidly and companies like Shazam could soon be capable of taking over.  
#2:  Justin Bieber's YouTube play count > the population of China and India put together. The population of China and India together is 2.6 billion. Justin Bieber's VEVO account has earned 3,169,095,027 views. Adding the number of collaborative videos between Bieber and artists like Chris Brown, etc., the number is closer to 4 billion. This number is also 4/7 of the earth's current population.
#3:  Digital music revenue will top $8 billion worldwide in 2012. Despite grim pictures painted of the declining music industry, digital music sales and options for listening and distributing music online have experienced rapid and steady growth over the past five years. Projected digital sales for 2012 are $8.6 billion, with $5 billion of that coming directly from the U.S. Strategy Analytics reported, "Streaming revenues will increase 40 percent in 2012 – to $1.1 billion – whilst download revenues will increase by 8.5 percent to $3.9 billion … Therefore, streaming services will take over as the leading revenue growth engine for the music industry in 2012 …"  
#4:  The cast of Glee has been on the Billboard Hot 100 more times than any other artist. The Beatles, Aretha Franklin, Elvis, James Brown, Ray Charles, Stevie Wonder, Elton John, Frank Sinatra, the Rolling Stones, Lil Wayne are some of the artists that have most frequently charted on Billboard. However, none can match the charting power of the cast of Glee.
#5:  The four major labels are responsible for 88% of album sales. In June, Nielsen announced that Sony, Universal, Warner and EMI still accounted for almost 88% of album sales. Thus, the "old school" industry is still in control of sales, despite all the new methods that have emerged for listening to music.
#6:  Spotify is responsible for streaming 1,500 years-worth of music.  While artists may not be seeing significant revenue from this outlet yet, there is no questioning that Spotify has exploded and will continue to grow.
#7:  VEVO has paid $200 million in royalties to artists since 2009. This means it has paid brought more royalties to artists than any other music video service. Of course, the entirety of the payments may not have gone to artists yet (some go partially to labels, etc. or may still be stuck in the SoundExchange distribution system), but it still represents additional income.
#8:  U2's 360° Tour raked in $736 million. Starting in 2009, this two-year tour brought in $200 million more than the Rolling Stones' giant A Bigger Bang Tour.  
#9:  Rihanna's Man Down cost $1 million. The cost for producers, studio time, radio and publicity on Rihanna's latest album really added up. Marketing was a huge percentage of this amount. However, Man Down shows how expensive and unwieldy it can be for major labels to try to "guarantee" a hit record. It also shows what these labels are willing to do in order to ensure their continued success.     
#10:  The entertainment industry has spent more than $1 billion on lobbying since 1996. Major corporations within the music, film and television industries spend millions trying to come up with fair policies for artists, listeners and employees. The RIAA alone has spent $30 million on lobbying since 2007.
#11:  Clear channel will have $10.1 billion-worth of debt by 2016. Half of Clear Channel's revenue comes from the over 800 domestic radio stations and 5,800 syndicated affiliates. Clear Channel's performance could pick up naturally if it embraces partnerships with digital radio and other music services.   
#12:  Physical full album sales in 2012 will be lower than they have ever been in the past 18 years. However, physical copies still make up half of all albums sold. These figures point to the fact that technology has made singles easier to sell.  
#13 Vinyl sales are growing.  Despite the decline of CD sales, vinyl has become more and more popular during the past six years. 3.2 million records were sold in 2012, a 16.2% increase over last year.  
Community and the Music Industry
An article written by media writer and music industry analyst Sharmin Kent "New Marketing Songbook:  How the Music Industry is Building Community" explored the different ways the music business has been rebuilt around the idea of community, and the many existing channels that will continue to bring artists, fans and other music industry players closer together.  
Last week, Metallica drummer Lars Ulrich publicly gave Spotify his blessing by offering up the entire Metallica catalog and reconciled with Napster co-creator Sean Parker. He admitted that the original battle was not about money, rather "just about control."
Of course, P2P file sharing has been a hotly-contested debate since the 1990s and has sparked billions of dollars-worth of lawsuits. Above all, it offered up a new business model that gave the old order the choice to either adapt or fall. And P2P networks put the control of music listening and discovery back into the hands of the fans.    
More than a decade later, labels have learned to work with the Internet and its many channels, including YouTube, personal social media accounts, etc. And artists are more connected to their fans – and thus their fans' money – than they ever have before. The Internet has created the opportunity for artists and fans to build thriving online communities and for labels to satisfy music fans more readily with massive catalogs.
It took 10 years of kicking and screaming and millions in lost revenue for record companies to finally decide to come find their audiences where they were – on the Internet and streaming music. According to Kent, Spotify in particular shows that a balance can be struck between variety and control and potentially still make money for artists and record labels.   
And sharing through social media platforms – aka, sharing through interactive online communities – is what has really helped services like Spotify, Pandora and Last.fm thrive. Social networking channels have proven themselves to be as powerful as some of the online channels artists and labels once feared – ones that previously leaked tracks and other information. They create an opportunity for musicians to get feedback from fans and keep these fans happy by offering them special experiences like free merchandise, live performances and concert tickets that draw music lovers close to them.     
Many marketing experts are discovering that online music services are great tools because they not only allow musicians to share their music or favorite songs, but they allow the fans of these musicians to connect with users and draw in even more listeners.