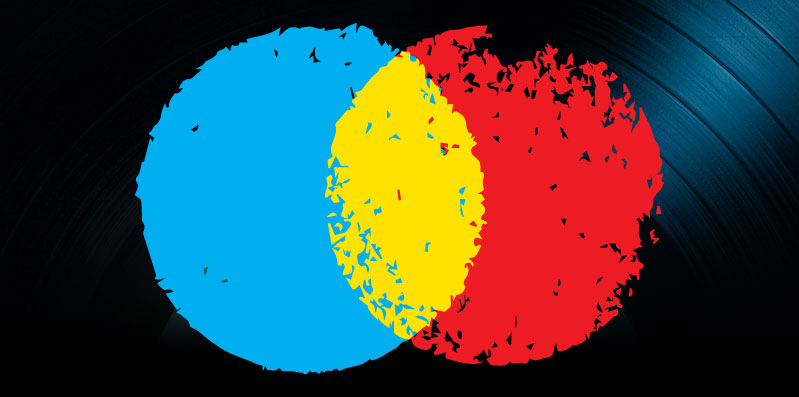 Online Music, Digital Music Sales and DIY Music News, August 4, 2012
Last week, the past, present and future of online music sales were front and center as a new study showed that the music industry may at long last be learning how to manage digital sales, and Digital Music News updated its artist earnings infographic to express how independent and major label artists are faring in the current climate. Also, DIY Music released a new social commerce app to help artists and labels make more money through social media channels.
Music Industry Finally Embracing Online Music
The music industry may be finally figuring out how to make money on the Internet, according a recent study conducted by accounting firm Price Waterhouse Coopers' (PwC). The Entertainment and Media Outlook revealed that feelings about digital music within major organizations that have been resisting the transition from old business models have finally started to change.
The Outlook analyzes the current climate and predicts what could happen in the entertainment industry through 2016. It is used by thousands of media, technology and communications executives as well as by professionals within the financial services sectors and advertisers in order to inform the steps they will take in the business during the next four years.
The research offered some major findings. According to Marcel Fenez, Global leader, Entertainment and Media, the industry has finally arrived at the "end of the digital beginning." Companies will finally start to restructure to prepare for what is "the new normal." The Outlook looks at challenges the music industry will face when digital is just part of "business-as-usual" and in many cases the core of entire companies. Those who are successful within the industry will reshape businesses around three ideas:  an understanding of the "connected" customer through analytics while paying close attention to privacy concerns;  creating new business models in order to provide more value to the customer and created more targeted advertising strategies; re-designing new organizational models and building partnerships that will help create revenue from the fact that consumers are now living and breathing online.
The Entertainment and Media Outlook also explores how copyright issues and piracy will continue to shake out in the coming years. But the study predicts that despite the need to overcome some of these obstacles, innovation will continue in the music space, and talent will become an important factor in success for musicians as well as technologists and other music business professionals. And more companies will continue to embrace – with greater confidence – that the way forward is by accepting the Digital Age.
Digital Music News Infographic Bringing Good News to DIY Artists
Digital Music News updated its 2010 infographic "How Much Do Music Artists Earn Online?" this past week to reflect data from 2012. And the news for major label artists is, not surprisingly, bleak for major label artists, who are still having a hard time making a living from many of the digital music channels. And record labels' income is continuing to dwindle even more, even as digital sales increase. However, for DIY and indie artists, the opposite is true, as streaming payouts are steadily rising, on a percentage level, according to sales information shared by indie labels and bands who participated in the research process.
An analysis by industry attorney Steve Gordon further delved into major label artists' lack of income from Spotify and determined that most of them do not get a cent from their Spotify streams, save rare superstars like Lady Gaga. The reason is that most artists signed to major labels are "urecouped" and owe their labels money. Because of the high production costs labels pay to get products into the marketplace, only huge artists who can sell millions of records get rid of their "unrecouped" status. So, it is not that Spotify is not paying – it is that the money earned is being used to repay debt to labels.
The infographic also showed that ringtones and download payouts have been particularly low for label-owned artists. Yet vinyl seems to be surprisingly lucrative for artists across the board if they are able to set a fair price that also takes into account production costs.
The last infographic was released in 2010, nearly two-and-a-half years ago. Like its predecessor, the 2012 infographic contrasts payouts from older products like CDs and iTunes downloads with streaming formats such as Spotify.
DIY Music Helping Artists Monetize Social Media
DIY Music released their new and improved social commerce platform geared towards musicians and record labels this past week, according to a release posted by MarketWatch. DIY Music, first launched in 2006, now gives artists the ability to build their fan base and sell products and interactive experiences online.
Using the platform, fans can listen to music, share videos and also buy music directly from a Facebook post, tweet or online ad. And artists can build highly-advanced social media storefront campaigns, search for new fans through an advanced filter and sell their music simultaneously.
The platform is compatible with Facebook's Timeline and News Feed, Twitter, Tumblr and many other blog formats, which allows artists to reach and monetize fans through many different channels and also gives the fans the ability to share the experiences they encounter with friends without getting buried in redirects.
David Robb, CEO of DIY Media, the parent company, stated, "Our platform improves the bond between artist and fan. Bands and artists are able to give their fans a rich media experience and in turn collect clear analytics. The result is a more direct path to building a fan base and the increased capability to convert fans into buyers."
DIY music allows artists to promote and sell songs, albums and entire catalogs through one campaign, increase engagement by directly embedding video and audio into a campaign, exchange email addresses for their mailing lists for free downloads of tracks or albums, and get important stats and analytics through the DIY dashboard to help improve future campaigns.
DIY Music is currently partnered with SoundCloud, The Orchard IRIS, BFM Digital, Audiosocket and a large array of indie artists.