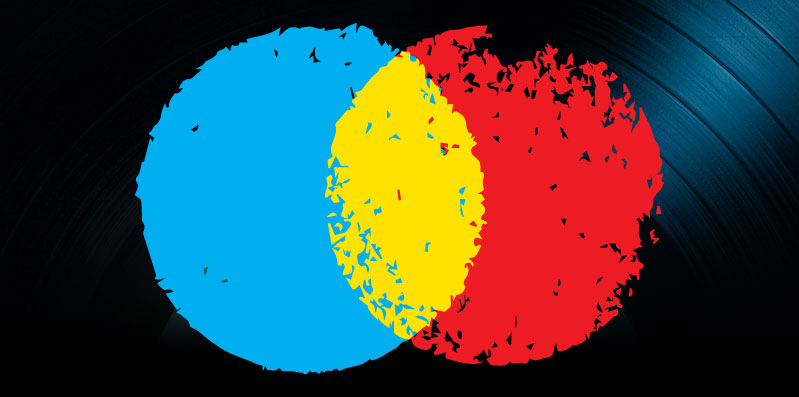 Music Industry, RIAA and Pandora News, August 25, 2012
Experts examined the future shape of the music industry last week, as stats continued to reveal predicted sales numbers and growth areas in the music industry for next year. And leaked tax records showed that the RIAA has experienced deep financial losses in 2012. Also, Pandora spoke out against a new bill regarding music royalties.
The Near Future of Industry Growth
The rest of 2012 will continue to be full of growth and reorganization within the music industry, according to further analysis of Strategy Analytics' latest Global Recorded Music Forecast. The Music Industry News Network presented a break-down of consumer spending through the year, and offered some positive insights about formats to watch.
Streaming revenues will likely increase by 40 percent at about five times the rate of download revenues earlier in the year, topping out at $1.1 billion. And download revenues will grow to $3.9 billion, allowing streaming services to take over the market as the highest revenue growth engine. In fact, they will generate an additional $311 million for the music business, $8 million more than downloads.
Overall digital and mobile purchases will grow to $8.6 billion, whereas there will be a 12.1 percent decline in physical product sales, meaning that digital music will build its global share of recorded music. While digital spending will continue to dominate through 2015, eventually taking over the market, some countries, like the U.S., Sweden and South Korea will transition to digital more quickly than others.
The Director of Digital Media at Strategy Analytics, Ed Barton explained, "Although downloads still account for nearly 80 percent of online music revenues, this market is maturing, and spending is flattening in all key territories. Streaming music services such as Spotify and Pandora will be the key growth drivers over the next five years as usage and spending grow rapidly."
But why will this shift take place? According to Barton, as music fans become more comfortable with new digital formats, they are coming to value "accessibility and availability" over building huge libraries of outright-owned music. And this drives growth in instant-access streaming services like Spotify. He added, "The emergence of cloud storage of a subscriber's existing music library for seamless streaming to a range of connectable devices improves the value proposition further."
And what will happen specifically with U.S. music revenue? By the end of the year, streaming revenues will grow at four times the rate of downloads, bringing online streaming and downloads up to double the share of music spending in the U.S. than worldwide. ­­­And U.S. physical product sales will decrease less than the global rate, declining by 9 percent. Physical spending won't wait until 2015 to be overtaken by digital; this shift will happen in the U.S. by the end of the year.
Barton sees the Report's numbers as a positive sign:  "Having stabilized long term revenue declines resulting from the downsizing of packaged music spending, the industry will be hoping that digital can rebuild the U.S. market to something approaching its former stature."
Is the World Ending for the RIAA?
Leaked tax records show that the RIAA could be in serious financial trouble, partially because of the continued high salaries of top executives within the organization and its investment in piracy lawsuits, along with the decreased investment of major record label executives that serve the company. Its revenue dropped by just under 50 percent in the past year, according to information presented by TorrentFreak and Digital Trends this past week.
One of the biggest proponents of anti-piracy initiatives like the Stop Online Piracy Act, the RIAA is showing signs of falling down. Its recent tax filings reflect that the organization's revenue for the period ending March 31, 2011 has fallen by 44 percent over the previous two years, topping out at $29.1 million, compared to the $51.35 million it garnered in 2009. The number of employees on the payroll also decreased from 117 to 72. These huge drops lead many experts to believe the numbers for 2012 will drop even further, given their increased efforts to bring down pirates and fight against the changing music industry.
The fall in revenue can be in great part attributed to a drop in dues paid by major record label employees that serve as RIAA members. In a tax filing from 2009, the RIAA reported member dues of $49.8 million, as announced by Digital Music News. The new number is $27.9 million.
Of course, the first part of 2011 was one of the best for the music industry, as Nielsen SoundScan showed. For the first time in six years, total album sales rose by one percent.
Even though there has been a drop in overall revenue and member dues within the RIAA, executives are still earning impressive salaries. Former RIAA Chairman Mitch Brainwol earned $1.75 million, more than any RIAA employee. And the Chairman and CEO Cary Sherman, who at the time was the President, earned $1.36 million. The nine other most-well-paid employees get salaries between $309,000 and $715,000.
While the amount of money the RIAA spends on lobbying the U.S. government has held steady at $2.3 million per year, the amount of money the RIAA has collected in legal fees has dropped. While it has continued to aggressively pursue major anti-piracy lawsuits, it decided to stop going after individual infringers.
Pandora Getting Louder about New Music Royalties Bill
Online music service Pandora is continuing to get riled up about Rep. Jerrold Nadler of New York's draft legislation on music royalties, according to The Hill. Spokespeople for the company claim it will only serve to discourage technological innovation and is also discriminatory against Internet radio.
Pandora is, however, backing a draft bill designed by Rep. Jason Chaffetz of Utah. This bill is designed to lower the royalty fees Internet radio stations pay so they are on even ground with cable and satellite radio stations. Chaffetz's legislation would force Internet radio to be held by the same standards outlined by the 801(b) section of the Copyright Act.
Tim Westergren, founder and chief strategy officer of Pandora said, "The current system for establishing royalty rates is astonishingly unfair … Fairness demands that all music related rate settings utilize the same 801(b) standard."
Nadler's bill is backed by most other groups and companies within the music industry, because it would help improve compensation to artists when their music is played on digital radio services and on radio stations' live-streamed online broadcasts.
The 801(b) standard is used in order to figure out the royalties that will be paid by the industry to music publishers and songwriters. Westergren stated, it is unfair that the industry will not use the same standards it uses on all other entities to force Internet radio to be responsible for paying artists. He added, "Congressman Nadler's discussion draft would only perpetuate this hypocrisy and worsen an already flawed legislative mistake that is discriminating against new technology and hampering innovation."
Chaffetz's and Nadler's bills have both caused a battle within the music industry and digital radio services regarding music royalties. And many are unsure of Chaffetz's bill because they believe it could take money from artists.
Nadler himself has expressed that he agrees with Pandora about the need for equal rates, but that the bill that opposes his is not the solution:  "The solution is not to get to parity at the expense of artists as Rep. Chaffetz's bill proposes … We can and should both level the playing field for Internet radio and ensure that artists are fairly compensated …"