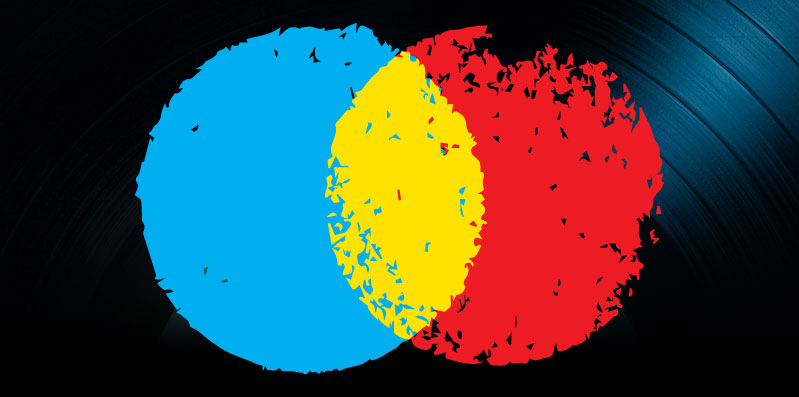 EDM, Muve Music and the Australian Music Market News, September 2, 2012
The changing music business was highlighted this past week as analysts talked about how DJs and electronic dance music artists are finding opportunities to build their careers and how streaming music service Muve Music has quietly grabbed a big share of the marketplace. And experts discussed why the Australian music scene has emerged as a lucrative place for British artists and others struggling to break the American market.
E.D.M. and the Structure of the New Music Business
The growing electronic dance music (E.D.M.) market is providing clear insight into shifts within the music industry which are pointing artists away from big record labels as "primary career makers" and towards innovative digital strategies and successful careers that involve film scoring and other sources of income, according to an article in The New York Times.
Digital music artists like Skrillex, Deadmau5 and the German DJ Zedd are teaming up with artists like Lady Gaga and Justin Bieber and drawing in huge crowds at major venues and festivals. According to Zedd, "It's crazy … I've always been making music. But suddenly I'm on the other side of the world touring with people like Deadmau5 and Skrillex."
While these artists may not be household names for everyone yet, E.D.M. is definitely on the rise among young people in America. Dance music festivals like Ultra and Electric Daisy Carnival are drawing crowds of over 100,000 and taking over big cities like Las Vegas and Miami. Forbes recently reported that DJs are some of the top earners in the music business, with Tiësto raking in $22 million, and record labels are starting to seek out DJs as their next big money makers. Zedd was approached by Interscope Records (Eminem, Lady Gaga, U2) and up-and-coming artists like Madeon, Porter Robinson and the Chicago dance group Krewella are all getting attention.
The growing popularity of E.D.M. is also indicative of how different the music industry has become in the past two decades. Young electronic acts are looking up to composers and film scorers like Trent Reznor of Nine Inch Nails, but finding themselves in a world where their careers can be made in a year or two instead of decades. 20-uear old Porter Robinson said, "It's not the 90s; we have the Internet … Record labels are not as important or influential as they used to be. They're less capable of puppet-mastering the whole scene."
However, DJs that are making it also tend to have deep musical talents beyond just spinning. Zedd has risen to the top with the help of profound musical study and talent. Growing up in Germany, he studied classical piano and played drums before experimenting with electronica and is also a trained composer and songwriter, who brought his work from the piano to the computer. He said, "What I don't like to hear in music is something that has not been thought through, that a sound is just there randomly … I want to make sure that every single little noise that's in my song is there because it's supposed to be there."
Zedd garnered attention by winning two remix contests sponsored by Beatport, E.D.M.'s answer to iTunes and then sending a track to Skrillex, who immediately brought him on as a mentee. As Skrillex said, "We both come from a band background, where a lot of the songs are based on riffs, and you can hear that in the production."
Porter Robinson and Madeon – a French DJ who is just 18 – have also risen quickly in the industry. Graduating from high school just last year, Robinson has already been raking in big money through extensive touring. And their rise has been helped by Beatport, which allows DJs to sell songs to other DJs. Thanks to Beatport, a new track, whether by an established artist or a totally new one can appear on playlists worldwide and get passed through social media, then make its way to scouts in big music markets like New York and L.A.
Beatport's CEO, Matthew Adell said, "The dance market is a microcosm of what's happening to media in general … It's becoming less localized, it's becoming more mobile, and it's becoming more global in terms of people accepting art and commerce and communication from other parts of the planet."
But while these musicians' rise seems instantaneous, Robinson said this quick ascent is partially just an illusion based on the fact that American audiences have just recently started to support dance music:  "If you've been writing dance music for a long time, like me and Zedd and Skrillex have, you're well positioned to take advantage of the scene … We've been paying dues since we were young teenagers, but all of a sudden our music is wanted."
Muve Music:  Quietly Grabbing Its Market Share
Spotify has been taking the streaming and digital music spotlight since its launch a couple years ago, but other companies have been developing under the radar. The New York Times said that Muve Music, a mobile music service geared towards those without computers has built one of the biggest subscriber bases in the industry and could overtake Rhapsody within the next year.
Muve is a phone-based music plan sold through Cricket Wireless and features unlimited song downloads for $10 per month, wrapped up into a customer's monthly cell phone bill, which is between $55 and $65 monthly. Users of the service are young, urban and instead of relying on computers and tablets, use their phone as their main electronic device. Most of them also earn under $35,000 per year and have no credit cards, so Cricket's month-to-month cash plan tends to work best for them.
Muve was established in January 2011 and has since signed up 600,000 subscribers. Many experts expect it to grow more when the company comes out with a new line of phones that might draw in millions of new users. Jeff Toig, senior vice president of Muve Music said, "Cricket's customer is young, is ethnic, and tends to be middle and lower income … This is not a segment of the market that the major technology companies innovate for."
Cricket has six million subscribers and is a subsidiary of Leap Wireless, which just put out a new line of Android phones for $50 – $70 per month this past week, which automatically come with Muve.
Major companies are applauding Muve for developing loyal customers and identifying music fans in a segment of the marketplace that had previously been overlooked. Muve users download over 70 million songs monthly and spend upwards of 30 hours listening, which is 10 hours more than people spend listening to Pandora. Stephen Bryan, executive vice president for digital strategy and business development at Warner Music Group admitted, "It's a case study for how you execute a bundled music service."
One of the reasons Muve has become so popular is that its primary users – young, urban minorities – are some of the biggest users of the mobile Internet, so revealed a study released by the Pew Internet and American Life Project in June. Part of users' $10 monthly fee goes towards artist royalties and is divided among record companies according to each label's download share. An estimated $3 – $5 of each $10 is paid out each month.
Labels that want to license their music to everyone they can in order to stay afloat have seen a good opportunity in companies like Muve, because it gives them a steady and predictable income stream, even if that stream is small. Rob Wells, president for global digital business at Universal Music Group said, "Exploring these new opportunities and new methods of consumption is the one thing that's enabling the music industry to weather the storm of piracy."
Despite Muve's success, some experts do not see it as a company with long-term potential. For one, the service signed up 500,000 in the first year, but has only gained 100,000 since then. And Cricket lost 289,000 subscribers this past year. Analyst Walter Piecyk, with BTIG Research said that Muve is going to experience growing pains when Cricket tries to move customers from basic, easy-to-use phones to smartphones:  "They're trying to increase the monthly bills of customers by selling them smartphones … The challenge with that is that with smartphones you've got more choices for musical services. So they're going to face increased competition with more mainstream music alternatives …"
Bundling digital music services as Muve has done is common in other parts of the world, but not in the United States. So, Muve has become a big way Cricket sets itself apart from other month-to-month cell phone plan competitors. S. Douglas Hutcheson, CEO of Leap said, "This is providing an experience and more value to customers … As we look at how to get sustained growth in the business, I think we've come up with an innovative, desirable way to do that, that's something beyond just dropping to ever-lower prices."
British Musicians Seeking Opportunity Down Under
The dream of breaking the American market has been big for British musicians for decades. But according to an article in The Independent, a more challenging market is bringing them to seek out opportunities in Australia in order to become international artists.
Because of its strong economy and well-developed live music scene, Australia has become a hopeful spot for those hoping to develop a global following. And British artists and music industry professionals, dismayed by the recession and recently rained-out festival season continue to head Down Under for a fresh perspective.
British artists have captured 22.5 percent of the Australian market, which is more than the 11.7 percent of the U.S. market they enjoy. Julian Wall, director of International Events at the British Phonographic Industry (BPI) said, "The music market Down Under is buoyant, vibrant and progressive … It's a great market for UK music and acts and Australia is currently ranked the sixth biggest market worldwide." The Australian digital music market expanded 36 percent last year. The BPI is currently organizing a trade mission for the Fall.
Artists like Adele have really honed in on Australia in recent years. Her album 21 went 13-times platinum there, turning it into the country's biggest-ever selling album, just ahead of Dire Straits' Brothers in Arms. And British band Florence & The Machine was responsible for two of Australia's 50 best-selling albums in 2011, driving the band to tour extensively there.
Despite good returns in recent years, British music industry companies are recognizing that UK music may not keep its hold on the Australian market as it continues to build its musical identity. Australia's scene was once marked by rock bands, but is becoming much more varied as its population diversifies. Lars Brandle, Billboard magazine's Australian correspondent stated, "When you think Aussie music, you tend to think of AC/DC and any number of sweaty pub rock bands with bad hair … We still do rock but we're a different musical beast nowadays."
Soul artist Michael KIwanuka, singer Taio Cruz and folk singers Ben Howard and James Morrison are the British musicians that have recently toured Australia. Urban act Rizzle Kicks will go there later in late September.
Chris Lighty, Hip Hop Pioneer Dead at 44
Hip-hop mogul Chris Lighty shot himself to death Thursday morning in The Bronx. A long-time manager who helped launched the careers of artists like 50 Cent, Busta Rhymes, Diddy, Ja Rule and Mariah Carey, Lighty was named one of Crain's "40 Under 40" in 2008 and admired by many for having evolved from a kid growing up in the projects into a successful music businessman.