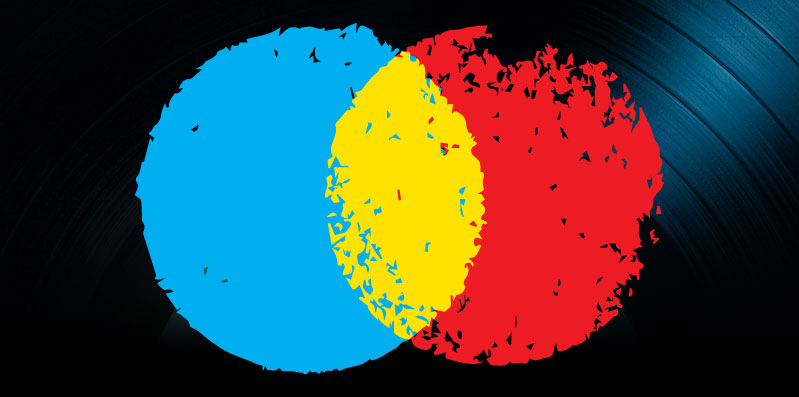 DMX, SoundExchange and Music Merchandise News, June 23, 2012
Music licensing and royalties took center stage this past week as 40-year-old music services company DMX won a groundbreaking case against two performing rights organizations and SoundExchange hit the $1 billion-in-royalties-paid mark. And some entrepreneurs are emerging that will help independent artists find new and more efficient ways to make money from their music merchandise packages in the changing industry climate.
DMX Case Win:  A Challenge to PRO Licensing Structures
A court ruling in favor of long-standing services company DMX will likely help ease the process of music promotion and make licensing more transparent and set the stage for more direct licensing between commercial music providers and the music industry. A press release issued last week detailed the outcome of a case between DMX – a 40-year-old suite of services that includes music services, strategies and promotions, music licensing and others (and has a partnership with Pandora) – and two major performance rights organizations (PROs), ASCAP and BMI. The ruling will reset fee structures and take some market control over PROs when it comes to determining copyright owners' earnings.
For many years, ASCAP, BMI and the smaller  SESAC have had little competition when it comes to licensing compositions for public performance. In 2006, DMX began to provide direct licensing services in order to streamline the process of directly compensating publishers who were using their services and save them money. This practice also gave publishers greater control over their work, allowing them to negotiate and license their music directly with commercial music providers such as DMX and Muzak. This case determined that this new licensing structure is a viable option for publishers and other artists.
Chris Harrison, Global Director of Content/Licensing for Mood Media, the company that owns DMX said this was a landmark decision for publishers, composers and authors:  "We have effectively loosened the middle man's grip on licensing and associated performance rights fees. After decades of imbalance, the playing field is at last fair and consistent."
The court ruling also provides more incentive for authors, composers and publishers to license music directly, as they will be able to gain more exposure through commercial music channels. Payments of royalties through direct licensing will also be more dependable, as entities will be required to pay consistently and on time and provide transparent details about how licenses dictate music can be used.
DMX began offering new fee structures after a court ruling in 2010. However, the most recent decision solidifies these structures and will allow DMX and other companies like it to continue to offer options to rights holders and music users. Harrison added, "We're happy that we can continue to provide quality music programming and services to our clients at affordable and competitive rates. We're also excited about what this means for our ability to curate great music from even more artists and share that with our clients and customers."
SoundExchange:  $1 Billion in Earnings for Artists
Non-profit digital PRO SoundExchange announced on Monday that it had earned $1 billion in digital royalties for artists and labels since it started up in 2003. The organization collects royalties from streaming music providers such as Sirius XM, Pandora and other music channels and passes them along to signed and unsigned artists. In a business where digital releases are starting to surpass physical releases and artists need to actively stay on top of all revenue streams to earn an income, SoundExchange is becoming increasingly important.
SoundExchange's president Michael Huppe marked the achievement by saying, "This milestone reflects the fact that the digital music industry  is evolving and will continue to grow … We're optimistic about where the music industry is headed and see opportunity for SoundExchange to help both creators and digital music services thrive."
More than one-tenth of the $1 billion paid out by the organization in the last year has been given to artists in the past few months. SoundExchange distributed $108.6 million in royalties during Quarter One of 2012, which was the first time this amount was over $100 million in one quarter since its inception. Huppe chalks this success up to a focus on data management and the fact that technology platforms are getting more sophisticated as time progresses.
The U.S. Copyright Office officially named SoundExchange the only administrative entity for the collection of digital royalties. Despite its ongoing efforts, there are still tens of millions of dollars in digital royalties still unclaimed, which is partially due to the fact that artists are skeptical when the organization contacts them that it is a real service.
All musicians and copyright holders can sign up for SoundExchange. Anyone who wants to collect royalties needs to send in a W-8 or W-9 form and a government-issued ID via email, snail mail or fax. More information can be found here.
Merch Entrepreneurs Helping DIY Artists Earn More
The now tired, old conversation about how technology is changing the music industry and how all artists have to take more control over their own careers has caused many music business entrepreneurs to shift focus from talking about what artists no longer have, to the new opportunities they have to earn a living. And according to an article by freelance journalist Natalie Burg published this past week in the blog for creative professionals Concentrate, one of the emerging markets for music startups is merchandise distribution.
One company that has emerged is the merchandising logistics startup Whiplash. According to founder Sean Hurley, "When the label system sort of collapsed a bit, bands were trying to reach their fans directly … Selling digitally is how you get the music out there, but if you have shirts or posters, how do you get out those things that are value added that fans do want?"
For years artists of all sizes have relied on merch to supplement their income as part of live shows and tours. However, many artists feel overwhelmed by the logistics of shipping posters, t-shirts or other products from their websites, packing hundreds of items and shipping them out to fans. While it also provides services for other "small brands," Whiplash has noted that its services are particularly well-suited to the ever-changing music industry.
The company was actually the first of its kind in the music business. While living in Seattle, Hurley struck up a friendship with Modest Mouse and eventually became the band's tour manager. Once his tenure was over and he moved to Michigan, he was approached by frontman Isaac Brock to help run the online store for his label Glacial Pace Recordings. He teamed up with tech entrepreneur James Marks to help get the store running, and eventually launched Whiplash in 2009 with him and technology advisor Mark Dickson.
Together, they started to drum up other clients in the music industry, like record label and art company Ghostly International.  They now handle 50 different clients and  expanded to a 3,000-square-foot warehouse in May, proving that today's artists and labels have a huge need to seek personalized help when it comes to selling and earning a living off their merch. According to Hurley, "It doesn't feel like we're exclusively music, but I guess it is a big part of our thing … We're banking even more on that type of client too."
Because it has been such a hit with independent musicians, Whiplash has been particularly focusing on finding new ways to bring services to this type of client. It recently developed a new kind of packaging that would help protect LPs during the shipping process and also has customized fulfillment software so it works more seamlessly with the wide range of website interfaces DIY artists use.
While Whiplash is the first to directly address the very unique needs of the DIY and indie musician market, its success illustrates that there is certainly space and demand in the market for other merch-fulfillment companies. And Hurley said it is more ecommerce than live shows that have made his company so viable:  "The whole landscape has changed because of Internet sales …It's still a fairly new phenomenon."