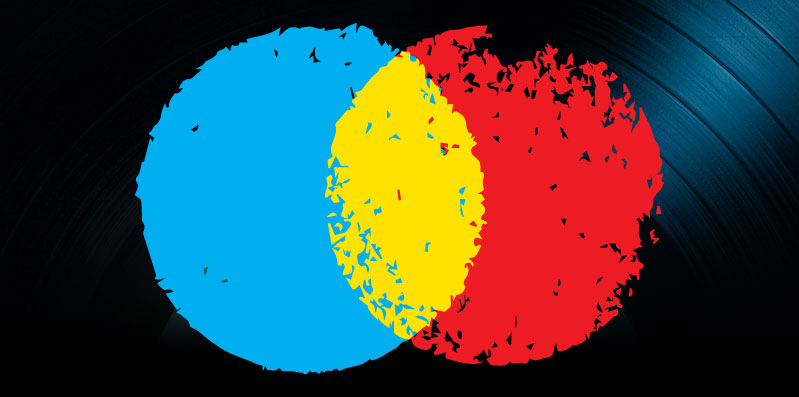 Berklee, Vevo and Social Media News December 1, 2012
This past week, Berklee College of Music released the results of a study that revealed salary ranges within areas of the music business. Vevo also announced that it has grown into the highest-money-generating music platform in the industry since its inception in 2009. And Mary Bonney of LA Music Blog explored the positives of social media for artists that want to grow their fan base and take charge of their careers.
Where's the Money in the Music Business?
Berklee College of Music in Boston released a brand new study last week outlining the salary ranges for musicians, audio engineers, A&R executives, writers, entrepreneurs, music educators and music therapists and many others. According to Billboard.biz, the study, conducted by the college's Career Development Center is an update on the a 2010 report and is designed to provide a guide for those just starting out in the music industry so they have insight into the reality of an industry in flux and can financially plan their career moves.
The study, which involved 5,000 working musicians, presented very mixed results:  The salaries of those working in PR and as orchestral musicians went up overall, but commercial jingle composers and session players saw a decline. Only those working in teaching saw a significant raise in their average salaries. The average music income for the past five years was estimated at $34,000.
Peter Spellman, director of Berklee's Career Development Center said, "There is downward pressure on many music performance salaries right now due to the slowing global economic recovery, changing perceptions of music's value, and hyper competition." He added that this information points to the need for musicians to diversify and "expand their repertoire of both musical and professional skills" as the industry continues to shift and grow.
The study also explored some industry areas that could grow considerably as the industry evolves, including social media, digital marketing, branding and sponsorships, mobile music and streaming music. New York and California saw the highest number of employed musicians, and Florida, Texas and Tennessee were also in the top 5 states with the most working musicians.
The Music Careers In Dollars and Cents 2012 Edition also presents a flowchart to help those new to the industry field job offers, along with a list of organizations and associations designed to help artists and others that aspire to work in music.
Vevo Puts Money Back into Music
Premium music video platform Vevo announced that it has put $200 million in royalties back into the music industry since the company's launch in 2009. In an age where artists and labels are complaining about wavering revenues, this could be promising news for artists, labels, publishers and others. The company also paid out more in royalty revenues in 2012 than in 2009 and 2010 combined.
These stats were announced by Vevo president and CEO Rio Caraeff at the Business Insider Ignition Conference held in New York City on November 27-28. He also stated that the platform brings in more money for the music industry than any other music video service.
Caraeff said he believes it is Vevo's commitment to showcasing high-quality videos and a strong focus on the needs of music fans that has helped make it such a successful platform for artists:  "The audience that loves music should be treated and valued the same way as the audience that loves the Super Bowl, and revenue should flow as such."
The Pros and Cons of Social Media for Artists
With all the marketing tools that are available to artists in the modern music industry, how powerful is social media? Last week, Mary Bonney of LA Music Blog explored the pros and cons for musicians of using Facebook, Twitter, YouTube and other social networking environments and how these tools have really impacted the music landscape.
As Bonney pointed out, the Internet has completely transformed the music business, bringing Rolling Stone fans real-time blogs and a direct connection to their favorite bands. But she asked, "How has this affected the music industry and what will they do about it?"
While MySpace has become less prominent as a destination for music in recent years, it was the first place that gave bands a forum for sharing music, writing blog posts, sharing live show details and communicating personally with fans in a way that made them feel valuable and special. And major acts such as Lily Allen, Colbie Caillat, Soulja Boy, Sean Kingston managed to significantly expand their brand through the site.
Of course, since MySpace, many more options have become available, and the possibilities the Internet provides for musicians and music fans have become even more limitless. Similarly, being a working musician without a label has not only become more possible, but cheaper than it has ever been before. Sites like Bandcamp and SoundCloud have replaced MySpace as a destination for listening to music and Tumblr has offered a blogging space for bands. And Twitter now provides artists with quick ways to give away tickets and merchandise to loyal fans to promote themselves or simply communicate regularly with a potentially global audience. And Spotify, Pandora and Last.fm have provided a rich space for music discovery.
Of course, Facebook has popped up as a huge marketing opportunity for artists. Josh Williams of the Atlanta band Ocean Is Theory said he believes there are both pros and cons to the platform, but its promotional power cannot be overlooked:  "People are less centralized these days. MySpace helped us grow tremendously. Facebook certainly has brought new challenges. It's not as easy, but we have to adapt and run with it … We've been using a lot of everything to promote."
David Haynes of SoundCloud explained today's social networking capabilities further as a natural outgrowth of a shrinking yet more connected music industry. "In the past, there were just a few gatekeepers to music, and you had a powerful network of labels, A&R men, radio and TV executives, and magazine who decided what you should be listening to. Now it's so much easier to find out what your friends are listening to or what other people who like the same music on the other side of the world are recommending."
YouTube star Julie Nunes said that she uses social networking more often than anything else in order to share and market her music. She also sees each platform as serving a very different purpose:  "It's a way to connect with people and show more sides of yourself. I use Facebook, Tumblr, Instagram, YouTube, and Twitter all in very different ways."
Video sites, including Vimeo and YouTube as well as services like Stageit and even Google+ that allow artists to communicate and perform face-to-face via private concerts are also becoming huge opportunities. Bonney even won an online contest back in 2007 to sing back-up vocals on Paramore's RIOT! album by submitting a YouTube video and sharing the band's link on all her social networking sites. And she admitted, it made her a fan for life. Other bands are finding similarly devoted fans the more they provide opportunities to connect and give fans unique and memorable experiences that go far beyond the music.
But Bonney and artists point out there are some downsides to increased connectivity. Before there was social networking, agents and publicists took charge of artists and made them "ready to sell" to their fans. Music magazines used to be almost entirely responsible for revealing personal details about artists. Now, there is almost no filter. But after the very public Kanye West/Taylor Swift incident at the 2009 MTV Video Music Awards, West defended himself on Twitter and claimed that traditional interviews did not give him final approval, giving all interpretive control to reporters.
However, because everyone can get access to celebrities, fans think they know them personally, causing many artists to feel their fans are invasive. And these feelings are showing up in lyrics. Brand New's Jesse Lacey wrote, "I am not your friend, I'm just a man who knows how to feel." Of course, fans can provide the artists they are passionate about with a great deal of support. However, many artists feel they would like more privacy than the Internet affords.
And of course, it has been well documented what the Internet has done to sharply drive down the price of CDs and digital downloads. Sites like iTunes have managed to help musicians earn back some of the money lost through Napster, LimeWire and Kazaa. But it has taken away the power of record labels and put many artists and their fans in control of distribution and sales. SoundScan reported recently that physical album sales have dropped 50 percent since 1996, while digital sales have increased 1900%.
The Chicago Tribune's music critic Greg Kot argued in Ripped:  How the Wired Generation Revolutionized Music that at this moment, more people are listening to music from more sources than at any other time ever. He said that the "grassroots music industry" that has been created that has fans and bands in control rather than the corporations is actually a huge positive.
In terms of the privacy issues that social networking is causing for artists, Bonney said that bands have to make lines between what is public and what is private very clear. They should make sure not to overuse any one social media platform and censor the type of information they share:  "Promoting a contest or showcasing new merchandise for the tour? Awesome. The lead singer's girlfriend when they're on a date? Not so much."