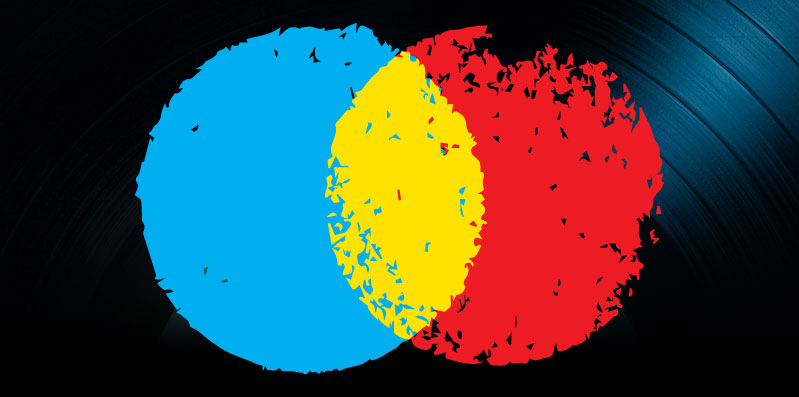 2011 Digital Revenue, EMI Sale and Thomas Dolby News, March 31, 2012
Last week, the RIAA released the final official music sales numbers for 2011, highlighting the continued strength of CDs in the marketplace as well as revenue growth sparked by streaming services. Also, the California attorney general announced she will investigate the soundness of the pending EMI sale. And early digital innovator Thomas Dolby talked about why technology has created amazing opportunities for artists but has also put up road blocks for those trying to get their music heard.
Digital Music Dominated in 2011
The Recording Industry of America (RIAA) presented the final sales figures for 2011 on March 27, and the results showed what had been suspected since tentative numbers were released in December and January:  U.S. music sales grew by .2% (reaching $7 billion) from 2010, with digital revenue increasing 9.2% and physical sales dropping but still proving that CDs were still the format of choice industry wide for music fans. 
Digital music represented over 50% of sales in 2011, though CDs sold over 240 million units and raked in $3.1 billion, according to a report in the San Francisco Chronicle. Even vinyl's presence grew significantly, selling $100 million in records, 30% more than in 2010.
Additionally, the positive impact of music streaming services like Spotify and Rhapsody shone through in the RIAA's findings. An article in VentureBeat highlighted that these two services along with Rdio and others brought in 13.5 percent more revenue than in the previous year, with paying members increased 18 percent. 
2011 was certainly the year marked by artist and record label complaints that Spotify and subscription services were actually hurting rather than helping growth, as they speculated that people that used these services were less likely to feel compelled to purchase songs they could just listen to on demand. And many staged a protest of Spotify in November when over 200 indie labels took their songs away from streaming platforms.
However, the RIAA declared that its recently-released stats prove that streaming music could definitely be providing a boost:  "Access models like subscription services and Internet radio (represented by digital performance royalties) have continued to grow both in popularity as well as in their revenue contribution to the industry." The organization added that digital music is not just a niche anymore, rather a set of viable business models that the music industry needs to continue to utilize in the future.
How Will the EMI Sale Impact the Music Landscape?
California attorney general Kamala Harris revealed to two unnamed sources this past week that she would be launching an official investigation of the split of the 114-year-old EMI Group between Universal Music and Sony/ATV Music Publishing, said a report published by BloombergBusinessweek. Universal – the world's largest record label – is attempting to buy EMI's recorded music arm for $1.9 billion, whereas Sony/ATV hopes to buy the publishing side for $2.2 billion, which would turn it into the biggest music publisher. The probe will analyze the potential impact the sale could have on the music industry and ensure it will not violate any antitrust laws.
Members of Harris's office have already contacted customers as well as competitors of EMI, Universal and Sony/ATV about how the $4.1-billion deal might influence future pricing. And the state began to compile information late last month about the sale and its compliance (or lack of compliance) with antitrust  rules.
This sale is already under the U.S. Federal Trade Commission and European Union (EU)'s microscope. Many top executives of other labels as well as other industry experts have expressed their opposition to the EMI sale since it was announced last year, most notably Warner Music Group and CEO, turned board member Edgar Bronfman, Jr.    
Universal Music would get the rights to legendary EMI arists like the Beatles whereas Sony/ATV would get the copyrights to songs and mega songwriters including Beyonce and Jay-Z. Sony/ATV has already presented a series of compromises to EU regulators, and the European Commission has pushed its deadline for final rulings on the publishing side to April 19. Its review of Universal Music's purchase has also been extended. The concern among critics and reviewers of the EMI sale is that, when split and merged, the two resulting companies will have a hold on too many songs and too much control over music prices.
Universal has also announced its plot to raise money to help fund the EMI acquisition, according to an unnamed inside source. The company will sell three music publishing catalogs in order to raise $200 million – classical, Christian and German schlager. And Vivendi – the Universal parent company – is also raising $668 million.
Thomas Dolby, on Technology and the Music Industry
Cutting-edge technologist and musician Thomas Dolby revealed his long journey in digital music and shared his thoughts about how technology is shaping artists' careers in a keynote address at the Design West engineering conference in San Jose, California last week. And according to the EE Times, the takeaway for engineers and tech innovators was, "Shit happens."
Dolby – best known for the '80s song "She Blinded Me With Science" (which he performed as part of the speech) – stated that technology has presented some incredible opportunities for artists, but has also brought about many problems for those trying to get their music heard:  "You used to have to spend millions just to get out in front of fans … When I started out at 17 … [you] had to get a cassette tape to an A&R man, then get the radio stations to play it, and all these other things had to fall in place." But now "the music industry will be like day trading with a music manager behind a screen." However, artists can build a very targeted fan base using social networking tools capable of finding "qualified listeners with a laser focus."
In his speech, he explained that as one of the first electronic music artists in the 1980s, his path was difficult:  "Electronic instruments were quite bulky, they didn't stay in tune and they were quite expensive." One of his first synthesizers was the "size of a refrigerator" and double the cost of his first home in London.
However, he pushed on, branched out and diversified, securing a one-year grant from Paul Allen's Interval Research group in the early days of the Internet in order to research the possibilities of deeper integration between music and technology. The results of his exploration brought about the formation of Headspace, a company that created the Beatnik audio engine described by Dolby as "a SoundBlaster card in software."
In 1994, Dolby began to work with Netscape founders Jim Clark and Marc Andreessen, whom he eventually persuaded to include audio in their browser, though they still put up resistance. Their questions about his methods pushed him to create new audio code through Headspace that eventually got the attention of Sun Microsystems, who began to use it in Java technology. And this led to a request from Nokia to use his code to introduce some of the first polyphonic ringtones for mobile devices:  "By 2005, most phone makers licensed Beatnik and ringtones were a billion-dollar business" – one that was still music focused but did not require the support of big record companies.  
Dolby then created Rich Media Format, which allowed song samples to be embedded into ringtones, which unfortunately led Dolby back to world of major labels, which he had hoped to escape when he initially started to explore musical concepts rooted in emerging technology:  "We inadvertently brought the large recording companies into the game … They would sit down with the carriers and do deals that cut out all the cottage ringtone publishers. Within a few years the window for polyphonic ringtones ended because the wireless networks were good enough to handle the whole song." So, in 2008, Dolby retired from technology and decided to begin his music career anew.
Dolby is currently on tour promoting his first album in 20 years, traveling with a trailer "that looks like it was designed by Jules Verne and H.G. Wells." He has also designed a Web-based mystery game called "The Floating City," which will become a place for 11,000 of his fans to put together clues and will be sold alongside his latest album. His trailer is also a portable studio that records 30-second video clips from fans that are added to the time capsule for The Floating City game.