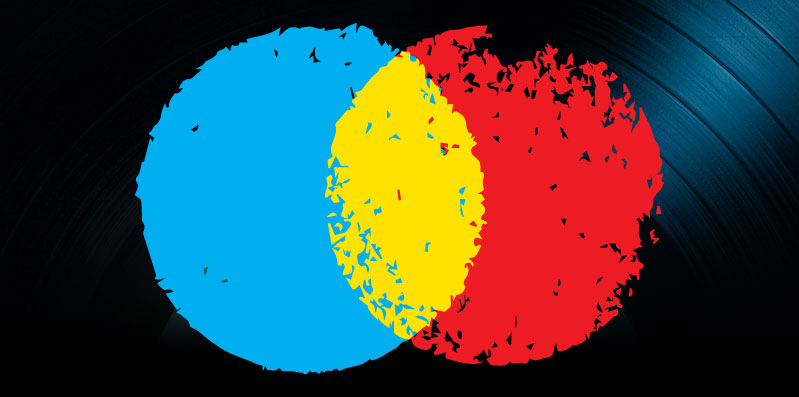 Music Business News, December 24, 2011
This past week, HITFIX looked back on the 10 most impactful events in the music industry in 2011. And the latest trends have shown big acts gravitating away from big venues. Also, the new chief executive of Sony Music UK talked to The Guardian about the current state of the music industry and the impact of EMI's split sale.
The Top 10 Biggest Music Industry Events of 2011 Revealed
In her "Music Power Rankings" column on the HITFIX music site, blogger Melinda Newman listed the 10 most influential stories and events of 2011 this past week. In way of intro, she noted, "… any way you look at it, this was a watershed year for the music industry in that the old, traditional way of business continues to morph into something new and those who can't shift with the times or continue to cling to the old way of doing things will fall by the wayside." She added, "… it felt like  a little of the joy came back this year after a long, bleak period."
Her picks for the biggest music industry moments include …
Adele, who can be seen as one of the biggest success stories of the last several years. Her 2011 album 21 has not fallen out of the Billboard 200's Top 10 since its release and has sold more than 5 million copies in the U.S. Not only has she been a big seller, but she has also been popular with critics all while staying on an indie label and maintaining creative control.
The rebound of album sales, which didn't drop for the first time since 2004 and increased since 2010 (up 3.3% through September 30). "For the first time, it feels like maybe we've hit bottom and, through various new business models and strategies, can go forward."
The "fire sale" on record labels, as the four major label groups condensed to three, with Universal Music Group buying the recording side of EMI.
Katy Perry's emergence of one of the biggest pop stars of all time was sealed this past year, and she is fast approaching the record for the most songs from a single album to top the Billboard Hot 100.
U2's proof that 360 tours still be lucrative (at least for mega artists), as their tour in 2010-2011 was the highest-earning tour ever, taking in $736,421,586, with over 7 million tickets sold, surpassing a record previously held by The Rolling Stones.
The powerful launch of the streaming service Spotify in the U.S. in July made Spotify the only online music service that has had any real impact in the online music market since iTunes.
The unfortunate rise of Rebecca Black's song "Friday" showed that in the music industry "anyone, regardless of talent, can have their 15 minutes of fame … and then … try to extend it when it should have never happened in the first place. We live in a time where the fame is all that matters, not how it is acquired."
 In 2011, Lady Gaga seemed to bring back the idea of the omnipresent pop star. Throughout the year, she kept up a rigorous touring schedule while also pushing herself heavily onto TV and radio. Despite all her work, she was only able to get one #1 hit with "Born This Way" and a label by Billboard as fans' "most overrated" artist.
The untimely death of Amy Winehouse actually brought about her comeback as an artist. When she passed away over the summer, the only full album she had released in the U.S. was "Back to Black," which debuted in 2006:  "… with her death came a new appreciation of her soaring talent and a lingering sorrow that another artist left way to  young and without ever reaching her true potential.
The death of Steve Jobs finally seemed to stop speculation (at least for now) about whether or not he had ruined the idea of the album. A close look at his life's work showed the many ways he transformed the music industry and the technological world.
Will Big Music Acts "Downsize" Venues?
Music mega-stars may be following trends that have artists connecting more intimately with their fans by moving away from arenas and large amphitheaters and towards smaller concerts at medium-sized venues, according to a report in the Pittsburgh Tribune.
Many promoters in Pittsburgh and beyond have noted that artists like ZZ Top and Motley Crue, held out for huge stadium shows in the '70s and '80s, whereas in the past couple years, they have been going for medium-sized shows and a more personal experience for their fans.
In Pittsburgh, Bruce Springsteen has played the small venue Soldiers & Sailors Memorial Hall & Museum in Oakland, and Ray Davies and Bruce Hornsby both had shows at the Carnegie Library Music Hall.
Promoters and other industry experts have a variety of explanations for why the concert industry is becoming more "compact." Columbus, Ohio-promoter and owner of the club Stage AE Scott Stienecker cited the decline of radio and the rise of easy access to music through the internet as a contributing factor:  " [In the '70s, '80s and even '90s] We only knew what radio stations played for us … Now, there's so much access to music. You're sitting next to your buddy and he's into Chip Tha Ripper … There's so much music that is new, and they always want something tomorrow that's different from today." And more options means more bands are touring, and that it's harder for one band to build a large-enough fan base to fill a stadium or an arena.
Other promoters cite a decline in talent (and a decline in the quality of artists' live shows) as a reason there is less of a draw when artists come to town. Former Pittsburgh promoter Ed Traversari said, "You don't have that same style where you used to get a CD or record and every song was good from top to bottom … Now it's 'I'll pick one song from this band, one song from that band.'"
However, according to Billboard magazine, the superstars still do well. U2's 360 tour is a good example. But other artists like Bon Jovi and Roger Waters both grossed in the $100 million range.
While younger artists like Taylor Swift and Lady Gaga did well last year touring, Gary Bongiovanni, editor of Pollstar is not confident that new talent will be capable of building lengthy careers:  "The question is will they be selling tickets five or 10 years from now … That's a worrisome thing, because we don't see a lot of evidence of a replacement crop of artists coming along … I think the conventional wisdom is that we will see more smaller shows and less of the larger shows at arenas." He blames downsizing partially on mistakes that were made recently when bands booked tours at large venues and had disappointing attendance, often having to cancel shows and disappoint fans because of poor ticket sales:  "Bands that are savvy will underplay a market in order to build demand and provide a better show for patrons."
Bongiovanni also talked about why playing smaller venues could mean a better show for artists and their fans:  "People who go to a sold-out show in an auditorium are thinking they're in exclusive company and that they're lucky to be there … if you're in an arena, looking around at all those empty seats detracts from the experience."
Musicians are becoming more aware that touring and the industry are changing. Bret Michaels performs at different-sized venues throughout the year. And when he plays larger venues with Poison, he brings along similar acts like Def Leppard or Motley Crue. According to Michaels, as an artist, you need to seek out a venue "you feel good at. But whether it's big or small or medium sized … attack all of them like you're playing Madison Square Garden."
Nick Gatfield of Sony Music UK:  The Music Business "Needs a Massive Shakeup"
The new chief executive of Sony Music UK recently shared his thoughts on the fate of his former co-workers at EMI and why the music industry still needs big changes with The Guardian. Gatfield was senior executive for two and a half years before he leaving for Sony in January 2011.
Gatfield confirmed the rumors that there was a major culture clash between the "straight-laced bankers" of EMI's owner Terra Firma and the creative music industry professionals:  "You had a private equity group and on top of that, people with 'fast moving consumer goods' type backgrounds trying to manage the business as if it was a production line of inanimate products." He called it an "uncomfortable fit" and echoed Thom Yorke's (of Radiohead) sentiments about EMI being like "a confused bull in a china shop." Gatfield added, "Your 'product' is human beings who have opinions. [The art of managing talent is to] reduce the slippage." But artists cannot be treated like commodities, because it belittles the art of making music. "You're dealing with the psychology of running a creative business … The music industry is populated by very passionate and highly intelligent people. It's not like everyone's been asleep at the wheel."
In his interview, Gatfield also talked about how piracy has reshaped the label system and the music industry. Piracy has taken a lot of money away from record companies. And according to Gatfield, the government's implementation of a "three strikes" rule against offenders through the Digital Economy Act was a good start, but isn't going far enough:  "Broadband businesses are being built on the back of illegal filesharing … As high-speed broadband becomes ubiquitous the problem is going to get bigger and bigger. We need site-blocking, and it's an incredibly spurious argument for the ISPs to say that they can't do it because they can do it and they do do it." He feels the process of cracking down at the ISP level is too slow, as letters to offending customers saying their internet service will be diminished or cut off won't be sent until 2013:  "… the lion's share of the cost … is picked up by the recorded music industry."
However, he does feel that in the next two or three years, the music business will start to rise up again. And the digital revolution has not been completely detrimental to the industry; downloads make up around 35% of Sony UK's music sales.
"In a weird kind of way this business needed a massive shakeup." And now that the industry has been downsized, he feels the key is to focus on breaking new acts:  "The business has to be less cynical … If you have a brilliant piece of music people will flock to it and they will buy it. Quality will win out."