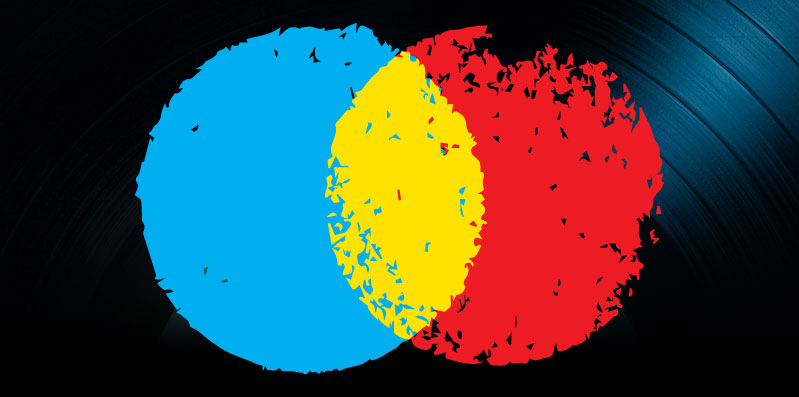 I was fortunate enough to speak with Ian Rogers, the CEO of Topspin.  Ian started off in music in high school as the guitar player in a hardcore band called Albino K-Mart Shoppers and went on to become the webmaster for the Beastie Boys after building one of the earliest and best fan sites the band had ever seen.  He went on to do web design for many major bands of the time, worked for Grand Royal Records, started and sold two different internet companies and wound up running Yahoo Music just before leaving for Topspin.
***Editor's Note *** So I have been hearing about Topspin at least daily for over a year now and last month I was finally able to be shown around their software.  To me Topspin had become that over-hyped blockbuster movie that couldn't possible live up to the expectation.  All in all I have to say I was impressed with their offerings.
Music Consultant:
Ian, thanks for taking the time to speak with me today.  You wrote an early blog post at Topspin and said, "Topspin is about demand creation, not demand fulfillment."  From my perspective having just been given the Topspin tour – the tools you give artists work with are direct-to-fan ecommerce tools, data collection and analytics tools and an email management system.  How are you guys using these tools to create demand for product?
IR:
I think that there are a bunch of hard problems we're trying to solve on the demand fulfillment side. I wish that we didn't have to solve them and that they'd already been solved by others, but unfortunately they haven't.  The ability to do smart bundling and accounting and customer service and fulfillment through different warehouses are problems I would've preferred not to have had to solve, but we have, because there wasn't a great solution out there for them already. We're really building these demand generation tools on top of it, whether it's e-mail for media collection, Facebook fan for media collection/fan collection. We'll be launching SXSW the Tweet-for-Track, fan Twitter follower builder little widget. And then on the other side of that there's all the ways you talk to those fans afterwards. But what we're also trying to do, and what we'll be announcing at SXSW is a number of partners that extend the reach of the artist. We've tried a bunch of experiments at this point trying to figure out how you build fans. We know that the e-mail for media stuff works and it's killer.
Music Consultant:
E-mail for media meaning you can download a track for free as long as we have your e-mail?
IR: Yeah.. I'll give you something of value if you'll give me permission to market to you. It really is Seth Godin's Permission Marketing 101. It really works.
Let's back up. Here it is, top down. Demand creation is a lot harder than demand fulfillment. You give me a dollar, and I give you a file is not a particularly difficult problem at this point. It's been solved for ten-plus years. There are some intricacies that we've tried to solve elegantly around managing digital and physical, around doing fulfillment through multiple warehouses, handling customer service, particularly when customer service is entrenched in some pretty sticky accounting issues in our industry. Those are all things we've tried to solve elegantly, but I think ultimately that's the commodity part of what we do. The part that is more alchemy is, how do you actually gain and gather fans? And once you have those folks, how do you communicate with them effectively? I think that's at this point in its very early stages, and it's still very artful.
Even when it's mature, software can add a lot of value in just the workflow that people go through. If you are a manager that's managing a few artists, there's just stuff you're going to do every day in managing content and getting that content out to fans, and making fan connections that you're going to want software to do it. And you're not going to want ten software programs; you're going to want one software program where it's all integrated, from "I collected my fans through this mechanism, I sent them a note here, they purchased here, this type of marketing works, that campaign over there didn't work, I'm going to do more of this and less of that." Very simply, that's what we're trying to build.
Specifically, how do you do that? We look at marketing in a few different buckets. One of them is direct marketing. You're an artist, and you have a connection to the fan. You have their e-mail address, you've got their Twitter handle, they're a fan on Facebook. These are ways you can directly communicate. And it's fans raising their hands and saying, "Please, talk to me." Fans want to be communicated with. When you ask people, "Would you like to hear from J. Crew?" more or less they inevitably say, "Less." But if you ask them, "Would you like to hear from your favorite artist more or less?" they inevitably say, "More." The direct marketing really, really works. There's just no question.
The question then becomes, "If e-mail addresses are money, how do I gather more e-mail addresses?" We've been trying to build tools and programs that help you do that. The e-mail for media type of thing really works. We've seen artists grab hundreds of thousands of e-mails from it. Metric's manager has been in public talking about it, so I can talk about it, even though we keep the data of our artists really confidential. It's their data, not ours. Metric's manager has spoken about this publicly, so I can as well. When they came to us, they had less than 4,000 people on their e-mail list. Today they have more than 135,000 people on their e-mail list. And that's through the Topspin tools that they've used on the platform. We've seen artists gather more than 100,000 e-mail addresses in a month. That's just incredible to me.
Music Consultant:
Making it more concrete, Ian, basically, you guys have a tool that is an HTML code that you can place anywhere on your website or anywhere else that accepts HTML that enables somebody to either test a song or download a song in exchange for an e-mail address. Is that basically what we're looking at for the e-mail collection?
IR:
Yes. If you go to say, pixiesmusic.com and look at that flash widget there that collects the e-mail addresses, then go to Pitchfork.com and search "Pixies EP" and look at that news article where that same widget was used to give away free tracks on Pitchfork, and then share that into Facebook, you can see that's a viral widget that allows for sharing and really just builds permission marketing relationships. I'm not going to try to tell anybody that building a flash widget that collects e-mail addresses is hard. You can create one of those widgets in less than ten seconds inside Topspin. I saw that Broken Social Scene made a rip-off of the Topspin widget and had it posted on Pitchfork. I actually honestly felt kind of bad, because they probably spent some amount of time on it, and it would've literally taken ten seconds to do in Topspin.  It would've dumped into the CRM platform, it would've geo-located those fans automatically, it would've pulled all the Rapleaf data on those fans, which is basically social media data from a company called Rapleaf that pulls in demographic information as well as information about which social networks those people live on. That all would've happened automatically.
The e-mail goes out to them via white-listed service, so the deliverability is really high. When they click "download" in the e-mail, that's the double opt-in, so you're legal to market to them, and you're COPPA-compliant, so you're not guilty of marketing inappropriate material to underage kids. That really is the type of thing we stand for. It's super simple for the fan, it's viral and easily moves around the Web, but it's also really easy for the artist. We're worrying about a ton of stuff – dotting i's and crossing t's – so that you don't have to. I'm telling you, filling out the COPPA-compliance form alone is a several-hour process that most bands shouldn't have to worry about. We're trying to build that in a way that scales.
And that's just one simple example. We built a share on Facebook and get free media sort of campaign, we've built a share on Twitter and get free media campaign, and those are just ways to build those direct marketing campaigns. Apart from marketing though, and other ways on demand generation, the viral marketing stuff is crucial. You've got artist to fan, but then there's also fan to fan and trying to build tools that make the fan to fan work. You can't force viral activity, but you can make it more fluid and reduce friction. If you put a "Share this on Facebook" at the end of the purchase flow, a lot of people are going to say, "I just bought the Portugal The Man record" to their friends and share it on Facebook the same way they're sharing, "I just bought some new shoes on Zappos" on Facebook. So you can make that more friction free and just reduce friction in the viral channels. There are other forms of marketing, and you mentioned SEO. Basically, if I were giving two bits of advice to artists based on what we've seen, the two most important things you can do are gathering e-mail addresses and have better SEO, because that's where the majority of sales come from.
Music Consultant:
Let me stop there and ask you, because you guys list SEO (Search Engine Optimization) as a best practice, and believe me I'm a firm believer in SEO, but when you're talking about SEO for art, what other than making sure the members' names, the band's name, maybe the genre of music – what would you recommend that people are in fact trying to be found for? Obviously it's using anchor text and keywords, but do you have any recommendation for types of keywords unless somebody is creating art for a specific purpose, i.e., music for meditation, music for yoga, music for skateboarding, whatever it is? Do you have any recommendations on which types of keywords above and beyond the band and brand names people should be searching for?
IR:
You know, I don't really to be honest with you. We haven't seen a case where artists have really been able to move the needle by gaming SEO. I think the most important thing is to make sure if you are building any sort of buzz that you're incredibly easy to find. For example, we were working on the David Byrne/Brian Eno record, and the SEO was all around David Byrne and Brian Eno of course. And then we were going for the obvious things:  Talking Heads; Roxy Music – anything we thought peripherally people searching for these things would also be interested in this album. We actually redid the entire campaign when KCRW and KEXP started playing "Strange Overtones." We wanted to take the hook for the song and made sure that if people were searching for "Strange Overtones," the first thing they found was that David Byrne/Brian Eno site. Similarly for small bands, I've actually seen, like with the band I manage, which is Get Busy Committee, which is literally a band that did not exist online three months ago, the album is called Uzi Does It. There are t-shirts out there that say "Uzi Does It."
Music Consultant:
I have to compliment you, because if I were between the ages of 11 and 19 and wanted to get back at my parents, I would definitely have that Uzi-shaped USB with their album on it.
IR:
I'm not sure if I'm proud of this, but we've had a lot of people that are gun collectors who are interested in the uzi-shaped USB, who know nothing about the band. Being sure I have all the keywords for Uzi Does It, for people that are looking for the t-shirt, USB uzi, all those products in addition of course to the fact that the band's producer Scoop Deville is also the guy that produced the new Snoop Dog track "I Want to Rock" and he produced the Fat Joe track "Ha Ha," and he just produced the track for Busta Rhymes. Those are all things that when I'm thinking about my SEO, I want to be sure I rank with.
Music Consultant:
I often come across something in a commercial and think, "Oh, Volkswagen ads, one or two lyrics that I hear distinctly between the dialogue," and it's rare that anybody bothers making sure those keywords make them more findable, which is just frustrating.
IR:
Yeah. I bet nobody was going out and making sure when you searched "ice skating commercial music" that The XX came up, because that was that commercial that got ran over and over during the Olympics that had that great XX intro track. It was a great placement for The XX, but I wonder how people knew that was The XX if they hadn't already heard the record?   I'm sure people were searching "ice skating commercial music" and that sort of thing. That's the thing, you really just want to think like somebody who is discovering music. If you have a spin on late night college radio, and someone had no idea who you were, what would they type into Google to figure it out? You want to make sure you rank with all that stuff. We've actually messed with some SEO tools inside of Topspin. We haven't released any yet, but we have some really simple things that you just put in your keywords and it will look at your page and see how your page is and if your page is well done, and we make some suggestions on what to put in the title and the meta headers and that sort of thing.
———
Part two of this article will run in a few days.  In the meantime checkout Topspin and the Ian's clients the Get Busy Committee