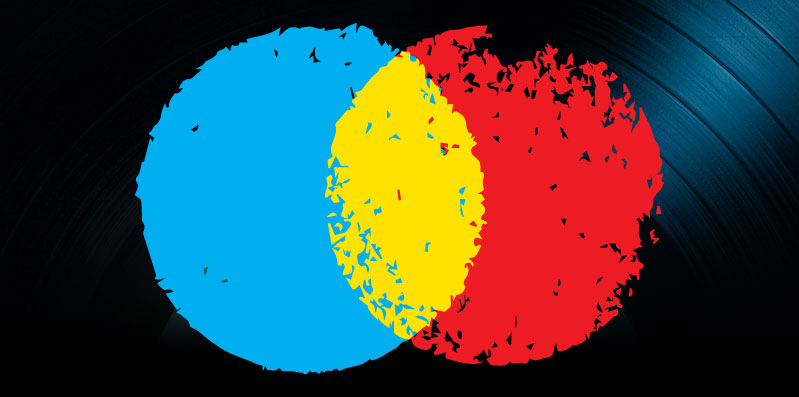 Brannon McAllister is the co-founder and designer of NoiseTrade, an online service that offers free music to fans of artists in exchange for their contact information:  an email address and zip code. Prior to working with the site, Brannon did record packaging and websites for a variety of artists in the Nashville music scene. However, he attributes most of what he learned about the economics of free music and the music industry in general to being part of the process of building NoiseTrade.
I recently chatted with Brannon about building a successful free music service, how his platform can benefit artists and strategies artists can increase their chances of success within the current climate of the music industry.
Music Consultant:
So How does NoiseTrade work?
BM:
When artists sign up for NoiseTrade, they can post a single, a live show or a full album. Fans then download the music in exchange for their emails and zip codes, which can be imported into any mailing list application, including FanBridge, Emma, Constant Contact and MailChimp. Many of these services allow artists to send localized email blasts to promote specific shows and / or manage mass mailings to promote upcoming albums, song placements, festivals or national tours.
The site widget can be embedded on artists' sites, either on a splash page in front, on the home page or even within an online store.
Music Consultant:
How many artists are currently using your service?
BM:
The site has approximately 4,000 artists. We handle well over 100,000 downloads through the site per month, and about five-ten artists join the site every day. The quality ranges from 14-year olds with a microphone to bands like the Civil Wars, a band that used NoiseTrade to gain thousands of new fans, and currently (Early Feb 2011) has the #1 spot on iTunes.
Music Consultant:
How did the idea for NoiseTrade come together?
BM:
The first I heard about it was back in 2006. Derek Webb, who's a songwriter that I'd followed for a few years called me up and said he wanted to meet up at Jammin Java, which is a coffee house based music venue down in Columbia, SC. I drove down from Greenville where I lived at the time and we met up for coffee and talked a bit. He explained this idea he'd had for a while. His own record Mockingbird had come out recently, and there were the seeds of the idea for the whole platform at this time. In September of 2006, he gave away Mockingbird and just required fans to type in five e-mail addresses and zip codes. In about 3 months time, he gave away 80,000 copies; 20,000 was in the first day, the next 20,000 was in the next week and so on.
Music Consultant:
I'm not very familiar with him as an artist. Did he already have a pretty big fan base?
BM:
The record he'd given away had released earlier that year, and he'd sold about 20,000 copies. He had a pretty decent-sized following. From there, it was a proof of concept. Because the album giveaway went so well, we were sure we had a great idea to apply to the overall platform. We started working on it, and it took quite a while to launch. We launched the site on July 4, 2008 and required fans to enter five email addresses. Some of the other platforms like Twitter and Facebook weren't quite as dominant as they are now. And at the time, having fans refer their friends by email was our best way forward.
Music Consultant:
Tell me about the product as it is today. There are so many platforms now. What are the strengths of NoiseTrade vs. any of the other folks collecting email addresses:  Nimbit; TopSpin, etc.?
BM:
I think our first priority is been to make it free on both ends of the equation. We make it free for our artists and our fans. We're making free music, but we're also providing the platform for free. At this time we find providing the basic level of service for free to the artist enables more artists to join the platform than would otherwise. It encourages a long tail vs. just artists that already understand the economics of free. Initially we did have a sign-up fee of $250 for our artists. Over time, we found the way to run our business without having to charge the artist that startup fee. It just made a lot more sense to provide it for free.
Music Consultant:
How is it that your business makes money?
BM:
Fans can tip the artists at the end of the download process. They type their email address and zip code and are given a chance to give the artist a tip, anywhere between $1 and $100. NoiseTrade keeps 20% of that transaction, and the artist gets 80%. What's nice about that model is that it immediately covers all our bandwidth costs. As long as the proportions stay pretty regular, that scales along with the overall growth of the site and covers all the costs of running the site.
Music Consultant:
Which percentage of people actually do tip in exchange for the free music?
BM:

I'd say 5%, so it's not very many at all. But I will say that when artists ask fans to tip a certain amount of money, the percentage goes drastically up. Left to their own, 5% of fans are going to give money if they are given a choice. But if an artist actually builds a landing page for a campaign and leaves a message for fans saying, "We think this is worth $6" or "We think this is worth $8," a much greater percentage will tip at a higher rate. And then when people do tip it's pretty good. The average tip is between $4 and $5.
We usually tell our artists that they can expect between 3% and 15% of fans to tip, depending on how much they are willing to push for it. If you're an artist that is mainly concerned about building a mailing list, you just focus on telling your fans it's free and don't worry about the tips. Many artists earn a few hundred dollars on tips, but a couple have netted as much as $4,500 in a few months.
Music Consultant:
Say you were trying to explain NoiseTrade to my mom- she's never used a computer. How would you explain this platform to her?  What is the value proposition for a band?
BM:
Basically, it's simply a way for artists to exchange music for information about their fans. Ultimately, it's providing the fans with what they want, which is free music, and the artists what they want, which is fans that have never heard of them through recommendations and information about where those fans live and how to contact them. We still collect zip codes and emails.
Music Consultant:
Is there a back end? Is that dumped into a .csv, or do you have a mail management client as well?
BM:
We provide the artists with a .csv. They can easily click a single button and down comes the contact file they can drop into Emma or Mail Chimp or whatever they choose.
Music Consultant:
What about sharing options? Where can you move this, embed this, place this?
BM:
As far as simply sharing a link, you can obviously do that through Facebook and Twitter. But we use an embed code to be able to let artists embed the widget on any website. We even have some artists that build a simple landing page that explains to fans what to do and what the album is, so they can brand it however they want. Using the NoiseTrade landing page is also really helpful and gives fans a more direct way to share and find information about the artist.
Music Consultant:
Who have been some of the DIY artists that have had success on the platform, and what is it you think they've done with the platform that was more effective than others?
BM:
I think that artists that have the most success with it are those that actually turn it into a campaign. Rather than simply uploading music and expecting people to show up and download it, they're messaging their core fan base already. They're prepping them for it by building anticipation towards the free music and then messaging their fans hard about it throughout a campaign. Artists that have done a really good job in various ways would be Katie Herzig. She has a growing fan base and often opens for Brandi Carlile. At her shows she can mention she has free music available. I think some of the ways she's done a great job is that depending on the situation, she'll change up her strategy. For example, if she has a song that's featured on a television show, she'll feature that one single on her widget for a short period of time, for a week or so. As people find out about her after hearing her song in the show, they'll find that same free song available for the cost of signing up for her mailing list. In some cases she's even given away a full album.
Artists that post music and don't put in any effort may see very little results:  only 50 or 100 downloads. But some of our most well-known artists have seen anywhere from 15,000-40,000 downloads over the course of several months. Most professional artists that give it a real effort tend to fall between 1,500 and 7,000 downloads.
Music Consultant:
I'm going to switch gears on you a little bit, because you actually have the design skill set that makes your perspective even more interesting. I would love to talk to you about some of the biggest mistakes you've seen with artists packaging themselves from a design perspective with their album covers, press materials, websites and other materials. What advice would you give to artists looking to find and hire a designer, or things they should keep in mind when designing their own stuff? Let's start with an album cover.
BM:
I think in the days when artists' records were going to be stacked up on a shelf, where you're seeing the top spine as you're flipping through it, the pressure was on to make sure the title or artist's name was high up on the artwork. I don't think that's as big a deal these days. The key things for artists now is to not make their name too small. They need to design it with postage-stamp-sized icons on iTunes in mind. This might help artists lean towards a bolder design in their color scheme that will be more eye catching on a smaller scale. I even see artists on NoiseTrade making the name of their band absolutely tiny, and it makes no sense for a 240 pixels square.
Music Consultant:
That's true. You are really left with a Chicklet of the album artwork sometimes. What about from a web design perspective?
BM:
One thing that's true is that I think artists can get away with a lot more simplicity in their web design than they think they can. I think most artists could actually do fine with a single splash page that has all their connecting points on that one page. I'm thinking in terms of a Twitter feed, a Fan box from Facebook, tour dates, some album cover and a link to iTunes and Amazon. As long as they have that on a single page, I feel like they should go ahead and use that for their website and then spend most of their time out on social networks talking to fans and using the social media space as a home base, rather than creating a huge website presence. There are artists that need to create a huge community and do a huge main site. But I think the majority of artists are going to be served just fine by a single splash page.
————-
To learn more about Brannon and NoiseTrade visit the NoiseTrade website. You can also keep up with Brannon via his blog or Twitter.