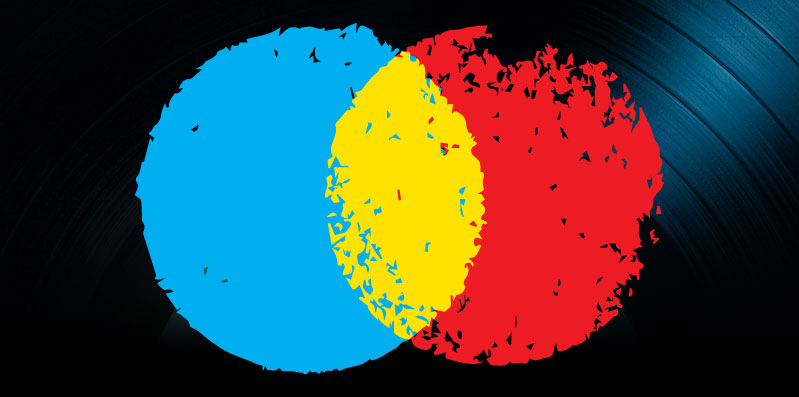 Breaking a Modern Hip Hop Act
Alex Stern is the manager of up-and-coming DIY rap artist Sam Adams and owner of the flourishing clothing company Eighties Babies USA. Originally from Massachusetts, Alex launched his clothing company while he was attending the University of Colorado as a studio art/graphic design major and began to focus on promoting his brand successfully through social media and networking. While at Boulder, he also decided to combine his love for Hip Hop with his marketing and business savvy and team up with Sam Adams, who had been his best friend since high school, to help him build his music career. Within months, Alex, Sam and his hoards of loyal fans were able to bring Sam from a freestyle rapper making music in his dorm room to an internet sensation and a touring artist with a #1 album, Boston's Boy, on the iTunes Hip Hop chart.
I had the chance to talk to Alex about what drew him to Sam Adams, why he has been so successful at harnessing the power of internet marketing to promote his brands and how he plans to help Sam further his Hip Hop career in the modern music industry.
Musician Coaching:
How did you get involved with Sam Adams?
AS:
Sammy and I got connected through a natural, organic process. We became friends in high school when he moved out to my school in Boston my senior year. When I first met Sam, I was attracted to him as a result of his general swagger, and not necessarily because of the music. He had a different attitude and demeanor than most of the kids I'd been around. I was immediately attracted to that right off the bat. When I first started hanging out with him and listening to his productions and what he'd do on the computer at a very early age and a very early stage for him – around 16 or 17 – I realized that he had some kind of weird, innate inherent talent that I'd never seen before in any creative field, and it really turned me on.
We didn't really start working together on music at that point, because we went our separate ways to school. I went to school at Boulder, he went to school at Trinity. But I stayed updated on whatever he was doing musically on probably a weekly basis for a year or a year and  a half. He hadn't actually even recorded his voice on anything yet when we were both a couple years into college. The first time he ever really laid down vocals and let it be heard was on "I Hate College," which was obviously a huge turning point. When I heard that along with a bunch of other stuff he'd done in his college dorm room, I put into the mix along with all the other music I was listening to. I've been a huge Hip Hop head my whole life, and a huge music listener.
Musician Coaching:
"I Hate College" was the remix of Asher Roth's "I Love College," right?
AS:
That's correct. Basically I put him into the mix with everything else I was listening to, and I had a feeling he was better than any of the music I was excited about at the time. He could fit right in, if not be the best, and I wanted to make something out of that. So, at that point I decided to bring him out to school at Boulder and do his first show at a bar, collect some liquor money and some door money. That's just the summary of how we got started and how our relationship came to be.
Musician Coaching:
And you're also running a clothing company called Eighties Babies?
AS:
That was something that started before I worked with Sam. When I was out at school, my first jump into the social media world was sparked by the clothing company I started. I went to school for graphic design and art and started designing t-shirts and other clothing. The way I got my clothing out and started doing really well with that was through Facebook primarily and also through events. I used Facebook to really make it pop. I had that background when I started with Sam, and it flowed right into helping promote him.
Musician Coaching:
Obviously Sam has something that people gravitate towards, everything from his video leaking and getting a million hits on YouTube, to an independent artist topping the hip hop chart. Clearly he has something people want, so you can't define that, but from a business perspective, what did you guys do that other people didn't? Which marketing techniques did you use, and how did you use mixtapes? What were the major business steps you took to get Sam on the map?
AS:
I think it's important that in your question at first you said, Sam's so appealing, and people gravitate towards him. My job was really just to put him in front of people, so they could really experience that feeling, and it wasn't something they had to go after or find out about. It was something that was easy for them to see and blatant and obvious. I didn't really have a business model; it was just very natural for me. The way I did it was I stayed on Facebook – and I still do to this day, though back then even more – all day, posting new stuff and being in their faces and in their news feed. People were and are using Facebook or Twitter or YouTube on a daily basis all day. What that does is, whether they think they like Sam yet or not, they're going to get the opportunity to really find out. With a lot of other artists, you have this preconceived notion that you like them or you don't like them based on a few visuals or half a verse you may have heard from a friend. With Sam, there's no way if you're at all connected to anyone in our network that you're not going to see his face 150 times and hear a bunch of his songs unless you really ignore it.
Musician Coaching:
That would suggest to me that you guys had a lot of early super fans, people who gravitated and were willing to do their own additional promotion because they were such big fans.
AS:
That's absolutely a fair assessment. I think that was something that I had recognized was an asset to us from step one. Did they help me out? Absolutely. But we enabled them and gave them that responsibility very purposefully, because to me, creating an environment where our fans that love Sam felt like they were part of it, and part of his family and community and part of his team and promo has no downside. There's only upside, and they proved that, because for any time I wasn't on the ball putting something in someone's face, I had 100,000 kids who were just as passionate as I was about it and willing to put it in their friends faces.
Musician Coaching:
What does creating an environment that enables other people to pick up promotional tasks look like specifically?
AS:
It's about being approachable online, being responsive and having a dialogue with your fans that makes them feel that they're as important as they really are. Being in this business, as I'm sure you'll know, the idea of being unapproachable and being someone famous has been important for a long time. But for me, that was selfish, especially with the existence of YouTube. A good way to exemplify what I'm talking about is – and this is the biggest secret I have business wise that I've never really talked about publically – we've let our fans put our YouTube videos out. If you look at any other artist, they have an official YouTube log, and they're going to put out every video first so they can get their numbers up and then take a good look at their numbers and use that as their business model. For me, that seemed selfish. The only upside to it is that you can check out your own diagnostics, which there wasn't much value in for me. If we gave fans the opportunity to feel like they were the first to put out our music, and their video is the official video of a certain Sam Adams song or a certain interview, suddenly not only do they feel like they're just as important as we are in terms of promoting him, but we're getting our product out to an entirely new network that I may have nothing to do with or not be a part of whatsoever. And that was appealing to me.
Musician Coaching:
That's really great. It sounds like this started for you guys when you were still in college. Did penetration of and access to the college market help you in any way? How did you leverage that?
AS:
I think to say "it helped us" is an understatement; it created us. It's the sole reason why Sam Adams came to be. The college network and the Facebook and Twitter networks, but mostly Facebook and YouTube created us. The environment you live in in college is such a small world because of Facebook that he became a trend in that world that was stronger than it could've been in any other place. His timing and his sound along with that was just explosive. So, the college market and Facebook were absolutely the most important things.
Musician Coaching:
How does an independent artist go about becoming #1 on the Hip Hop charts? It sounds like non-stop social networking promotion, and obviously he was performing and collecting some super fans to get up and do stuff with him and for him. What were the steps you took to promote a release, and which tools did you use?
AS:
The credit has to be given to Sam as far as getting to #1 and making that release be so special for us. I could reiterate the value of Facebook and YouTube and everything, but the real value came from his sound and his timing within his environment. And he was able to put out a brand new, authentic white rap sound that was naturally poppy and naturally danceable to his market. We didn't have to do much work. I can't take credit, and no one can take much credit except for him, because he had the ability and that genuine sound. That's what made that release happen and made him go to number one. I was there to help out on the sidelines with everything I already talked about and do. Obviously that helped it go to number one too, but the rest is all Sammy.
Musician Coaching:
Did you find mixtapes helpful in promotion? Wasn't that some of Sam's early stuff?
AS:
We put out one mixtape. Most people involved in social media and networking that way and promoting themselves that way would say that mixtapes are the most important thing, and putting out free music to their fans is huge. To me, that's not really part of my model. I think if fans love something they should be able to buy it, and it should be powerful enough for mixtapes not to run their career, especially when  you're someone who is as naturally pop oriented as Sam is. You need to be a sellable artist. We have such an extremely hardcore fan base that are so passionate about him that they almost don't want a mixtape track compared to something they know is mastered and has a perfect sound. They'd rather buy it and have the best version of something compared to a more Hip Hop-oriented genre, where mixtapes are more appealing. That's not us.
Musician Coaching:
What's next for Sam and for you?
AS:
The next step for Sam is for him to sign onto a major label and put him in a place where he can really maximize his potential, which to me and everyone else on his team and to Sam himself is the most elite place that an artist could be, and we want him to be the best and be a superstar of the highest magnitude. Our next step is deciding which label to go with. We've been approached by everyone in the world and have sat down with every president around the nation in the last year. IT's about deciding who is really excited and who really comprehends Sam the same way we do so we can make that transition and be proud of the move we've made. Considering how well we did on our own, it's important for us to really transition well.
Musician Coaching:
I'm going to ask a question, because to be honest, so much of what artists want out of a label you've accomplished yourself. Of course, with a major label there's distribution and a giant team. But what do think the most valuable thing about a partnership with a major label would be at this time, since you do have so much going for you? What is the missing ingredient for an artist of Sam's stature to move forward?
AS:
I would say that radio along with an international presence are the two ones that stick out in my head that I would really appreciate help with, and that's where the label is going to come in. There's a certain extent to what I can accomplish, and I've really maximized my resources at this stage.
To learn more about Alex and his clothing company, please visit the Eighties Babies USA website and become a fan on Facebook. You can also keep up with Alex on Twitter. To learn more about Hip Hop artist Sam Adams and listen to his music, visit the Sam Adams Live Facebook profile, or follow him as BostonsBoy on Twitter.