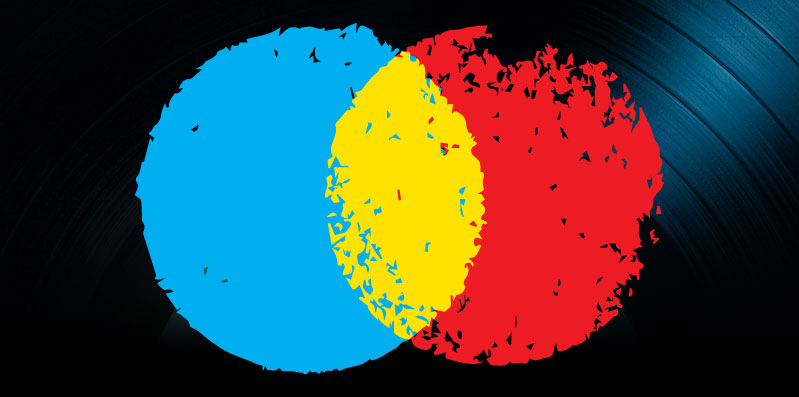 CD Manufacturing – Still Valid?
Joe Guyette is one of the owners of the CD / DVD Manufacturing company Breakthrough Audio.  Joe started his music business career managing bands while in college and went on to co-manage bands with The Bodeans' manager Mark McCraw and Uppercut Management who handed Kid Rock at the time.  Not long after leaving management he and his partner Craig Winkler founded Breakthrough Audio.
Music Consultant:
Tell me a bit about Breakthrough Audio and what you guys do.
JG:
Breakthrough Audio is a CD and DVD manufacturing company. We built up a grassroots name through finding key bands that were using us for their manufacturing and started doing networking with the managers and connections from there and built up a mom and pop kind of shop in Chicago. We started as a cassette duplication company where we had 100 cassette decks all tied in and soldered together and started out doing cassettes, and when CDs came about we started doing CDs and then DVDs. We started doing a lot of bands' manufacturing throughout Chicago and throughout the U.S. We do a lot of indie labels as well.
Music Consultant:
What are some common mistakes you see people make with their manufacturing? Do people order too much or too little product? What is your advice for someone who is pressing their first 500 or 1,000 CDs or DVDs?
JG:
The best advice I can give is to definitely plan ahead. The biggest mistake is not so much in the manufacturing because there are always proofing processes that take care of that. I would have to say out of all my orders, 90% of the orders I get from my bands are bands that already have a date for a CD release party, which is usually only a week to three weeks out. They don't understand that the manufacturing takes three weeks. Every Friday we have bands in our office picking up CDs between sound checks and their CD release party show. When I ask them how much promotion they did for their show, they often say, "None, because we didn't have any CDs." And that's when I say, "There probably won't be too many people at your CD release party because you didn't do any pre-releases or proper planning." Bands tend to think the day they get their CDs should be the day they have their CD release show because they can't wait. There usually very little planning. There are no reviews in the local newspapers, no Internet reviews. That's definitely the most common error that I see. It's really stressful, because we get a lot of bands that do place orders and come in with tight timelines and we have to make those deadlines.  In my experience, bands don't budget well either. They spend all their money on recording. They'll spend sometimes as much as $20,000 on recording and then will come to me and want the best-looking package on no money. Budgeting and timing always seem to be the biggest issues.
Music Consultant:
That sounds like a lot of bands I know. Do you have any other ancillary service other than the manufacturing end? Is there a marketing arm or anything like that?
JG:
We do not have a marketing arm, but we do send off music. We do listen to every CD that comes in, and when it's good, we send it off to the proper channels to see if we can help out the bands in any way, whether it be a record deal or licensing for movies or TV shows. It's all based on if we think there's a good market for it.  It's not a promised service – It's something we do when we feel that something has potential. If we sent everything out there that got submitted to us, there would be no credibility, because we would just be vomiting out bands left and right, going for quantity rather than quality.
Music Consultant:
How has your business changed with the dawn of the Digital Age? Are you experiencing different types of orders, less orders, more of a different type? What does the changing landscape look like for a manufacturer?
JG:
Breakthrough is experiencing more orders for bigger quantities. I think it's because what you're seeing and hearing and the numbers being reported to the people on CD sales are based on major labels numbers and not actual manufacturing numbers. I've done more runs of between 2,000 and 10,000 in the last five years for touring bands than we ever did for bands that would just do 1,000 units. I think part of that is due to the label system not signing as much as they used to leaving it to artists to do themselves.  There were a couple years – and I haven't had this happen in a while – but there would be bands that would come into our office all the time and disappear for a few years. They'd used us exclusively for years, and then we'd never hear anything from them. And I'd say, "Where have you guys been?" And they'd say, "We did a record, and did a digital only release." And I'd ask them how that went, and not one response was, "It went well." Every response was, "It was terrible." And I'd ask them why, and they'd say, "Nobody cared about a digital release. We couldn't get any press or any promotion, and no club wanted to book us for a CD release party when we weren't going to be selling any CDs." So, they would come back to us and were always adamant about getting CDs done. And I'd ask them how those digital release tours went, and they'd say they didn't make any money and actually lost money because they weren't selling product. I think in the music business today you still need to have the physical copy. You need to sell to people in the bar at shows. If you hand out download cards, generally the people don't go and use them. I've actually received download cards from friends of mine that have bands, and I've not once downloaded the music.
Music Consultant:
I haven't either, actually.
JG:
It isn't because I have a CD company. It's just because it gets lost in my wallet, I drop it, it's in my car, or who knows what happens to it. When I sit down at my computer I'm so busy trying to do work that I just don't get to it. But if they had given me a CD, I guarantee on my way home I would've listened to the CD. Back in the day when I used to leave the Metro in Chicago all the time, there used to be 20 bands handing out free CDs wherever we went. And I remember I would go and listen to those CDs on the way home every time, and now you barely see any of that happening anymore. Everybody thinks because it's a download, digital age, there's no point in having a CD. It's not even a bias, it's just my experience.
Music Consultant:
What advice could you give to aspiring musicians that are looking to get their product manufactured? How would you determine which manufacturer you would hire?
JG:
A lot of bands go strictly on price. One of the advantages that we have at Breakthrough is that it's a small company and clients get to deal with the person that is actually handling the manufacturing, rather than a kid handling the database with comments. To me, that's a big deal – when you know you're going to get the person with accountability on the phone. That's something to really consider, and not just being treated like just another number coming through the door. When I look for a company to do business with, I always look for that as well. I don't want to be treated like a fast food product.
Music Consultant:
Do you have any idea as to whether or not deluxe printing – cardboard cases with inserts – sell better for your clients?
JG:
We used to run 80% jewel case products, and that's really opposite now. Now it's about 20% jewel cases and everything else is digi-packs and 5-inch cardboard sleeves. Everybody thinks they are more economical and earth friendly because it's cardboard over plastic, which on some level is true, but really in all honesty, once you manufacture something in cardboard it really no longer has any use. The plastic jewel cases became so universal because they could melt them back down and reuse them again or take an old product out and reuse the jewel case. So I don't think the 5-inch cardboard or digi-pack is much more earth friendly. If you have 800 CDs leftover from your order, and they are in digi-packs, there's no other use for those. If you have jewel cases, you can probably sell them to a friend or to a vendor like myself – and I've bought them off bands before, and I've reused them twice.
Something else to consider is that when you're purchasing a cardboard digi-pack a lot of companies are advertising that it's recycled cardboard, but if you do your research click through to about the tenth web page on their site, you read that only 10% is recycled and the rest is new.
Back to the original question though, we are seeing a huge influx of digi-packs and 5-inch cardboard sleeves. Huge.
Music Consultant:
Any other parting words of advice to bands about hiring the right partner or music business advice in general?
JG:
When it comes to manufacturing don't go just for price, go for quality and relationship. A lot of it is relationship based. Find out which companies your friends have used and see what their experiences have been. Take referrals. When someone calls our office and says, "So and so referred me," it really means a lot. We know that if we don't treat these people with the proper attention, and then they go back and tell their friend that the referral they gave was terrible, we're losing two customers and not just one. We always tend to take those referrals very seriously.
———————
Learn more about CD & DVD Manufacturing by visiting the Breakthroughaudio.com.