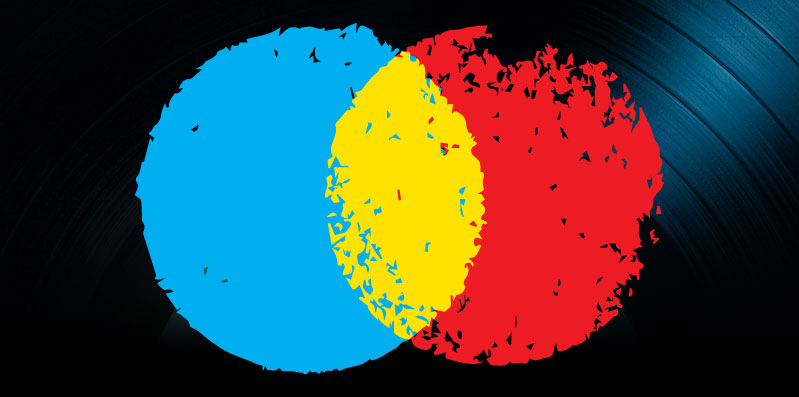 Billboard Pro: A Resource for Emerging Artists
George White is General Manager of Billboard Digital. With nearly two decades of experience in the music and digital media industries,  he has worked for major record labels such as Atlantic Records and the CD-ROM industry pioneer The Voyager Company, where he developed enhanced CDs, CD-ROMS, DVDs and games as well as some of the first artist websites in the 1990s. He has worked with artists including Laurie Anderson, Hootie & the Blowfish, T.I. and Led Zeppelin. Just prior to joining the Billboard Digital team, he worked for Warner Music Group, where he was Senior Vice President, Strategy & Product Development and headed up development of Warner's digital mobile products to develop new ways of delivering music. He is also the co-founder of the major digital media package standard-setting organization Connected Media Experience (CME).
I had the opportunity to sit down with George and talk to him about how he found his way to music industry, the history and future of internet music, and some new initiatives Billboard is taking to nurture the careers of new and emerging artists.
Musician Coaching:
Thanks for talking to me today, George. How did you get your start in the music business?
GW:
I had eliminated a number of career paths when I was at Davidson College primarily by trying some different things out. I started off thinking I wanted to work on Wall Street and also considered being an attorney, but ultimately decided neither were exactly the direction that I wanted to go. I took a year after college and taught in the western province of Kenya and did some thinking about the direction I wanted to take and what I wanted to focus on. Music had always been something that took up a lot of my leisure time. I had worked at the college union and had done a lot of recording and live sound. I played guitar, but not very well, and had some friends who were trying to make a go of it as a band in Durham, North Carolina. So when I got back from Kenya, I decided I was really going to make music a focus and really try to work with my friends' fledgling band, the Iotas, with the goal of learning how to be a band manager and learning how to help bands, but also learning the business of touring and recording, which they were doing a lot of, just to see if there was a niche in the music industry that I could explore.
While I was working with them, I met a band called The Veldt, who had been signed by Capitol Records, dropped by Capitol, and then resigned by Mercury Records on the Stardog imprint. In between their being dropped and re-signed, I had read a piece about them in Rolling Stone that said this great band was basically hanging around and having a hard time getting gigs. So I called them up and asked if they would let my band open up for them if I got them some gigs. They said, "Yes," and I proceeded to book a few shows locally. The band recommended me to Mercury Records for a summer internship in the A&R department there in 1992, which was how I got my first gig in the music industry. I got to understand a little bit about how the A&R process worked and organize their tape collection.
I took some additional classes in North Carolina to get credit for the internship and learned a little bit more about recording from some guys at Reflection Studios down there. I also worked in receiving at Barnes & Noble, so I got to know the ordering process very well. I moved back to New York trying to look for other work in A&R. Through my interest in recording, I got more and more savvy about computers and how they were used and learned of a Santa Monica-based company called Voyager, which had just started publishing CD-ROMs with music-related content. I sent my resume there and eventually got an interview. Funnily enough, Michael Nash who is now the Executive Vice President of Strategy and Development at Warner was actually at Voyager at that time. Michael had been working with the Residents at the time to do a CD-ROM project called Freak Show that Voyager published. It ended up that Michael actually did that first Residents title and then split off to form his own CD-ROM publisher.
In New York, I also worked on the floor and was managing the fiction section at the Barnes & Noble on the Upper East Side. I knew inside and out at this point how Barnes & Noble ordered and merchandised books. Voyager at the time was trying to figure out a way to sell its CD-ROMs in bookstores. Because of my experience, they hired me to run a pilot project with Apple, where they put a computer and CD-ROM titles in eight bookstores across the country, two of which were in New York and the others were some bigger independent bookstores scattered throughout the country. It was a very successful project that got attention for CD-ROMs in bookstores. I ended up being hired full time after the pilot project by Voyager as the Director of Retail Sales and Marketing there, and was specifically focused on the book channel and getting CD-ROMs in as books. Voyager had a number of great music titles. In addition to that Residents title they had The Beatles' Hard Day's Night on CD-ROM and went onto do a Spinal Tap CD-ROM. We also worked with Laurie Anderson on a CD-ROM project called Puppet Motel. And we sponsored Laurie's 1995 tour in conjunction with publishing that CD-ROM, so I got to work very closely with her and went on the entire European leg of the Nerve Bible tour.
I started to work on web projects as the internet began to push CD-ROMs aside in 1995 as a really viable way to experience multi-media. I worked on a companion site to the Nerve Bible tour called The Green Room, which was one of the very first music tour companions on the web. We did some webcam video of Brian Eno backstage in Dublin and uploaded it. Voyager also had an interesting product called CDLink, which allowed you to click on a link on a webpage and play an audio CD that was in your CD-ROM drive. But in 1995, the quality of the audio with the newly-debuted RealAudio was not good, and it was kind of painful to listen to music, so multi-media experiences were few and far between on the web. With CDLink, you basically authored a webpage – it could be an online enhancement of the CD. And anyone with that CD could come on that webpage and get it. We worked with journalists to write pieces about music. We did a number of showcase pieces using the technology, and I tried to call folks at the various New York-based major labels to pitch the product. But they couldn't figure out why in the world they would actually want to produce web pages for products they'd already sold to their customer base.
I was ultimately rewarded when the people at Atlantic Records – to whom I had pitched the idea – were so impressed with either how crazy I was or the amount of gumption that I had to actually ask for a licensing fee for this nefarious technology that when an opening came there to run the technology for their fledgling new media department, they asked me to come and join there as an Associate Director. I stayed at Atlantic and the Warner Music Group for about 13 years, until the end of 2009.
Musician Coaching:
We're certainly going to circle around to what your position is at Billboard. But you were really one of a dozen people on the planet – or at least in the States – who had a real say-so and was a real gatekeeper into the way that a major music content company was liaising with technology. You must've seen so much. Is there any lesson to be gleaned about the way that's all headed? Obviously it's a lot more complicated when you're in the middle of it, but what is going on with evolving technology and music at this point?
GW:
I guess the lesson I would draw and that I would then apply to the state of the industry today is that you should really not worry as much as perhaps people are and have been worrying about displacing your sacred cows. If something is really going to destroy the business you already have, it will do it with or without your complicity.
During the first four years of my time at Atlantic, the company was very bold and experimental with doing tons of promotional stuff. The label would really invest quite a lot in doing things that would create more awareness, interest and engagement with fans in the interest of getting folks to go out and buy a CD. In the early days, however, there was a great deal of reticence about licensing digitally, particularly the unbundling of CDs and the ability to buy individual tracks. Despite the fact that by the end of the decade Napster was there, and people could download a single track readily, there was still a lot of hand wringing, which would result in three more years before there was a significant licensed service in the iTunes service. If you remember when iTunes was originally licensed and the licensing discussions began, that was a Mac-only service. It made it a good place to experiment because there was little risk:  There weren't many people with Macs and there were even fewer people that had an iPod and a Mac. Of course, by the time the service launched, they had begun to sell iPods that were compatible with PCs and were shipping iTunes for the PC.
It's amazing to think how differently things might have come  about had we been really pushed to aggressively license and develop services very early on. The first people approached us for licenses in 1997-1998. And had those services been licensed aggressively, and had there been a lot of experimentation, there might be quite a few players in the digital download marketplace today. I tend to think – although Apple has done an incredible job – that having quite a few solid players that had been out there for a long time would have been a very healthy thing and probably would've resulted in a lot more early experimentation. The direct application to today's marketplace would be looking at ad-supported free streaming services as a way to really sell subscription services, and the embrace by the industry of an online streaming product instead of a promotional vehicle.
Musician Coaching:
As someone who has been closely involved in the process of developing internet music technology, do you think something like Spotify possible? Do you think it's headed towards non-ownership streaming music in the cloud? Every time I turn around, it seems like there are giant fatal flaws in these cloud services that are coming out.
GW:
I think ultimately, the consumers will decide. And I think there's a lot that points to the cloud models. But there is going to have to be a lot more innovation and focus by labels and the creative side in general on what it means to release your music into the cloud. There are clearly lots of problems with the cloud, one of which is the question, "Are individual artists going to be able to be successfully compensated?" And the answer may be, "No." But it doesn't mean that services will not get created and will not exist. There are problems to be solved. But I don't think the problems are going to get solved by not offering services that clearly, from the results of Spotify's research in the markets where it is licensed for free, are in demand. You don't see  an absolute collapse of physical sales in those markets. I think it's important to look at those lessons, experiment and really work to develop compelling services and then work on fixing the problems with the services.
Musician Coaching:
What was your role at Warner, and what did you notice about the direction of music on the internet when you were working on projects there?
GW:
I  really focused on developing new products. At the time I left, we were really looking at the locker models and the streaming subscription models. I was working on a project called The Connected Music Experience (CME). It is an interesting idea in that it's a package format for digital media that allows you to basically have a cloud component that is related to any piece of media you own. Let's say you want a single from the new Lady Gaga record. After you download it, you get the track and some associated content that looks very much like what an iTunes LP looks like today. There's a menu, a way to represent lyrics and liner notes. Basically, it's a way to communicate to the person who has downloaded that track where it came from, who made it, and then for the artist to the have an on-going connection to the person that downloaded it. It is agnostic as to whether that happens in a purchase environment (someone just purchases that track in iTunes) or downloads it through a service like Spotify. The service you use doesn't particularly matter. Any of those services can take the assets that are associated with that release in the cloud and create a compelling experience for legitimate users. But it is an interesting way to reward people who have acquired the music legitimately. If you got that same track as part of a download of the most popular tracks this month on a bit torrent site somewhere, you would actually have to go out and find all the associated content from some other place, and then you would have to continuously keep track of new content as it is released.
There are some initiatives like CME that are underway that would create much more compelling experiences out of cloud-based initiatives. They could use a lot more investment, both on the creative side and on the business side. Artists, record companies and publishers alike would do well to look at embracing new models and figuring out how to make them more compelling to consumers, because that's going to be the way to drive that marketplace forward.
Musician Coaching:
The position of General Manager of Billboard Digital sounds extremely fun. I've watched the magazine become more and more online based. And in the past few years especially, I've watched Billboard's online presence escalate exponentially. What does your position there entail?
GW:
The big project that I was brought on board for is something called Billboard Pro, which is a subscription service for artists. It combines a couple different things. One is what Billboard is traditionally known for, which is great editorial – great writing and access  to information from the most important people in the industry. But Billboard Pro is geared specifically towards new and emerging artists, artists who may not be subscribing to Billboard Magazine today. There is information specifically for those artists about which new services are out there, what they should be investing in to grow their careers, etc. There is a piece that a lot of artists have liked and that has been a major driver of traffic for us from Amy Klein of Titus Andronicus on how to develop your stage presence. The idea for Billboard Pro is to be a version of the Wall Street Journal for artists. If you're an artist trying to drive your career forward, we want it to be the first thing you sit down to in the morning to see what's going on in the industry.
The second part of Billboard Pro is a dashboard that allows you to see where you are with fan engagement as an artist. You can track all your page views, plays and new fans on any of 16 different services across the web, plus you can get SoundScan sales data for an album and a few tracks. You can also get alerts if a song of yours happens to have been played on any U.S. radio station for the first time or the tenth time. And you can see if you've been mentioned by anyone on Twitter or by any blog out there. Basically, it's a very simple one-stop dashboard to see where you are with online engagement, which is a new product for Billboard. Obviously, as the music industry is evolving and artists themselves are becoming key economic decision makers rather than labels, publishers, managers and agents, it's important for artists to have the best information possible when making career decisions. And that involves having the quality of access to information that the historical business entities in the industry have had. We think it's a great product, and it's clearly an important audience for Billboard to address. And it's an important product in the state of Billboard's evolution, starting from the magazine's rich history going back over a century, focused for the past 60 years on the music industry.
Two years ago, Billboard.com was re-launched as a consumer site, which has been incredibly successful. At the time the re-launch was undertaken, Billboard.com reached three million unique users each month. We're now, two years later closing in on almost nine million monthly uniques. Later this year, we should, if the site continues its current trajectory, cross 10 million monthly uniques (For May, we actually ended up surpassing 10M uniques). The Billboard brand is now not just one that's meaningful to the music industry and people who work in the music industry, but clearly one that is very meaningful to the consumers. A huge amount of traffic to the site consists of people coming to look at charts. The Monday after the Billboard Music Awards we had 800,000 visits to Billboard.com, which was our largest single traffic day. It's a hugely meaningful brand to consumers now, and we hope it's going to be a hugely meaningful brand to artists.
After Billboard Pro, I think the next important project that we'll be looking at is expanding on that reach to consumers. Now that we have this big reach to consumers, how do we take Billboard.biz and also reinvigorate it in the same way? We're looking to do a redesign and an update of the Billboard.biz site later this year.
The other interesting opportunity we have is at Billboard.com. Part of the redesign of that site several years ago was a deal with Lala to do streaming as an accompaniment to the site. Since Apple bought Lala and closed down the Lala service once and for all in September, we have integrated streams from Myspace.com onto our charts. I think looking at the services that are out there today, there are a lot of interesting opportunities to do a lot more. We're looking at things like chart radio – the ability to see a song on the chart and immediately launch a station based on that song and that chart. We want to continue to be very discovery focused. It's an interesting niche for Billboard. You don't really think of charts as being a driver for artist discovery. But I think clearly that's what you see a lot of people doing when you look at the traffic and the way people use Billboard.com:  They are coming there, looking to see what's most popular, checking it out and clicking on purchase links.
Musician Coaching:
Along those lines, as a guy who is re-branding, re-launching and setting up Billboard Pro for real growth, what have you found that artists most want? What are the most popular topics that are coming up on Billboard Pro?
GW:
The Amy Klein/Titus Andronicus piece was I think our most popular piece of editorial since launching the site last month. It's still very early on, but I think clearly the "how-to" category/tips from industry pros about how artists can build their careers have been very popular. We did a promotion with Chevrolet in association with the Billboard Music Awards last month. We took new and developing artists – some that came from Pro and some that came from the "uncharted chart" we launched at the beginning of the year. The "uncharted chart" is a chart of artists who have never charted on a major Billboard chart/artists that don't have retail or radio stories yet but do have online fan engagement. It ranks them by their online fan engagement. And we had a battle of  the bands contest. A lot of people ended up checking out the profiles for these bands that were part of the contest.
Musician Coaching:
I had no idea you guys would be so artist discovery driven. That's wild to me. I didn't see that coming.
GW:
A major goal for Billboard Pro is to find out how we can use these great platforms we built:  Billboard.com, which reaches a really broad consumer audience; Billboard.biz, the magazine, and our conferences which reach the entire industry. We want to figure out how to take these platforms and connect new and developing artists with the people that matter in the industry and fans to help them grow to the next phase of their careers. That was the initial impetus for the site. And I think if we're successful in doing that, we're going to have a very successful product.
To learn more about George White, visit the Billboard website or follow him on Twitter. Also be sure to check out Billboard Pro.